"Around the Table" publication cultivates community through religion and spirituality
The average religious student might be surprised when they arrive on Whitman's campus. There is no interfaith chapel at which these students can worship, only a Spirituality Room that is tucked into the basement of Prentiss Hall. 
For a college that espouses values of diversity and inclusion, religiosity is rarely, if ever, acknowledged. This lack of religious focus inspired first year Merry Cockroft, the new diversity and inclusion intern for the Office of Religion and Spiritual Life, to create "Around The Table," a monthly publication that can be found on the Religious and Spiritual Life page of the college's website.  
The Whitman interfaith chaplain, Adam Kirtley, described the college as "fiercely secular."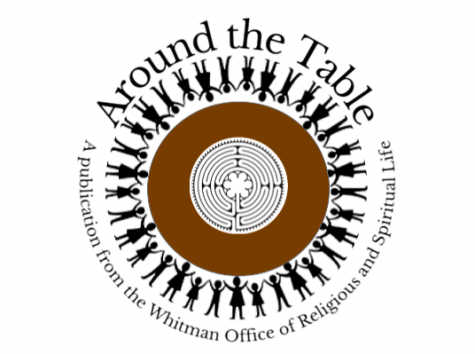 "Whether it be because of discomfort with religious life or because of a general lack of knowledge, one cannot say for sure why spirituality is not of more concern to Whitman students. Students often feel the need to 'explain their way out of' or 'play down' their faith," Kirtley said. 
This culture has been especially hard for Cockroft as a student who comes from a religious background.
"Sometimes it can be hard to particularly find spaces in which people are really receptive to spirituality and religious identity," Cockroft said. 
Similarly, in a conversation with senior Phyllis Pawa, leader of Kehillat Shalom, the Jewish community organization of Whitman College, she described the struggle of the many religious students on campus. Pawa said that she often is told to leave her "religious identity out of class" when in an academic setting. Not only this, but she finds that despite the fact that her religious identity and ethnicity have helped her find passion in life, it has also "isolated" her and other religious students on campus.
Cockroft hoped to celebrate the "groundedness" that she and Pawa grew up with and share it with the entire Whitman community through the Around the Table publication. She describes the name of the periodical as "really important in keeping the suggestion of the community and other inclusions. So, who's at the table, who's not at the table, who do we need to bring into the community."
Such a shift in attitude towards religiosity would combat the current campus reception to religion that Pawa describes as that "which prevents Whitman from meeting many of its goals because they are failing to engage with intersectional identities."
These ideas of inclusion aim to cultivate a better sense of what Cockroft describes as "community and wellness."
Kirtley also defines spirituality as "the questions of Who am I?, What am I doing here? and How am I going to make a difference in the world?"
Spirituality may not come from reading specific religious texts; spirituality can be engaged with through meditation, giving back to one's community or tending to connections within the Whitman community.  
Around The Table's first issue was titled "Overwhelmed?" It was released in January and addressed the stress and anxiety associated with transitions.  This was a time when the college was transitioning into physically being on campus; the country was transitioning into a new political administration; and we were all experiencing the nauseating influx of other changes and uncertainties. It attempted to address the anxieties associated with these events through an exploration of some Christian texts, the nature of the enlightened Buddha, Master Hotei and poetry concerning transition and change.  
Around The Table does not give particular attention to any one religion; the first publication provided Christian, Buddhist and irreligious perspectives. The goal of the publication is to build what Kirtley describes as a "big tent" over all religions and faiths, including agnostic or atheist thought. The publication is also meant to bring historically marginalized voices into conversation with faith. This would include addressing the intersectionality of religious and spiritual thought and racial and sexual identity.  
Kirtley used the metaphor of an ice cream sundae to encapsulate the Whitman experience, describing it as "a scoop of your academic responsibilities, a scoop of your social life, a scoop of your romantic life, a scoop of your campus job… and if there's room, some might put their spiritual lives as the cherry on top."  
Kirtley hopes to embolden students to view their 'Whitman experience' in holistic terms and to make room for spiritual and religious expression. He concluded by saying, "I encourage people to see their spiritual lives, that sort of connectedness, as the bowl that's holding it all together. Rather than the cherry on top, let it be the thing that's supporting all those facets of your life."  
By facilitating a nonjudgmental and honest discourse on spirituality within the Whitman Community, Around The Table seeks to lift the negative stigma associated with religious and spiritual life at Whitman. Thus, the periodical shows students that religion and spirituality are not bad words, and that they can be used towards real growth and groundedness for both the community and the individual.