Staying connected through playlists
From playlists like "cleaning out my first-year dorm while it rains" to "daisies in my toes!", playlists by members of the Whitman community are creative time-capsules, gifts and ways to connect with one another.
These playlists tend to fall into two categories: hours-long, like junior Ally Wait's 43-hour-long playlist titled "Love," and more curated and particular. Cam Solon, junior Music Theory major, puts almost every song he likes into one of three large playlists (Chill, Rock or Rap) as well as a smaller, more focused "satellite" playlist. Solon has "satellite" playlists for activities like skiing, climbing and cooking, as well as ones like "251," which he made after learning about the common 2-5-1 jazz chord progression.
Dr. Sickels, Whitman Chair of Humanities and Director and Professor of Film & Media Studies, listens to playlists when editing film footage. According to Dr. Sickels, editing requires creating a rhythm and flow, so it helps to turn down the volume of the footage he's editing and listen to music instead. 
Though the flow of a playlist depends on why she's making it, Junior Religion major Kate Joss likes to begin curated playlists in unexpected ways. Joss said, "In a playlist for one of my 21-year-old friends, I'll start with Beethoven or some obscure classical song and then have it go right into a rapper, [which] is really exciting and fun. A lot of times I'll start a playlist with a build-up and then have it get more exciting, then towards the end become a bit more emotionally tender."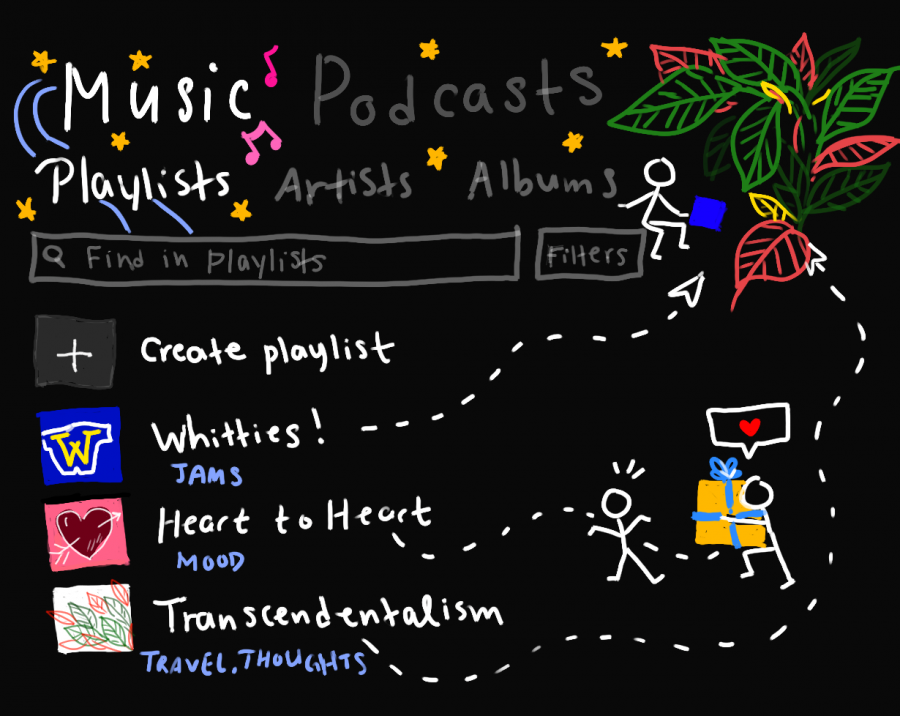 Each member of the Whitman community I interviewed makes playlists for travel. Some of Dr. Sickels' favorite personal playlists are ones he's made for trips to cities across the country for his daughter's competitive softball tournaments. Solon sometimes puts a playlist on shuffle when traveling, but other times makes a new playlist for a particular trip and picks songs based on how he'll feel at certain points in the drive. 
Playlists are also a way for each of these members of the Whitman community to connect with their friends and loved ones. Junior environmental studies-sociology major Ally Wait likes to listen to her friends' Spotify playlists and make "friendship playlists" from songs she and her friends have listened to together. Both Wait and Joss like to watch their friends' listening activity on Spotify, which Joss says is a great way to discover new music and sometimes see where her friends are in their personal lives. Solon and Joss also particularly enjoy sharing new music through collaborative playlists and giving playlists as gifts.
Each person has a few artists or songs that reappear or have important places in their playlists, like Dr. Sickels, who puts "Rudie Can't Fail" by The Clash in almost all of his playlists. Joss likes to share Julia Jacklin's cover of "Someday" by The Strokes when making playlists for friends and loves the song "Loro" by Pinback. Solon has recently been enjoying "Bassackwards" by Kurt Vile and Wait finds that her favorite artists, like Amy Winehouse, SZA and Ray LaMontagne, appear in multiple playlists. 
For each of these members of the Whitman community, playlists are personal and fun ways to create soundtracks for everyday experiences and discover new music. Solon encourages everyone to make playlists and share music with one another. "Music is for everyone," said Solon.