"Audio Cassette, Video Cassette;" Professor Ashon Crawly explores musicianship, Black queerness and religion
Mo Dow, A&E Reporter
November 12, 2020
Through an enlarged Zoom window lies a room full of abstract paintings, vibrant with chaotic energy — and in this room sits Prof. Ashon Crawly. He is an Associate Professor of Religious Studies and African American Studies at the University of Virginia, and he is giving a talk for Whitman college titled "Audio Cassette, Video Cassette; Hammond B3 Musicianship and The Black Church." 
The talk is the first iteration of a new annual program, the Genevive Perry Endowed Lecture on Religion, "an annual lecture series featuring scholars engaged in innovative research in religion that pushes the boundaries of the field."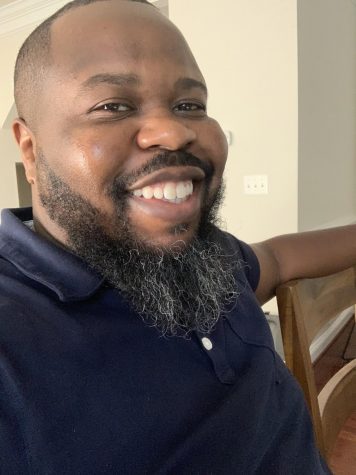 Professor Crawly is engaged, enthusiastic and gives off an air of youthfulness and artistic spirit. For most of the talk, he reads from the draft of a new project (or perhaps projects, Crawly said he's considering splitting the research into a new separate book) which combines narrative elements with complex theory and history.
As the talk proceeds, Crawly draws the event's attendees into the story he weaves, convincingly arguing the key points of his newest work by applying his ideas in a less theoretical framework. The story he tells focuses on the intersections of black queerness, the church and the musical marvel that is the Hammond B4 Organ. It's about two young men, struggling with their feelings of attraction towards another, and having to reconcile their faith with a love for each other that they are unable to acknowledge. Through these characters, Crawly explores the connections between different areas in his research, from a both a sociological, musical perspective, considering the ways that different themes intersect and collide.
At the beginning of the talk, Crawly addresses the nature of his work, and how he is choosing to approach his writing in a unique and readable manner.
 "The story of the black church, of black Pentecostal practice, of black migration, is the story of black queer love, loss and longing. This is not an overstatement. Because what black queerness is not simply or even primarily an identity which one can claim — black queerness is the refusal to relinquish relation that the state and the law, and customary, theological and doctrinal admonishes folks to renown in order to move to something like the normative. These texts that I am working on are a series of stories grounded in black-queer possibility… written from the perspective of speculative, composite characters."
Although a central part of the talk, queerness wasn't the sole focus of Crawly's work: he presents a much wider view of the relationships between music and black church practices. Describing the relationship between the Hammond organ and black Pentecostal preaching, Crawly invokes a concept that he calls "nothing music", which is drawn from a classic phrase of musicianship — what are you playing? Oh, it's nothing. "Nothing music" as Crawly sees it is the spontaneous and fluid arrangement of chords, often shifting rapidly between keys, used to back a preacher during sermon.
Michael Simon, a professor of music at Whitman College, attended the event out of an interest in music technology and walked away from the event with much on the mind. From his perspective, "nothing music" can be related to a long tradition. 
"Not to draw everything back to Western Classical music… but back in the day, a lot would have been improvised — when we think about Bach, he was improvising on the organ a lot. I see it as an extension of that tradition, though not explicitly tied to that tradition."
But the use of "nothing music" in the context of the black Pentecostal preaching is very different from what Bach had done — it is an evolving dialogue between player and preacher.
"It's a conversation that at first blush isn't a conversation. It feels like a call and then a response, but the response is informing the next call. Or sometimes the call and response structure is actually flipped," Simon said. 
But for Simon, his biggest take away from the talk was how Crawly blends disciplines within academia, and how this represents the future of scholarship."I think that the intersectionality of his lecture was really important. I think it shows a path forward for how the various departments in a liberal arts environment can work together. His talk had elements of  music, religion, sociology, gender studies, all sorts of different elements and he weaves them together in such a seamless way that it doesn't appear to be in any one discipline."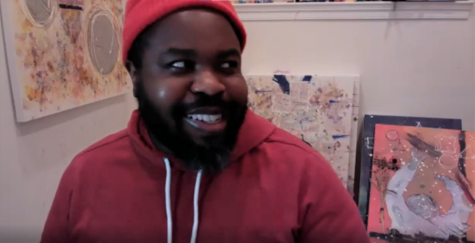 Lauren Osborne, a professor of religious studies, and the event's primary organizer, was really impressed by the Crawly's talk. Like Michael Simon, she was not only interested in the subject that Crawly presented, she was also fascinated with Crawly's creativity in the presentation itself. 
"It's exciting, and inspiring, to see just how creative scholarship can be," Osborne said. She added that, while it isn't her personal style of writing in an academic setting, she thinks Crawly's work and the unique way he displays it, are important additions to the field. She continues, saying:
"A rigorous complex argument can be made in such an artistic and creative presentation… And I think it's really nice, really wonderful to be able to expose students to scholarships done in a really creative and generative way and it can be beautiful."