Student musicians find continuous joy in their art
Although musicians have to deal with a variety of limitations, many students are still enjoying making music from home or the Whitman practice rooms.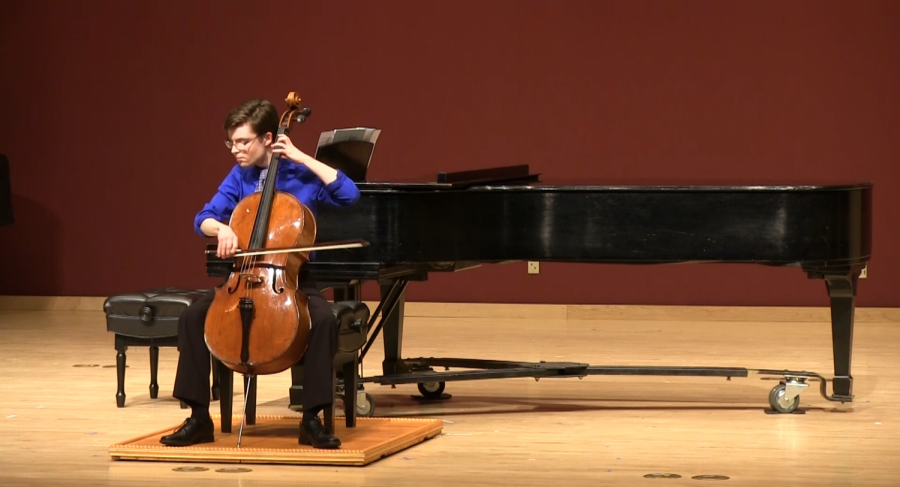 Liam Dubay, a senior majoring in both astrophysics and cello performance, has been playing the cello for 17 years and played in a youth symphony in Portland. Dubay never joined his high school orchestra, but instead performed in several of his school's choirs. At Whitman, Dubay is part of the orchestra but has had to give up vocal performance.
"If only I had time! If I had 20 more hours in the week I would gladly [do choir]," Dubay joked.
According to Dubay, the Whitman orchestra is currently working on a piece that each musician will record separately for the music technology class to put together. The strings are also working on a piece, and although they have a click track to work off of, Dubay explained that it is going to be difficult.
"[It's] going to be a different challenge because we basically have to get an almost perfect take, eight minutes in length, from start to finish," Dubay said. "It's far more difficult to get a perfect take in a recording studio or at home than it is when you're performing live."
Dubay has enjoyed some of the unique opportunities he's had recently, like being able to check out and learn a 5 string baroque cello, but he misses being able to perform with others.
"It's sad to not play music with people," Dubay said. "Not being able to play in orchestra with all the other musicians is very disappointing, but I think we're making the best of it."
Unlike Dubay, sophomore Zac Bentz, a film and media studies major, has never really had music as his focus.
"There's never really been a period in my life where [music has] been a primary focus; it's always been kind of a peripheral thing," Bentz said.
Bentz explained that while he took piano when he was younger, he didn't really enjoy how the lessons were formatted and quit after several years.
"It wasn't really until I got to Whitman that I started playing around on the piano in the lounge, kind of relearning everything that I knew," Benz explained.
While at college, Bentz started playing music together with one of his friends, also a sophomore. They started a band together and even auditioned for more members, but so far they haven't done much with it.
"It never really got off the ground, it was all always kind of self-contained — like didn't really exist outside of the practice room or anything," Bentz said. "But… our plan was and still is, to an extent, to have it be more something that is for other people."
Recently, though, Bentz has been enjoying video-calling his friend to play music together, even though they can no longer hang out in person.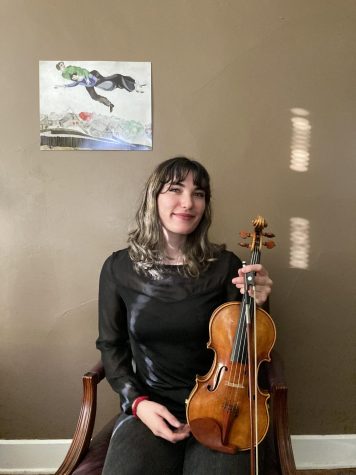 Abby Herrick has also been working on her music from home. Herrick, a senior music theory major who is also on the pre-physical therapy track, has been playing the violin since she was seven years old. She has also started taking piano at Whitman and plays the viola.
Although she was previously a violin performance major, Herrick recently switched to theory in order to pursue her thesis.
Herrick explained that while her thesis is mostly reading, she is planning on doing a lecture-recital in the spring. Recently, she's been practicing playing in her room and in the newly reopened practice rooms.
"[It's challenging] playing in my room because my room sounds like a hallway," Herrick said. 
She has also been feeling inspired by the time she's been forced to spend alone and focus on music.
"Having to sit with yourself and be alone a lot has been both challenging and inspiring because I think a lot of practicing music … for me is very introspective, and being alone and having that kind of silence and just filling it with something [has] been kind of an immersive experience in that way," Herrick said.
Herrick explained that she thinks that a lot of professors have handled things very well, and she's felt very inspired by the creativity of both the students and the faculty. Herrick also explained that she's excited about how the music department has been recently creating more open dialogue and the direction that they're moving in.
"We've had a lot of talks in orchestra and chamber classes about how to be more inclusive and how racism is prevalent in classical music," explained Herrick. "I'm just really excited about where we're going, as Whitman and the new generation of musicians, especially in classical music."