Flagging down ideas: Walla Walla Public Library hosts contest to design new city flag
Mo Dow , A&E Reporter
October 22, 2020
The City of Walla Walla is getting a new flag, but its design will be created and chosen by the public. The Public Library is hosting the flag design contest with submissions closing on Oct. 19.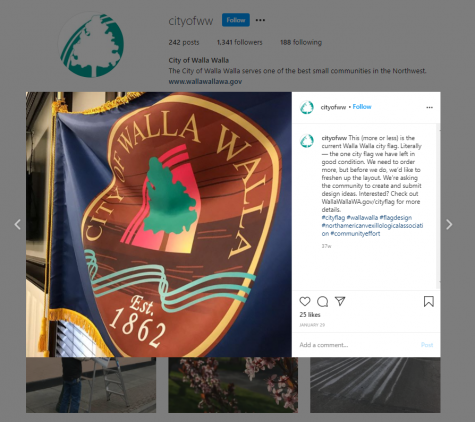 Although it may seem a little superfluous in these complicated times, flags do play more of a role in people's lives than you might expect. Art History Professor Dennis Crockett had some thoughts about flags and their roles:
"You don't need any special training to know that humans love flags, & humans love to see the flags that they love. Up there in Washington, they have the flag with the big 12. It seems to unite a lot of people.  Like they're part of a special congregation." 
Last fall, the city council decided they wanted to host a flag design contest, but as everything started to shut down the plan was sidelined until recently. Now the project is back, and with renewed vigor.
Recently, the Library created and released "flag-bags" which includes everything a participant needs to create a flag and enter into the contest. These have been given out to students and other young people, but that doesn't mean the contest is only for kids. Quoting from the city's website: "Since the new flag would represent every Walla Walla resident, we're asking for the public's help in designing it. We are inviting anyone — from grade-school students to professional artists — to submit their designs, which will be assessed by the City Arts Commission."
When asked when the flag design will be decided upon, Liz George, the young people's Librarian at The Walla Walla Public Library replied, "who knows anymore… You know I bet they won't look at it again until the first of the year. And even then — it's not like it's the top priority, they (city council) have things going on… I don't know if we will have a ton of entries, so… It's just fun for kids to think about, to think about how a flag represents where you live, and what's important to you." 
George also wants to make sure the community knows that the library is still here for everyone, providing plenty of online resources, in lieu of more physical infrastructure.
"I'm interested in letting families know that families are still there to serve them…" George said. "It's as easy as logging onto wallawallapubliclibrary.org, or calling us Monday through Friday, 9-5." 
With a new flag in the works, it's worth taking a look at what is being replaced. A sophomore Film major, Zac Bentz, provided some insight. Bentz is a graphic designer and enthusiast, and while doing some research on the current flag Bentz found some surprising attributes.
"The vexillological association, which is the study of flags, has five main rules. It needs to have meaningful symbolism, which it doesn't have, it has to have two or three simple colors, and with the seal it has, it goes way over that — and no lettering or seals in one of the rules, so that's just awful — and it has to be distinctive, which it isn't. It kind of goes against all the rules."
In any case, the flag design contest is a unique proposal, which the city hopes can rally its residents and provide a source of distraction and activity for both kids and all other residents during this trying time.
For more information, visit: https://www.wallawallawa.gov/our-city/city-flag-contest.