"Arts, Objects, Archives" explores intersections between art and race
From sculptures to sheet music, each presenter in the Art, Objects, Archives webinar on Sept. 21 showcased the abundant materials available at Whitman for instructors to teach this year's academic theme Race, Violence and Health.
"We often talk about how race is a construct, but its construction remains very much at the level of the abstract. Teaching with objects and learning with objects can allow us to see how that construction happens in the things we handle. Objects don't just represent race, they actually bring it into being," Senior Adjunct Assistant Professor of Art History and Director of the Maxey Museum, Libby Miller said.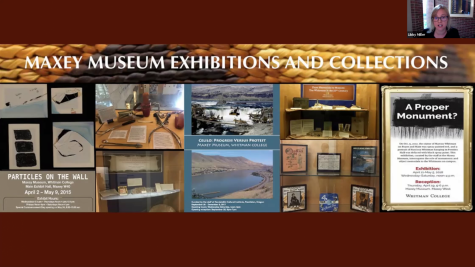 Miller presented on an exhibit in the Maxey Museum by Marco Bloom, class of 2019, that highlights the appropriation of the banjo by white minstrel performers. According to Miller, the banjo was used in the 1920's by minstrels to humorize racial stereotypes for the entertainment of white audiences. Minstrels would often copy Black banjo music and change the lyrics, resulting in the preservation of the Black banjo tradition almost exclusively through minstrel sheet music.
Miller also showed a clip of modern banjo musician Rhiannon Giddens. Giddens rewrites the the lyrics to minstrel sheet music to reflect what Black banjo players might have actually sung. 
Co-director of the Sheehan Gallery Kynde Kiefel presented on the third generation Japanese artist and internment camp survivor Roger Yutaka Shimomura. Shimomura incorporates American pop culture, traditional Asian art styles, pop art and racial stereotypes to prompt discussions about identity and to heal from his own racial trauma.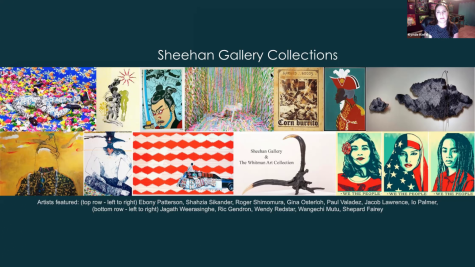 In one of Shimomura's pieces acquired by the college "Super Buddhahead," the artist reimagines himself as Superman to challenge the decidedly predominantly white presence in 1940's comics. Kiefel shared an anecdote about a 5th grade class that created comic books inspired by Shimomura's work, with each student's comic book featuring themselves as the superhero.
Daniel Forbes, also a Co-director of the Sheehan Gallery, presented on 2020 Whitman Studio Art graduate Olivia Thomas. Forbes emphasized that the glass medium is a representation of strength and fragility, the tension between invisibility and suspended color, as well as Thomas's own personal narrative. To Forbes, Thomas's work has the capacity to help destigmatize mental health on the Whitman campus.
Forbes also spoke of sculptor and ceramicist Io Palmer, who was the first Black artist included in a Whitman collection. Forbes showcased Palmer's piece "Leisure Labor (Cloud)," a sculpture that comments on the politics of hair culture with its 10,000 hand-sewn bobby pins and 15-foot chimney sweep brush.
Archivist and Head of Digital Services Ben Murphy presented on newspaper clippings in the Whitman and Northwest Archives that suggest that lynchings happened in Washington and Walla Walla. The accounts are vague and will require further research, but Murphy placed them in the context of Washington's absence from the report Lynching in America, which provides county-by-county statistics about victims of racial terrorism.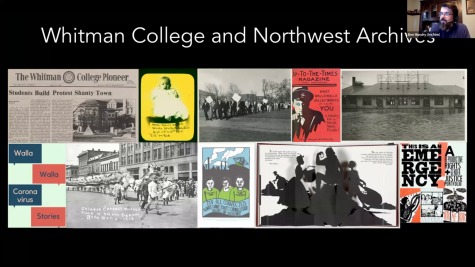 Murphy asked "Does our absence on this list allow us to think a certain way about ourselves in the present?…Why are the sketchy accounts of lynchings in Walla Walla not better documented? What would it mean, if a lynching happened in Walla Walla, to erect a memorial to the victims?…What would such an effort contribute to the recent debates around monuments in and around Walla Walla? These, too, are questions I invite you to engage in with the Archives."
Associate Archivist Dana Bronson presented on multiple artists' books available in the Whitman College and Northwest Archives. One of the artists' books that Bronson presented on is "Billy Rabbit: An American Adaptation" by Ann Tyler.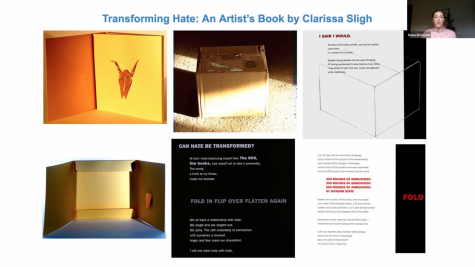 The book combines the history of lynchings with an English cautionary tale for children. Images of saws, knives and hammers are sewn to its pages and partially cover the text, prompting the reader to grip the handles of the weapons in order to read the story. In doing so, the reader becomes a symbolic accessory to the story revealed underneath. 
The webinar concluded with a video presented by Whitman Associate Professor of Art History Lisa Uddin about Wangechi Mutu's "Underground Hornship," a bronze sculpture newly acquired by the college. Mutu is a Nairobi and New York artist whose internationally renowned work uses organic and inorganic forms to explore trauma and grace. 
If you posses even an inkling that you might like to explore local collections, contact anyone mentioned in this article. They can upload digital resources, possibly arrange for socially-distanced visits, present for classes and support instructors with everything from a single close-reading assignment to semester-long engagement. Within the next few weeks the Sheehan Gallery will also be available online via 3D walkthroughs, as well as through in-person, private viewings.