Senior art majors use Instagram page as an outlet for creativity
Mo Dow, A&E Reporter
September 17, 2020
The Whitman Senior Arts Instagram page resumed posting in light of this unprecedented semester. The page was originally instituted a few years ago with the condition that students would be occasionally be required to post their work for a grade. Now the account serves as an outlet for students to share their work with others, as well as to try and overcome the isolation of quarantine.
For many artists, creating art is an experience of sharing. Thus, creating art with no audience offers a host of challenges. The Instagram account intends to help students share their work, both to keep their spirits up and to keep themselves motivated.
"The accountability that you create for yourself by having to put things on the internet and show that you are working, and contextualize it with a caption, actually makes a big difference when you are struggling to self-motivate when you feel like you are working all alone," said Assistant Professor of Art Maria Lux. 
Even prior to the current pandemic, social media was becoming a major networking tool for many artists, allowing them to share their art and gain a following.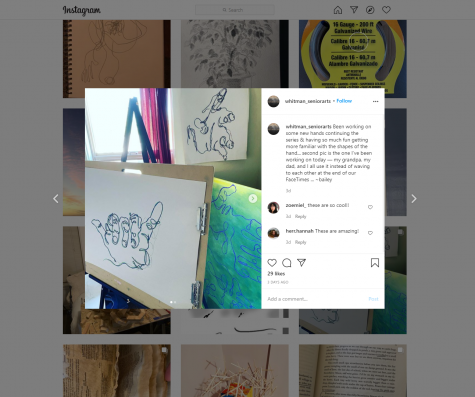 While Instagram art pages and similar social media pages were formerly seen as less professional, the Internet has become the place where people can share their art now that gallery shows and installations are no longer an option. 
Yet, the struggle to self-motivate and assuage isolation aren't the only problem students are facing. Art majors are now forced to work in home studios with limited resources and (often) small workstations. The Instagram page highlights both the challenges that these artists face and the creative solutions that they find.
 A post on the page was recently made with the caption:
 "Couldn't go outside to paint cause of the smoke. Couldn't paint inside cause of the fumes. Creative problem solving: my next piece is painted with hair dye and beet juice."
Not only are students faced with limited art supplies and fewer institutional resources, but they are also forced to deal with new crises on a semi-regular basis. The Whitman Senior Arts Instagram account opens a window into the struggles of these emerging artists and offers a platform to observe the different ways in which these students overcome the challenges posed by this unique point in time.
The works posted are usually not in their final form.
"Everything you post doesn't have to be polished — people like the behind the scenes view we get on Instagram," said Whitman Art Department Chair Justin Lincoln. 
Lincoln has been running several Instagram pages for a couple of years, and attests to its efficacy in helping to motivate artists to put out their work. 
Art Instagram pages are snapshots that show a small part of an artist's process, as well as show how pieces evolve and transform over time. They are invaluable mediums for community-building and for the students to start building the social media experience that they can use to build their professional careers.
The Whitman Senior Arts page can be found on Instagram at @whitman_seniorarts