"Whitman So White!": Amplifying the voices of BIPOC students
Last July, junior Jasmine Razeghi and sophomore Elea Besse released the very first episode of their new podcast, Whitman So White!, a show dedicated to amplifying the voices of BIPOC students. The podcast, hosted by its two creators, releases new episodes weekly. While it launched only a few months ago, it has since become increasingly popular.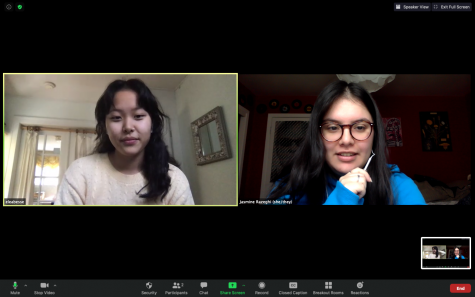 According to Razeghi, the idea started at an event at the PNW Students of Color Conference that she and Besse attended at Willamette University in fall of 2019.
"There was an event that they had announced that they do every year at Willamette University called Willamette so White. And it was just BIPOC people attending… [just] in their own space. And I was like 'that's super cool, we don't have that, really'–like we have affinity groups at Whitman, but we don't really have a continuous space that's just ours," said Razeghi.
Razeghi added that since Whitman is now in a virtual setting, a podcast felt like something that more people would be engaged with, so it made sense to combine the two ideas. Razeghi then pitched the idea on social media, and Besse reached out with an interest in co-hosting.
"Last year as a first year I was sort of… dipping my toe in the water, as one would say, into the affinity groups and other areas in which I could express the social justice side of myself and speak out on issues that I care about without feeling like I had to censor what I was saying," Besse said. "I enjoyed some affinity groups…[and] it was fun but… I think I was looking for a different platform."
So when Razeghi put out the idea of doing the podcast, Besse was on board from the beginning. Their first episode, Episode 1: Whitman So White?, launched on July 13th, and the pair have continued to release a new episode weekly ever since. Topics have ranged from the myth of the model minority to fetishization in the dating scene, and many episodes have featured guests talking about their own experiences.
"It's been surprisingly unifying in a way… we talk to so many people that I personally wouldn't have talked to otherwise–like we just wouldn't have crossed paths," said Razeghi. "To be able to… interview them and get to know them on a personal level, and listen to what matters to them and why that should matter to me–it's just like wow, these people really care about what they say and everyone should hear them."
Daniel Dang, a junior at Whitman, is one of their most recent guests, featured on Episode 8: "Diversifying the Asian American Experience," along with sophomore Sneh Chachra. Dang said that he saw an advertisement for the podcast towards the beginning of July, and was asked to be a guest a while after.
"Elea and Jasmine were both Fly-In students when I was a leader so I knew who they were but not too well. I was excited, though, to see how a podcast like this would change our campus' environment for BIPOC students," said Dang.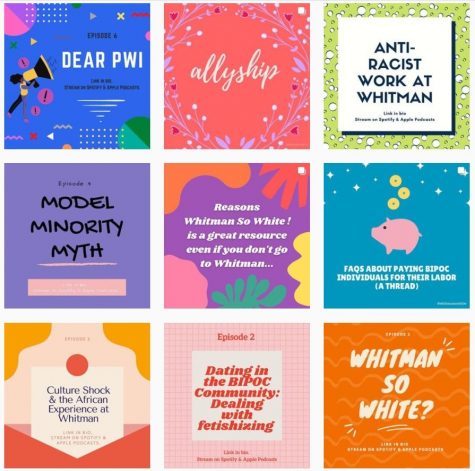 The hour-long episode that Dang is featured on covers a variety of topics, from stereotypes of Asian Americans to colorism and beauty standards, with both hosts and guests sharing personal stories. The podcast is not only informative but engaging to listen to, and according to Dang, being a guest is a lot of fun.
"Elea and Jasmine are some of the funniest people at Whitman so it was super fun to talk about our experiences together on a Zoom call at 8 in the morning," Dang said. "We kept our webcams on for the entirety of the call so we got to see each other's faces and reactions to some of the things we said on the episode, which I think was the best part of being on the show."
But the show has not only been unifying for the hosts and the guests–according to Besse, it has been incredible to watch the community around the podcast grow.
"I also think it was particularly amazing, the support that we've gotten from the non-BIPOC community at Whitman–like I think there was a lot of want to hear people's stories and make yourself more aware of different people's experiences, but I don't think that a lot of people at Whitman knew how to do that," said Besse. "I think that having this platform for people to come on and share their stories is really important, and the support that we've gotten from everyone at Whitman and even people outside of Whitman has been very empowering."
Razeghi explained that while they may have a few ideas, much of the podcast is made with the audience in mind, and the hosts often post stories on social media asking for audience input. So while the hosts may be in charge of what topics get included, Razeghi said that the show will grow based on what the audience wants–like the hosts and the audience are a team.
Besse agreed, and added that the show is very go-with-the-flow.
"We also really take into consideration what BIPOC want to talk about… we have a lot of ideas right now that people have posed, …but also as events happen around the country and around the world, obviously different things will come up," said Besse.
Both hosts have agreed that overall, while the podcast has been a lot of work, the experience of getting to know other students and amplifying the voices of their peers has been very rewarding, and that it has been fun to work with each other. As a final thought, Razeghi added that they would like to encourage people to reach out, even just to share their thoughts.
"I would like people to know that our platform is an open space," said Razeghi. "We have people lined up for October–you don't have to do it now, so reach out even if you don't want to be on an episode to tell us your thoughts. We're an open space and we're here with open arms to hear you out."