"Honey" in review– King Gizzard and The Lizard Wizard's new single brings some sweetness to 2020
Mo Dow , A&E Reporter
September 10, 2020
King Gizzard and The Lizard Wizard. It may sound like the name of an off-brand comic from the '90s, but in the past few years, this Australian psych-rock band has attracted a massive cult following. 
Devoted supporters gravitate to their wholly unique sound and ever-changing style, but for many casual fans and interested listeners, their discography can be quite daunting. The band has released fifteen albums since their debut in 2012, including an astounding five in 2017 alone, and they all vary significantly in sound and style. The band switches genres seemingly at random.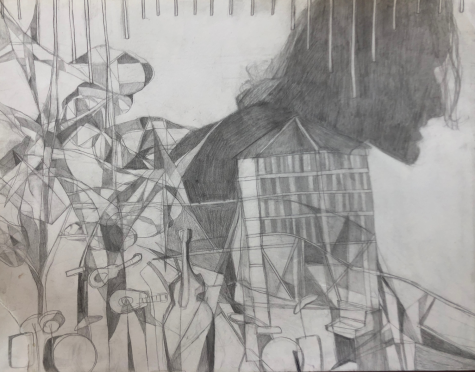 Their vast catalog includes thrash metal, improvised jazz-rock and an all-acoustic soft rock album, but even that range doesn't begin to capture the varieties of sound the band explores.
One of the most recent additions to King Gizzard & The Lizard Wizard's repertoire is the July single "Honey." "Honey" stands out as unique, even among the band's eclectic collection. The song is a strange mix of sounds from various points in the band's history. It uses the distinctive custom-commissioned microtonal instruments (instruments that can play the microtones between the 12 semitones — A, A#, B, C, etc… — which are usually found in Western music) which the band used on 2017's "Flying Microtonal Banana", while also showcasing the soft-tones and strong melodies that were central to 2016's "Paper-Mâché Dream Balloon". 
Perhaps "Honey" is so unique because of its origins; it was first written by the band's frontman, Stu Mackenzie, several years ago, but was put on the back-burner and remained unfinished until now. Because of this, the track carries the mark of many different moments in the band's long career, but the end result is surprisingly harmonic and easy to listen to. 
Arguably, much of the band's work is too weird for mainstream audiences, but "Honey" manages to be accessible without limiting the band's creative energy or their desire to explore new sounds.
 Like its namesake, "Honey" is a smooth and sweet soft-rock track driven by melodic guitar riffs and gentle vocals. It's something of a love song, and the innocent and authentic lyrics are a perfect antidote to the grim realities that have marked 2020 for most of the world. It draws back memories of simpler times, and it makes the whole world seem a little less complex. 
The song seems to reduce everything complex into something simpler, and more manageable. It doesn't pretend that everything is alright — just that things will be okay.
 One line from the song, in particular, conveys this sentiment especially well: "Days are ever sweeter when I wake up near ya, the world we're in is broken and you're the magic potion." It's simple, sweet and remarkably optimistic. 
This pervasive optimism is also reflected in the song's music video: back in July when the song first released, the band's Twitter posted a link to the song's music video, with the caption "shot at sunset during the apocalypse, with a reeeeal long lens". It's a perfect description of what the video represents, people trying to make something beautiful in the midst of chaotic times, and finding creative ways to beat the odds stacked against them. The video utilizes the necessity of social distancing to make a unique and interesting video, with soft tones and warm colors that perfectly match the song itself. 
 It may seem contradictory for King Gizzard and The Lizard Wizard to release a song this innocent (perhaps naive) in a year like this, but perhaps they are trying to give some advice on how to get through trying times (And I know I've read enough fantasy novels to know that it's probably a good idea to listen to kings and wizards when they're trying to give you advice.) 
When things are bad, look to the people you love. Don't let yourself get overwhelmed by the complexities and strife inherent to life, keep yourself focused on the "magic potion" that helps you through the day, whether that's simply a reminder to call or Zoom the people in your life that mean something to you, or to explore your passion while you are trapped inside. Or maybe there isn't a deeper meaning at all, and the song is just as innocent as it appears to be; a love song released during a dark chapter in human history. Either way, the song brings some much-needed lightness to a dark year, and is a reminder to us all to hold on to our optimism, and try and make the world a little sweeter.