"Scrub In" opens opportunities for discussion
The "Scrub In" performance art piece, in which participants scrubbed the Marcus Whitman statue on campus with water, was hardly literal. 
"In fact," said senior co-organizer of the performance, Tess Francavilla, "we don't have any soap."
Instead, the performance, which occurred from Nov. 11-15, was meant to parody the act of cleaning, implicating the Whitman community in a multifaceted discussion around the ongoing legacy of settler colonialism and genocide on campus.
 Coordinated in part by students in the Art and the Anthropocene class, taught by Associate Professor of Art M. Acuff, the performance piece includes a manifesta, authored by the class as a collective, which outlines an open framework through which to engage with the piece both ideologically and physically. It is a means by which to engage in conversation more than it is a restrictive set of guidelines.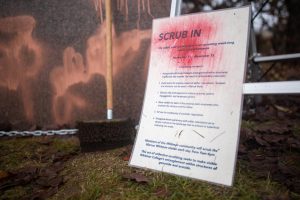 "Because this is a performance work, anybody who walks by, who chooses to participate in conversation, is therefore part of the art," said senior Laura Jessich, another "Scrub In" student co-collaborator. "We sent multiple emails throughout the week encouraging people to engage in every way possible… and I think people have, and I think people will continue to… the responses we've gotten have all been [constructive]."
As a performance piece, "Scrub In" is meant to channel a certain interactivity and fluidity in its expression, much in the style of contemporary performance artists including Marina Abramovi?, who is known for involving bodies in spontaneous ways in performance; the piece is meant to be rooted in the physical, public space as an embodied interaction that prompts reflection through its very physicality.
"This is a work following in [Abramovi?'s] lineage that deals with violence and complexity, and notions of cleanliness and labor," said senior and co-collaborator Lydia Lapporte. "It opens up a space for reflection and reckoning that does not stop at the hour of entry."  
That is to say, the performance's impact is meant to extend beyond merely the time engaged in scrubbing. In this way, "Scrub In" re-appropriates public space for dialogue and embodied interaction with the statue and its history.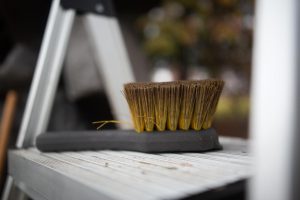 "How we decorate public spaces matters a lot, and who we monumentalize publically matters," Jessich said. 
Through "Scrub In," public space is opened up as common ground for discussion and reflection, challenging the singularized narrative that might otherwise be conveyed by a statue that memorializes Marcus Whitman. 
"Because [the performance] is so unassuming, it creates a point of entry that's more accessible to passersby, and that's where the public space aspect comes in," Lapporte said.
Lapporte sees the performance, then, as a doorway to a diverse and wide-reaching discussion whose various voices are tied together by the collaborate gesture of scrubbing.
"As artists, we understand that we put a piece of art out into the world, and we've put as much intention into it as possible… but from there, it's not up to us what happens. Every interpretation of the work is completely valid and important," Jessich said. "[Even then], visual art requires time to interpret and reflect. It does not spell out meaning to you like an essay would."
Lapporte agreed. 
"Personal identities and histories are going to inform how one interacts with this prompt," she said. "I don't feel like I can speak for what ["Scrub In"] has done, because I know it has meant different things to different people. I feel like we can [only] speak to our intent in the creation of the art piece: […] to give students the opportunity to demonstrate their dissent, however they chose to engage with the project, … and [in such a way] that speaks to greater issues on campus." 
This includes being open to, and embracing, all conversation and criticism on the performance — even Tuesday night's counter-vandalism, which involved anonymous spray painting on the statue.
"Political intervention on statues has a significant place in resistance efforts, and while it was relatively clear that the recent spraypainting… may have been in opposition to the 'Scrub In,' we welcome the critical response and engagement," Lapporte said. 
 "In opening space and attention, the 'Scrub In,' through its entanglement with institutional protocol, made possible a pause in the often relentless effort to 'clean' the statue after acts of intervention," she added. "In this way, I am glad that it made more visible a plurality of opinion," Lapporte said.
Associate Professor of Art History and Visual Culture Studies and Garrett Fellow Lisa Uddin felt that the project's multiplicity and its open-ended approach to dialogue might have also been inhibiting — particularly in preventing the project from synthesizing in a meaningful way.
"Some students, faculty and staff struggled to make the connection between cleaning the statue and histories of colonialism and environmental stress," Uddin said. "For me, there was the additional confusion over what was being parodied, what was being earnestly critiqued and what was being honored. These struggles and confusions don't necessarily mark the 'Scrub In' as a failure, but it does remind us that there are no guarantees when it comes to engagement around public art and its aspirations." 
Nevertheless, the artists behind the performance see the openness of "Scrub In" as important in that it mirrors the processes of reflection — even if it loses a certain clarity in the process.
"We don't mean to imply that art is necessarily a superior way [of communication], but it just sparks a new type of conversation," Francavilla said.
Another part of constructing this new conversation, according to Jessich, is the deconstruction of binaries — challenging that the issue of the Marcus Whitman statue is neatly divided into opponents and proponents. 
"Our work seeks to complicate the current narrative [of "Scrub In"] as an 'us versus them' thing… [between] people who are for the statue and people who are against the statue…" Jessich said. "It exists in the grey area between these things."
The artists are also interested in the ways in which dissent against the Marcus Whitman statue can be conceived of as an entry point into the broader memorialization of Whitman as an institution. 
Uddin worries that the statue might be a symbol that deflects from the project's broader goals.
"I'm beginning to wonder if the statue is an exhausted object—or, as one of my colleagues mentioned the other day—a cipher for all bad things at Whitman. Or some kind of decolonization fetish object," Uddin said. "I would love to see it removed at this point, or if necessary, officially re-contextualized. But there are other ways to throw attention onto the historical grounds on which it operates. The statue cannot do all the work." 
Lapporte also acknowledged that the conversation shouldn't be restricted to mere consideration of the statue.
"All of Whitman's campus is in some way a memorial to or embodiment of genocide and ecocide," Lapporte said. "We've targeted this one statue as a point of intervention because it's so blatantly obvious, and embarrassingly offensive, but it's clear that Marcus Whitman stands to represent a lot of things, [and] his singularization in the whole narrative of white supremacy and settler colonialism is something that we're trying to complicate as well."  
For Francavilla, similarly, the statue should be conceived as a focal point only insofar as it informs the legacy of colonialism in the present.
"I think it can be easy to see colonialism…as something in the past that we're trying to make up for," Francavilla said. "But…there are still indigenous people being marginalized today; it's still ongoing." 
"Taking down the sculpture or not—taking down the sculpture and interacting with it or not—it doesn't erase or cover up the structures that put Whitman here, that put all of our bodies here," Jessich said. 
For Professor Uddin, paths forward involve a more concrete recognition and redress of these kinds of struggles. 
"[Examples of reparative action] include the signing of the Memorandum of Understanding at Treaty Rock with the CTUIR—an act of mutual consent and respect, rather than one party duping another,"  Uddin said. "It also includes the ongoing acquisition of new artworks by single artists and artistic communities of color."
"If and when we hire and retain more faculty members of color, that will be another accomplishment. In other words, the statue is only part of this process. Once it is gone (or officially re-contextualized), we will need to continue trying to make this College a more equitable place, on all fronts," she added. 
What's important is to engage with these structures, rather than passively accept them; the "Scrub In" is one way in which the community can continue to collectively discuss means by which to do so.