Chamber Singers commemorate challenges, peace
It was the modern U.S. premiere of Sebastián de Vivanco's 16th-century piece, "Lamentations for Maundy Thursday," but junior Ronja Mokranova, alto II for the Whitman Chamber Singers — a group of consisting of 20 Whitman student singers, mostly juniors and seniors — wasn't nervous.
"See, the person who wrote it won't ever know [if we make a mistake]," Mokranova said. 
The theme of the Whitman Chamber Singers' performance, which occurred on Friday, Nov. 1, was "Hardship and Salvation," a gradual depiction of the ascension from worldly suffering to the spiritual cleansing of the afterlife.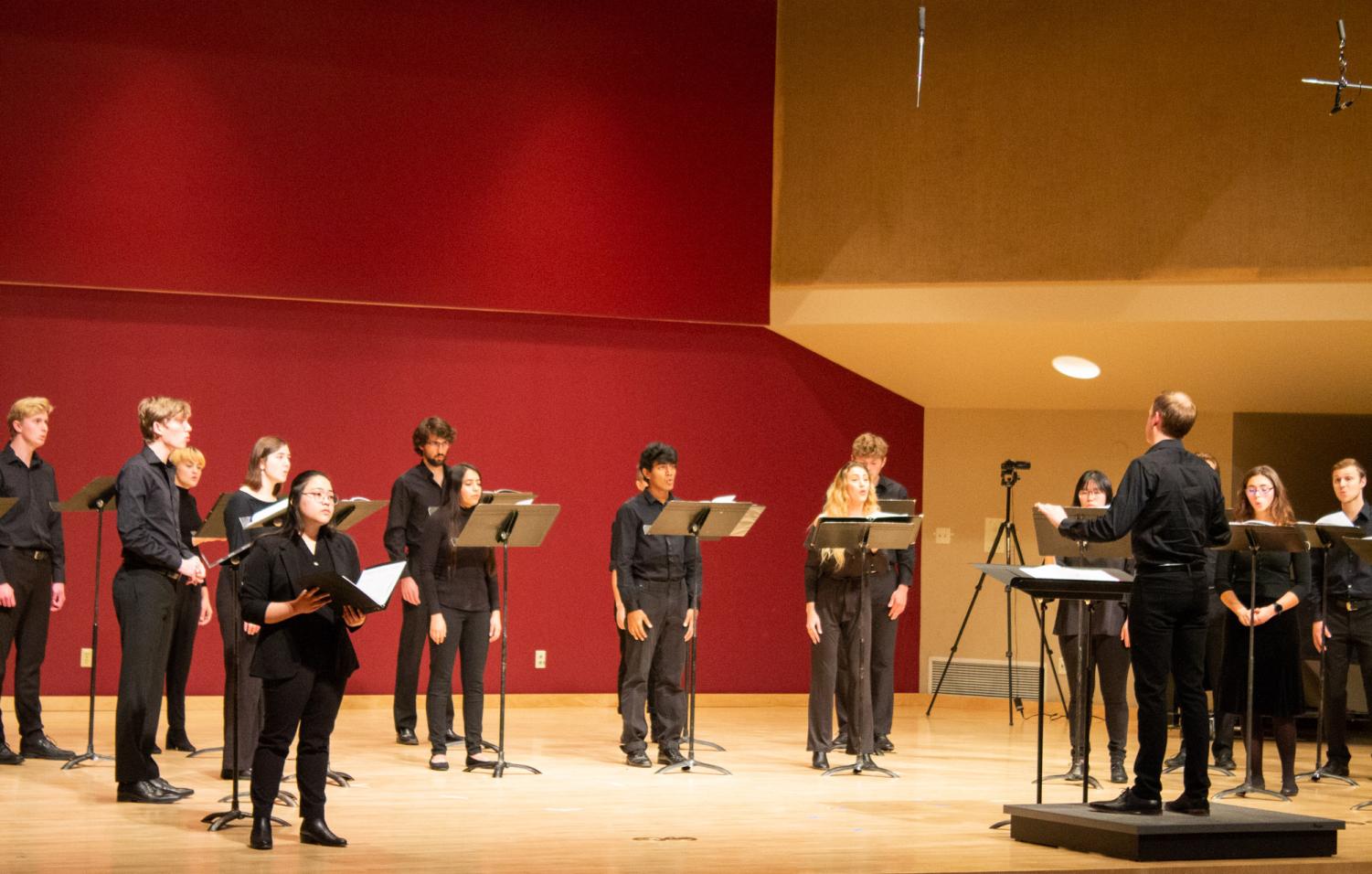 Assistant Professor of Music Miles Canaday spoke to this thematic transition in "Lamentations for Maundy Thursday," the first piece in the program, which particularly deals with the capture of Jerusalem by the Babylonians as depicted in the Old Testament.
"['Lamentations'] is bitter, it's mourning," Canaday said.
Written by Sebastián de Vivanco in the late 16th or early 17th century, Canaday has spent the last three years transcribing the piece into modern notation as part of his doctoral work; this is its first premiere in hundreds of years.
For sophomore Christian Wallace-Bailey, tenor, the art of performance is not just about the composer's intentions so much as it is about developing and conveying an authentic emotional interpretation of the music.
"I think the key to expression in a piece where the composer has an intended textual or music effect and meaning behind their composition is to find what the piece means to you," Wallace-Bailey said. "While the composer can write as many notes or intend a certain feeling as much as they would like, in my opinion, no person but the composer is going to have that exact same reaction to the piece and its meaning. Taking the context of the piece and blending it with your own interpretation and drawing on your own experiences is key to being able to fully embody and do justice to the music."
"[It's not just an opportunity for] presenting research, but also something that's an artistic presentation. It's not just new ideas, it's actually rather old ideas that are recurrent," Canaday said.
Furthermore, Canaday arranged the performance so that "Lamentations" is bisected by "I've Been in the Storm So Long," an African American spiritual arranged by contemporary composer Jeffrey Ames in commemoration of the lives lost during the 2005 Hurricane Katrina.
Wallace-Bailey was intrigued and impressed with this arrangement.
"We were told that 'I've Been in the Storm So Long' would be in the middle of 'Lamentations for Maundy Thursday' very close to the performance date, so we had not been practicing it that way until very recently," Wallace-Bailey said. "I think it is a really interesting decision, not only musically, but thematically. Using that piece to grab the attention of the listener in between the 'Lamentations'… is very smart… it gives us a chance as performers to [stay] on our toes through the piece."
After the "Lamentation"/ "Storm" medley, the singers closed the performance with two contemporary pieces: Terry Schlenker's "Into Paradise" and Alice Parker's "Hark, I Hear the Harps Eternal," thereby completing this thematic progression from tribulation and hardship to salvation promised in the afterlife. 
For Canaday, this kind of musical and thematic transformation is important in order to root the performance in the contemporary moment, to demonstrate that human suffering is a commonality throughout history.
"[It's really important to hear] the voices of those unsung, or those people who are marginalized, either by history or, in the case of 'I've Been in the Storm,' calling to mind the hundreds of people who died in Hurricane Katrina," Canaday said.
This emotional weight sometimes means, for Wallace-Bailey, simply stepping out of the way of the music.
"I think our job as performers is to be aware and cognizant of representing those voices in as authentic a way as possible," Wallace-Bailey said. "In my opinion, it is our job as performers to let the music speak, and get out of its way as much as possible." 
While the score's theme is most obvious in the text, it takes a very conscious and deliberate effort to convey that narrative through performance.
Mokranova described it as a kind of over-emphasis on dynamics and communication with the audience.
"You need to double everything, triple all the emotions, otherwise it's not going to come out to the audience," Mokranova said. "You need to be extremely expressive with what you're doing." 
Part of effective emotional expression is internal communication among singers. With a group of 20 people, far smaller than in Whitman Chorale — the largest ensemble on campus, consisting of 80-100 singers — the expectations for effective communication are a little different. 
"What I'm doing is having the singers react differently… [in Chamber Singers] they need more musical independence [than they would in larger groups] and they need to be looking around and feeling the music together," Canaday said. "It's all unaccompanied, so they have to create their own sense of tempo and pulse… Sometimes, I'll stop conducting so that they are communicating with each other."
These increased demands for independence mean that the Chamber Singers have been rehearsing and practicing for a long time — since the second week of school. It also means that performers were excited to share the experience of performing with friends, and the performance was very well-attended, both by students and community members.
Wallace-Bailey finds this important because for him, each person has the potential to develop their own intimate emotional reaction to the performance.
"Personally I think the theme can be deeply personal and up to interpretation by both the listeners and the performers," Wallace-Bailey said. 
As Professor Canaday whirled the baton for one final crescendo — and as the protracted, angelic harmonies gradually echoed into memory — there was a brief second of silence, an absorbance, perhaps a collective sigh. Then resounding applause. The singers had clearly fulfilled their role as communicators, as storytellers — and the theme had clearly hit its mark.