Wire Watch: Oct. 10-16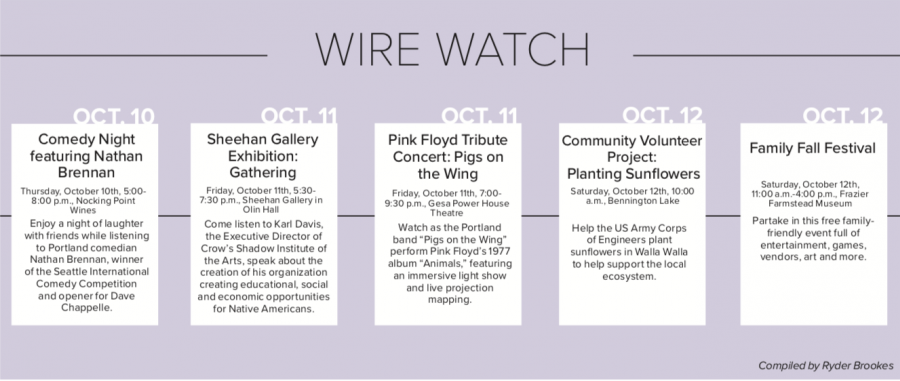 Sheehan Gallery Exhibition: Gathering
Friday, Oct. 11, 5:30-7:30 p.m., Sheehan Gallery in Olin Hall.
Come listen to Karl Davis, the Executive Director of Crow's Shadow Institute of the Arts, speak about the creation of his organization creating educational, social and economic opportunities for Native Americans.
Comedy Night featuring Nathan Brennan
Thursday, Oct. 10, 5:00-8:00 p.m., Nocking Point Wines.
Enjoy a night laughing with friends while listening to Portland comedian Nathan Brennan, winner of the Seattle International Comedy Competition and opener for Dave Chappelle.
Pink Floyd Tribute Concert: Pigs on the Wing
Friday, Oct. 11, 7:00-9:30 p.m., Gesa Power House Theatre.
Watch as the Portland band "Pigs on the Wing" perform Pink Floyd's 1977 album "Animals," featuring an immersive light show and live projection mapping.
Community Volunteer Project: Planting Sunflowers
Saturday, Oct. 12, 10:00 a.m., Bennington Lake.
Help the US Army Corps of Engineers plant sunflowers in Walla Walla to help support the local ecosystem.
Family Fall Festival
Saturday, Oct. 12, 11:00 a.m.-4:00 p.m., Frazier Farmstead Museum.
Partake in this free family-friendly event full of entertainment, games, vendors, art and more.