Desiderata
This weekend, Apr. 19 to April 22, "Desiderata" debuts in the Nancy Simon Acting Classroom in Harper Joy Theater. Written and directed by Grace Sanwald '21, this 45-minute one act show revolves around the lives and relationships of five college friends.
"Desiderata" features a variety of lighting, music, movement and pacing to convey the dynamic story of each character's desires and dreams. The show transcends the boundaries of reality and enters into multiple metaphysical realms. On the setting of the piece, Sanwald said:
"It oscillates between a dream world, a 'mindscape' reality and a 'reality' reality."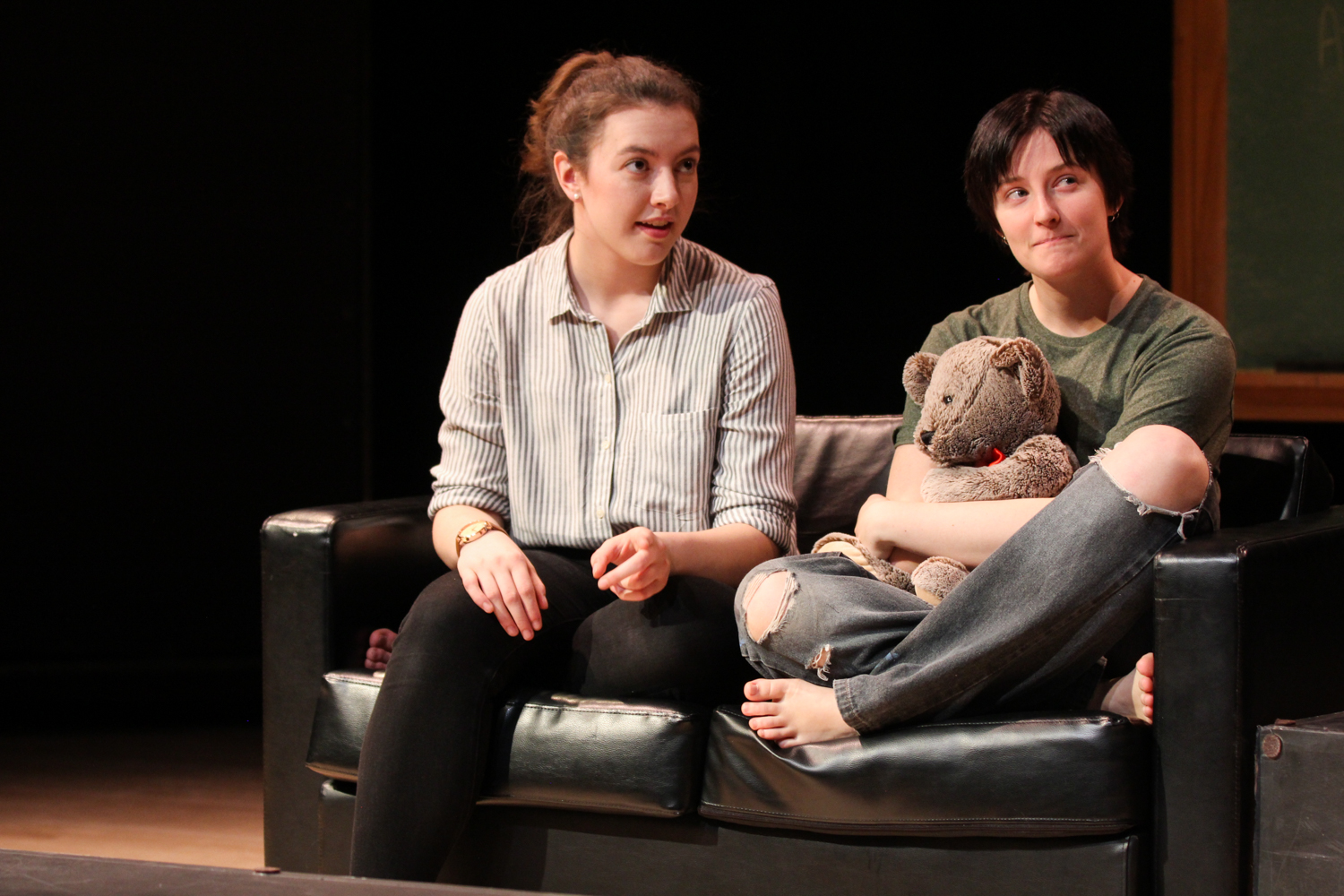 Sanwald named the piece "Desiderata," the Latin word for a want or a need, after her grandmother's favorite poem of the same name by American writer Max Ehrmann. Inspiration for the five characters, Adrian, Angel, Riley, Sage and Taylor came from Sanwald and her relationship with her four cousins. During the creative process of writing the text, she incorporated several other characters into the script.
Emma Foley '21, who plays Adrian, described the process of embodying the characters:
"It's all about our instincts, so it's a lot less of 'okay, here, do this, here's your blocking,' and it's more about 'well, what do you feel like doing right now? How do you feel like your character would move? Where is your character?"
The show's performance in the Nancy Simon Acting Classroom promises to create a vital closeness with the audience.
"The sizing is just about right to be able to have those isolated moments where you're focused on a few people when there's others on stage, sometimes doing their own thing, sometimes holding in a pose," said J Gavigan '21, the show's designer. "It's enough blocking freedom, but it still has the intimacy that a text like this deserves."
During transitions between particular scenes, the show incorporates segments of well-known songs from artists including Fleetwood Mac, John Lennon, and The Animals played by Eva Sullivan '21 and Noah Dunn '21, on piano and guitar. These transitions play an integral role in the narrative, serving as segues between not only scenes, but moments, realms and thoughts.
Sullivan spoke on her work as the show's choreographer:
"There's always a flow, so even in the parts where there's more movement, it's really just about all the actors moving around each other and moving from one place to another but in their own time, and in their own pattern or flow."
The show's collaborative nature manifests as a celebration of the vast creative passions of students in the community. Chloe Hood '21, who plays Sage said:
"It's been really, really exciting to see it go from just being words on a page to actually seeing it onstage with music and with characters, and with acting."
"Desiderata" presents common human dilemmas of value and aspiration through a poignant, artistic experience.
"I would hope that people come away from it with their own interpretation of what it means to them and how it affects them personally," said. Sanwald. "I would like our audience to be more mindful of the things that are important to them in their day-to-day life after seeing this show."