Passion Onstage: Anna Ballew at Plumb Cellars
On the evening of Friday, Mar. 1, Resident Director of Lyman House Anna Ballew '18 took the stage at Plumb Cellars for a night of music. In the cozy, sophisticated venue on East Main Street, Ballew performed both covers and original works.
A Whitman alum, Ballew grew up in Missoula, Montana. Along with majoring in Anthropology, Ballew was a member of the all-women a capella group Sirens of Swank and made occasional appearances with the student jazz/funk band, Crossing Isaacs. Before her time at Whitman, she cites music as an integral part of her family life:
"My family is very musical. My dad has been playing guitar since he was a kid. My brother and I grew up with my dad playing and singing, and we listened to a ton of music growing up," said Ballew.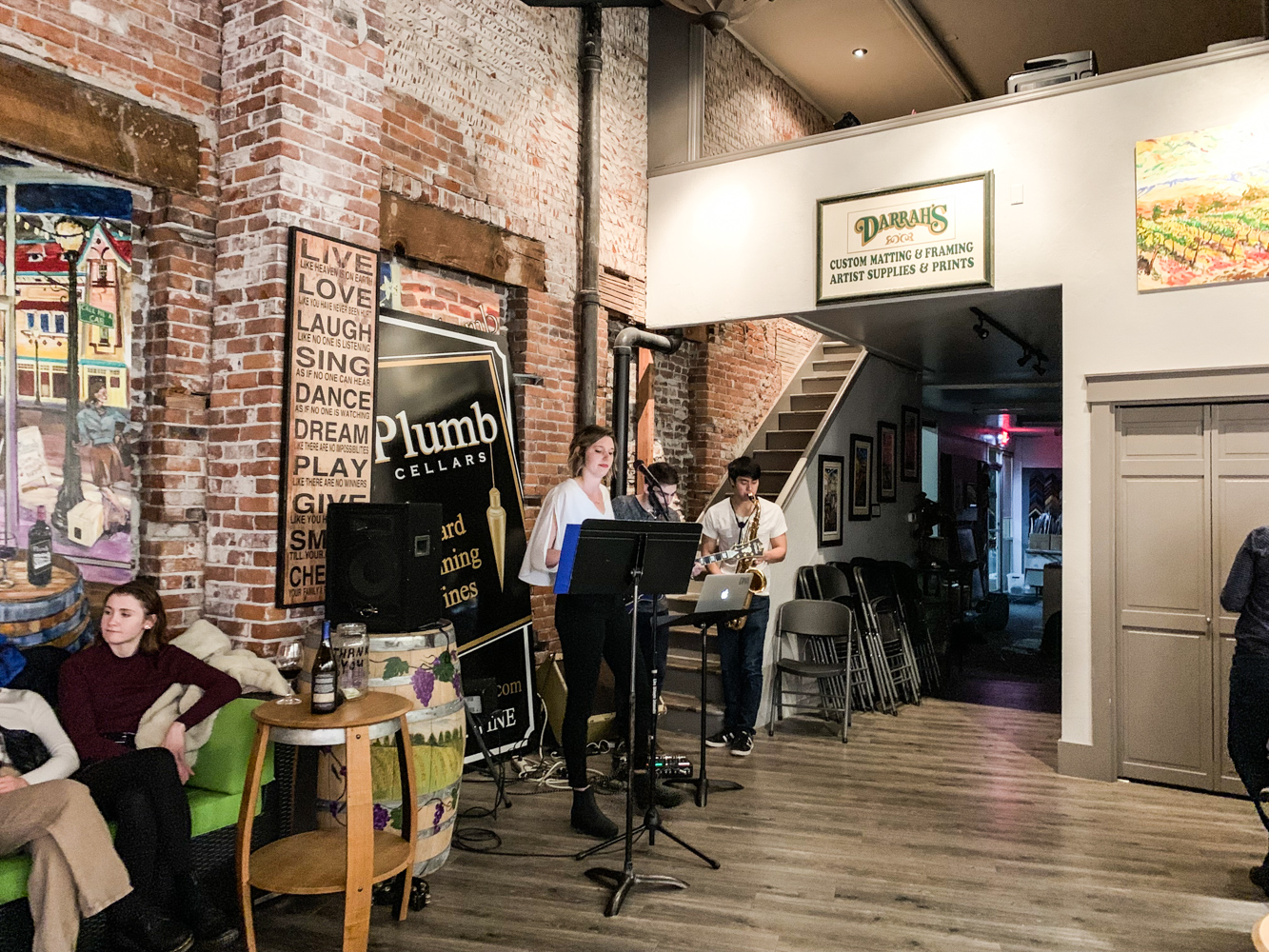 After playing violin for most of her life, Ballew picked up guitar in high school. Nowadays, she hosts monthly bluegrass jams in the Lyman main lounge, and frequently plays guitar leisurely in her room. Last summer, she began to reach out to wineries at which she could perform sets. Lyman Resident Assistant John Smith '20 said:
"I've heard her sing a lot just while working with her on an individual basis, but it's nice to see her perform in front of a lot of people."
In addition to guests being able to select from wide array of beverages (both alcoholic and not), wineries serve as performance venues for individuals passionate about performing. Ballew said:
"I try to at least go to the performances of people I know because there are a fair amount of music professors who play at wineries on the weekends."
Accompanying Ballew on guitar was Jake Barokas '18 and Daniel Leong '21 on saxophone. Additionally, Madison Wray '19 joined Ballew for duets on multiple songs. Gillian Smith '22 said:
"I really liked the harmony that the two vocal parts infused with the band's music."
Among the artists that Ballew covered include Allen Stone, Billie Eilish and Stevie Wonder. She notes multiple musical influences, including Joseph, Amy Winehouse and Rachel Price of Lake Street Dive. Ballew noted, on her own original sound:
"It's good to have multiple influences because these three artists are all fairly different, so it's kind of impossible to sing all like them."  
As Spring semester continues and schedules begin to become busied with academic and extracurricular commitments, students, faculty and staff alike struggle to find time to unwind. The opportunity to attend live music at a winery not only supports local musicians, but offers a chance to find inspiration and joy among the community.
"I hope that people are able to come and socialize with friends or family or loved ones and listen to music that they enjoy or maybe don't know but enjoy, and have an opportunity to get away from everyday stressors and just listen," said Ballew.  "Whenever I go to live music things, I'm in a much better mood."