Whitman is "No Place for Hate"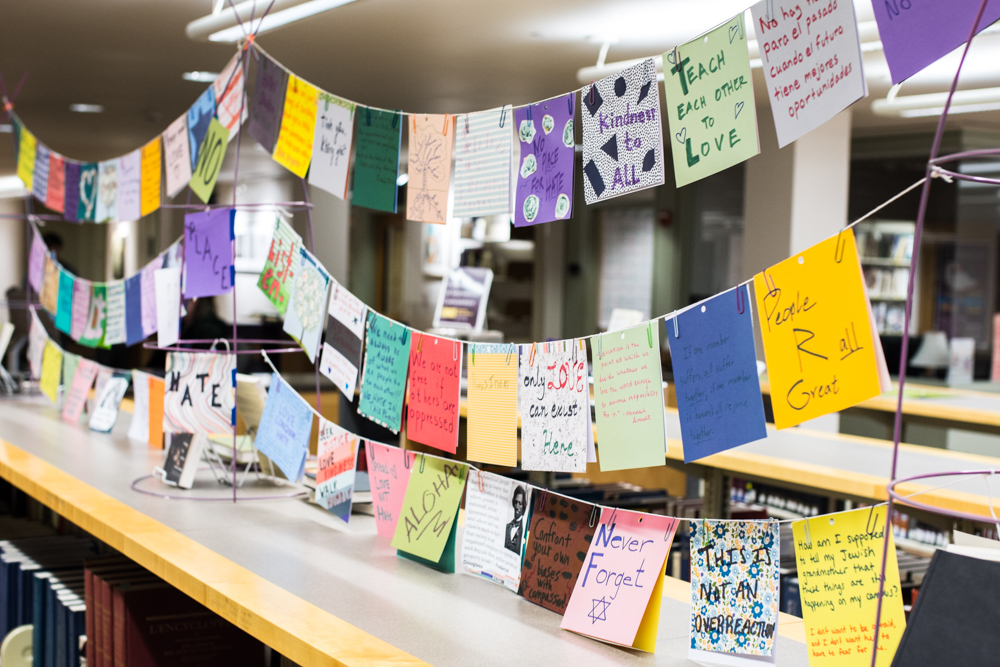 Beautifully decorated six-by-six squares bearing a range of drawings, artistically-penned messages and positive quotes welcome visitors to Penrose Library. Situated on the bookshelves between the circulation desk and the main entrance, the "No Place for Hate" art project asserts Whitman as a loving and inclusive environment.
The project consists of squares of paper on which people were invited to write or draw messages countering hate. The project was originally conceived after a swastika was reportedly found drawn on a whiteboard in the library before Spring Break. In support of the Jewish students on campus, Interfaith Chaplain and Assistant Director of the Intercultural Center Adam Kirtley attended the meeting that Hillel-Shalom, the student Jewish organization at Whitman, held the day after the incident to talk about what they might do next.
"One of the things that the Jewish students felt really strongly about was that, let's use this as an opportunity to invite a response to acts of hate of all kinds, against all people," Kirtley said. "So it could be motivated by that symbol, but [they wanted] to not necessarily make it a response that was specifically [about hate] towards the Jewish population at Whitman, but to say, 'let's use this as an opportunity to talk about whether it's a racist activity, or a homophobic, or Islamophobic—whatever it is, to give people an opportunity to reflect on that and participate in some way."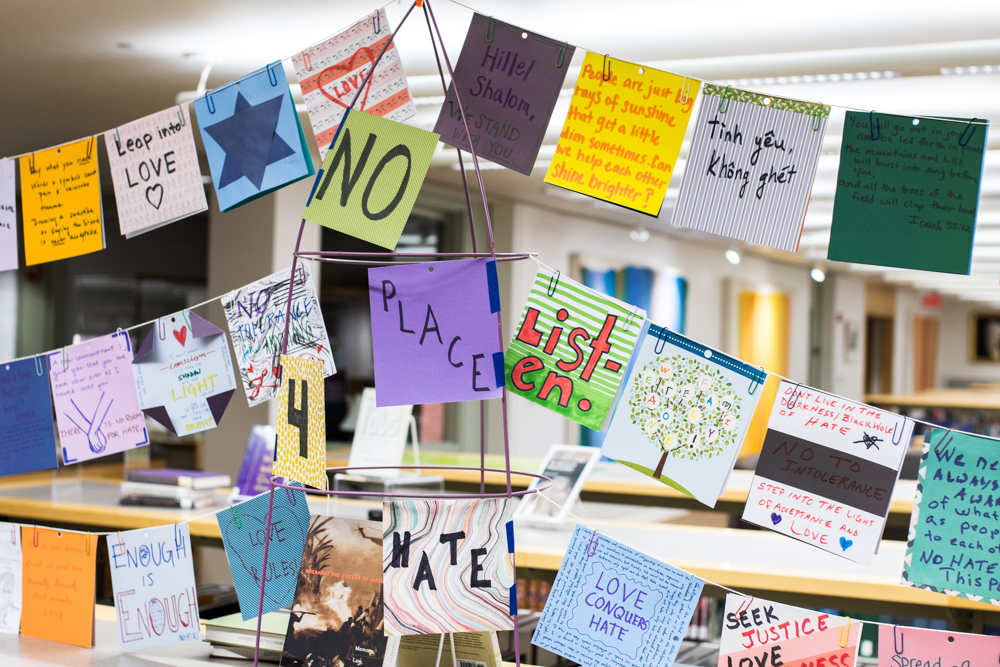 Kirtley and Hillel-Shalom came up with the "No Place for Hate" project during that meeting. They set up a table in Reid for people coming to and from the building to stop and decorate squares with messages of love.
Many people participated, creating around a hundred squares for the project. A sizable portion of the squares came from the Whitman Christian Fellowship (WCF), who decorated squares during one of their meetings. WCF student leader Erina Horikawa '19 spoke of the importance of their participation.
"I think it's super important for different faith organizations to come together and support each other, and to show solidarity," Horikawa said. "As a faith community, we really want to spread love."
Horikawa wrote a message in Japanese about replacing love with hate. Along with Japanese, some of the messages in the project were written in other languages including Vietnamese and Spanish, speaking to the wide range of people that injustice affects and demonstrating how people from all walks of life can come together to speak out against hate.
"I think it's cool that people from all different backgrounds come together," Horikawa said.
The messages written on the squares included straightforward phrases such as "Only love conquers hate," "Enough is enough," and "Choose kindness," quotes from people like Michelle Obama and Martin Luther King, Jr., and verses from the Bible such as "A new commandment I give you: that you love each other even as I have loved you."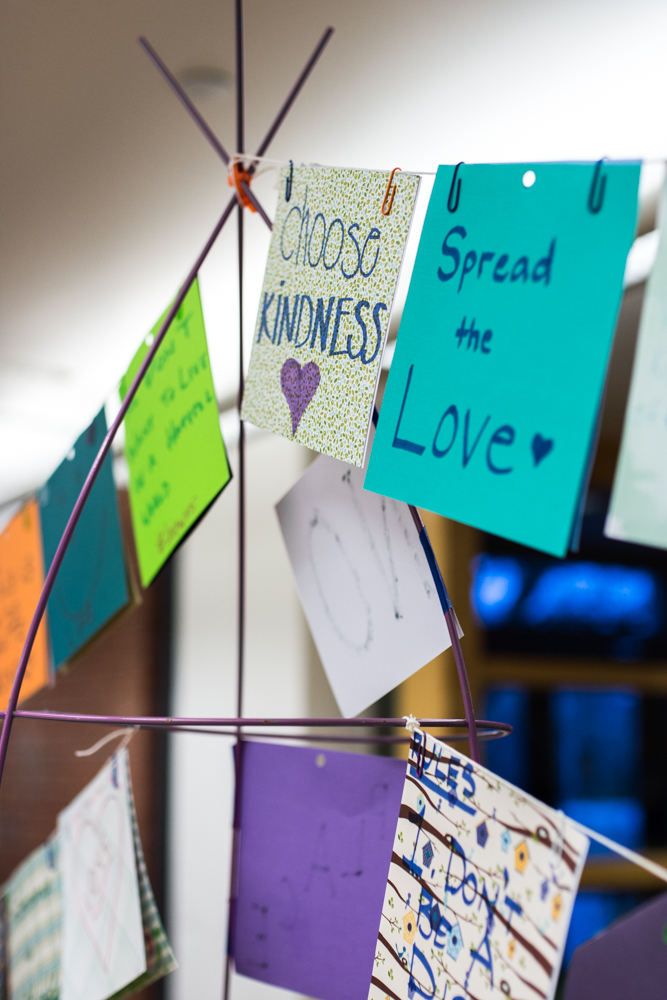 The decorated squares were assembled together in the library where they will remain for the rest of this week. Hillel-Shalom Co-President sophomore Sarah Schenkein, who was involved in the planning of the installation, spoke about the placement of the "No Place for Hate" project.
"The swastika was found in the library, so we wanted to have another visual thing in the library that people would see in the library as they came in that would be kind of like a counter-message," Schenkein said.
"It has been really nice to go in the library and look at all of the things put up … It's really great that all of the people who have participated decided to do that," Schenkein added.
Kirtley spoke of the overall impact of the installation.
"I think that when you see them [the six-by-six squares] all together, you realize that every single piece of paper represents a different person who stopped by to express their thoughts about it in some way," Kirtley said. "There's power in the abundance of responses, that this is not just one individual who's created a piece of art that says 'I stand for a loving and inclusive community,' but this is really the voice of a hundred or something students and community members who stopped by to take just a few minutes to say, 'I stand with you.' Interestingly, I think the vast majority of those contributions were not from Whitman Jewish students … these are generally folks who just thought 'this is important, I want to share my perspective.'"
The project has garnered much support from a variety of people, creating a sense of solidarity that reminds students that Whitman is indeed no place for hate.