"SPACING" Melds Movement with Meaning
This year, "SPACING," the Whitman Dance department's fall dance performance, wove elements of music, voice and language through abstract movement. The performance, which ran from Nov. 9 to 12, was composed of four pieces choreographed by New York-based guest artist Katy Pyle and by Whitman faculty members Renée Archibald and Peter de Grasse. The concert also welcomed guest lighting designer Michael Johnson and guest costume designer Laurie Haluska.
Pyle's two pieces explored the complexity of gender and queer identity through dance. The first piece in the performance was "Woodland Duet," an excerpt from a previous work by Katy Pyle called "The Firebird, A Ballez." The piece told the story of a first encounter in the woods between a lesbian princess, performed by senior Kyla Rapp, and a firebird, performed by senior Amelia Bishop. Inspired by Michel Fokine's 1910 performance of "Firebird," Pyle and the performers reinterpreted the original ballet from a queer perspective.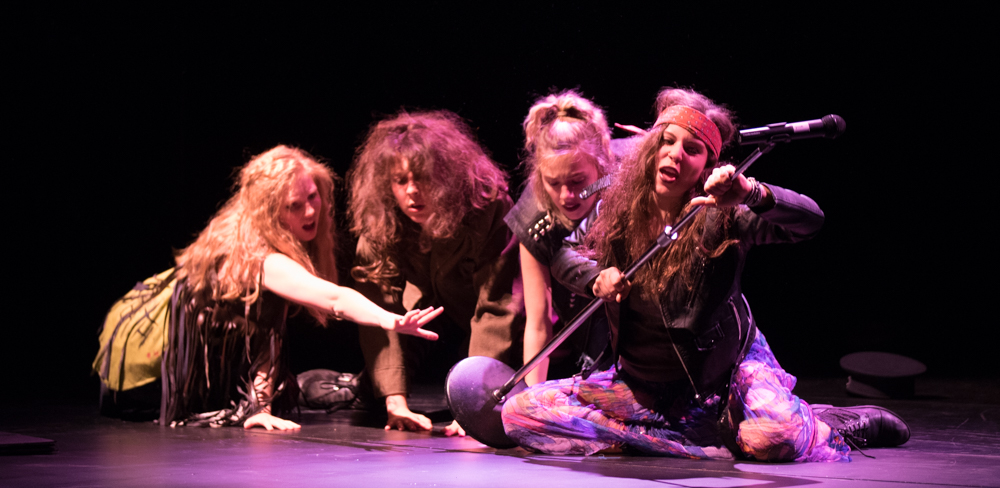 Rapp dressed in a Marie Antoinette-like costume and Bishop dressed in a traditional men's suit, adhering to a traditional pas de deux, or ballet duet. However, the responsibility of lifting their partner bounced between the two dancers, challenging the audience's notion of the man and woman in the duet.
Pyle also choreographed the final piece in the performance. "Club Duets" was an excerpt from "Sleeping Beauty and the Beast," another a previous work of Pyle and collaborators from 2016. The piece consisted of three duets taking place within a 1993 dyke club in New York on the Lower East Side. Inspired by interviews with lesbian activists, Pyle wanted to create a piece set in a nightclub because it was, and still is, a space for lesbian and queer folk to gather and celebrate during difficult times.
One of the duets within the piece called "Cats," performed by Rapp and Bishop, could best be characterized as a sexual tease between two queer dancers. Dressed in cat-like costumes, the dancers embodied the strength and agility of cats through their partnership. The piece was filled with jumps, leaps and complex movements.
Archibald, director of SPACING, was interested in bringing Pyle to campus because she felt that her choreography would be valuable to student dancers at Whitman.
"Katy's work gave our students a practical experience of how dance can be critical," Archibald said. "It gave them the opportunity to question the form's ideology, which becomes indoctrinated in their bodies though repeated practice, and to participate in the practical disruption of that ideology. It's important for our dance students to continue to think about how their bodies are represented when they perform, and what repeated representations do in the world."
The other choreographers fashioned their dances with different elements in mind. Archibald choreographed "Interference Variations," which was performed by a group of seven students. The piece was a series of scenes that kept audience members on their toes. From an intense soundless scene, one would suddenly be thrust into an energetic dance to "Sound and Vision" by David Bowie.
"I was thinking about how text and image interact, and I wanted to work with the concept of interference–the idea being that there are two signals–and I wanted to see about taking the point where those signals cross as the object of the dance," Archibald said.
The third piece in the show, "Margins of Prophecy," differed from both Pyle's and Archibald's works. It was choreographed by de Grasse in collaboration with senior Emily Dorn, first-year Amara Killen, junior Sabina Rogers and sophomore Beatrice Solomon. A notable scene in the performance was when Killen, Rogers and Soloman sang the sh'ma, a Hebrew prayer song. Immediately after, performers passionately lip-synced to "I'll Be Your Johnny On the Spot" by Ween. The dramatic shift relates to a German style of theatre that de Grasse has been working on recently, called Tanztheater.
"Performers might go from doing something that is intimate, soft, human, even tender, slow, gentle, delicate, to something that is extroverted, harsh, artificial, overtly performative, that is perhaps even cynical or harsh in tone. By alternating between those extremes, almost without transition, the audience is overwhelmed and must relinquish their agenda and simply receive the experience," de Grasse said.
Killen explained the prompts and discussions that influenced the creative process of the show.
"That was basically the prompt: bring something from your life that you want to share," Killen said. "I was raised Jewish. I'm not very religious anymore, but my mom would sing the sh'ma to me every night before bed. That was a huge part of my life, and I brought that in and I sang that. [Then] whatever we shared, Peter would work into the piece as we went along."
As part of the last duet, the entire cast entered the stage-turned-nightclub. The space, filled with dancers sparkling and glimmering under disco ball lights, showed how individuals from a multitude of backgrounds could be linked through movement. This striking scene encapsulated the power of dance. Ultimately, SPACING demonstrated the possibilities of how humans can move with each other and themselves in any given space.