Master Puppeteer Visits Whitman, Helps Students Bring Marionettes to Life
Hold out all of your fingers. Now, put down the middle and ring. Got it? According to master puppeteer Dan Luce, who visited Whitman this past weekend to share his expertise and love of puppetry, this hand sign is how puppeteers control hand puppets. No wonder, Luce jokes, this symbol is also an international sign for peace and love.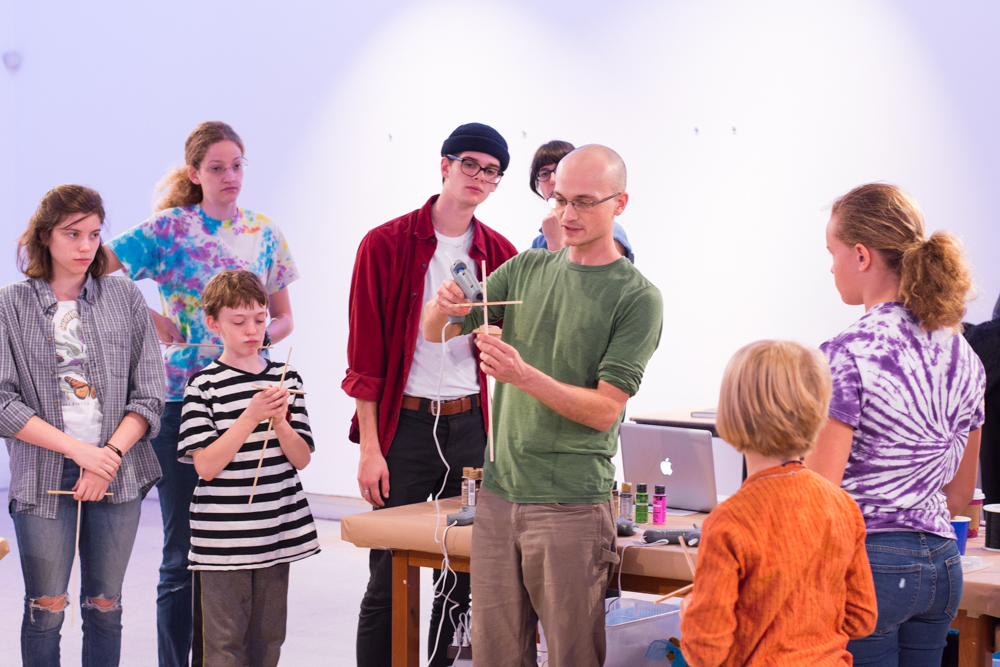 On Friday, Oct. 27, those gathered in Olin Auditorium saw a dual presentation and interview regarding Luce's journey into puppet mastery, and a workshop was held on Saturday, Oct. 28 for those wanting to learn how to build a puppet.
Luce has designed puppets all over the world, including Olaf for Disney's live performances of "Frozen," and a life-size puppet for the Oregon Symphony's recent performance concert "Persephone."
In his presentation, Luce said that from a young age, he has been fascinated with "scattered" approaches to art; that is, creative endeavors that combine multiple kinds of art. Puppetry is one such approach that brings together all of his interests.
"I grew up making music and sculpting and doing all these different kinds of things that I was led to believe I had to choose between if I really wanted to be serious about any one thing," Luce said. "It was just a revelation when I saw that work [puppetry], that everything that I was interested in fell into one title. It was basically a playground with all my favorite toys."
Sheehan Gallery Exhibitions and Collections Manager Kynde Kiefel, who has known Luce since she was 15 years old, always knew that Luce was a creative force.
"He was this ultra creative person. He can draw, he can paint, he can sculpt … He makes music," Kiefel said. "What's amazing is I see how even his very young years were clearly leading to puppetry."
Luce's first dive into this endeavor was about a decade ago, when he and his friend Shawn Douglas created handmade puppets for their company DougLuce Puppet Productions. He has since been educated by a number of incredible puppet masters including Phillip Huber, who created the puppets for "Being John Malkovich" (1999). Luce now works for Michael Curry Design.
Now, as a master puppeteer, Luce emphasizes the liveliness of puppets. According to Luce, part of the magic of puppetry lies in its ability to take on life and present the illusion that these puppets are living creatures.
"To see them in motion is to accept them as their own entity," Kiefel said. "He [Luce] just breathes life into these art objects."
Sophomore Liv Staryk attended the Friday presentation and was amazed by the emotion puppets were able to provoke.
"Art is very emotive, and you feel a lot from it, but there's something about art that moves," Staryk said. "I feel this real connection to it [Luce's puppets]. It feels human."
Psychology is also important to his work. In his presentation, Luce described how puppetry goes beyond children's entertainment; it also provides a "personal, poetic self exploration." Two puppets in his repertoire are the Happy and Sad Guys, that are representations of the iconic comedy and tragedy masks in theater. In these puppets' narrative, Sad Guy often wanders away from his post at the theater, requiring Happy Guy to bring him back and restore balance between the emotions. His mental state was reflected in the piece, just as the piece was able to help him understand his own emotions.
While the stories of these puppets could move both children and adults, there is something special about how Luce's performance was able to inspire kids. Senior Mercer Hanau noted how events like these can promote creativity as a viable path to kids who might be interested in art.
"It's cool to see all the kids who are here because this was a really unusual demographic. Usually it's students and professors and older community members," Hanau said. "The one kid in front who said, '[Luce] got me hooked on puppetry,' that's the ideal reaction."
Luce hopes that, from his performances, viewers will take away both a smile and the idea that they have limitless creative potential.
"If people are artists themselves, or have any of that within them, I like the idea that it [my puppetry] can inspire folks to blur the lines between mediums and do whatever they want," Luce said.
Luce's works are currently exhibited in Olin in what he describes as "chronological splattering" of what he's done over the last 20 years.