Coming Out Stories hosted by LGBTQIA+ Club PRISM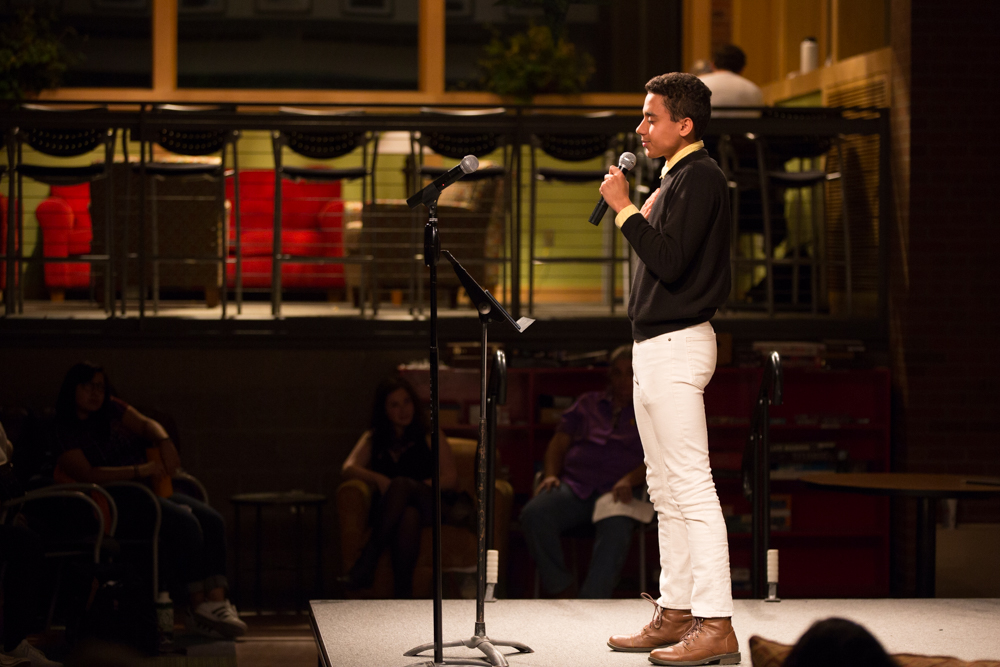 Last Wednesday night, students and faculty alike braved the rain to visit Reid basement, where Whitman's LGBTQIA+ club, PRISM, hosted a successful "Coming Out Stories" event. It was October 11, National Coming Out Day, and eight members of the Whitman community shared their coming out stories. Emily Bauer '18, PRISM's current intern, created and led this event to bring more awareness of LGBTQIA+ issues on campus.
"PRISM really wanted to be more visible, and have education be our primary goals this semester," Bauer said. "Whitman believes it to be very accepting, and because of that we're not having conversations."
With that in mind, one of PRISM's goals for this event was to normalize discussion of LGBTQIA+ topics. Vari Robinson, the LGBTQIA+ Program Coordinator, noted that PRISM wanted to celebrate the process of coming out without necessarily pressuring everyone to out themselves when they might not be in situation to do so.
"[PRISM wanted to] get people to hear different coming out stories, to celebrate that coming out is huge and awesome … but also that sometimes it's still scary, and we need to break this issue down, even on this campus," Robinson said.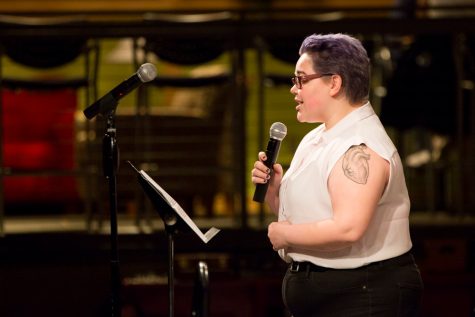 The coming out stories and experiences were diverse, demonstrating just how personal and unique the process is. While coming out might be straightforward for some, it can also be a life-changing moment. Stacey Amezquita '19, who spoke at the event, explained how coming out can take many forms and feel different to various people.
"A coming out story doesn't have to be a big dramatic moment," Amezquita said. "In movies or in literature, it's like this big flashy thing, and sometimes that's just not true to life."
Many of the stories also addressed how daunting and difficult coming out can be, regardless of the circumstances. However, according to many speakers, it is also an ultimately positive thing. Another person, wanting to remain anonymous, spoke to this aspect when she spoke at the event about her experiences coming out as transgender.
"I wanted to show that it's really possible to live a really full life even if your other situation won't allow it," Anonymous said. "I'm completely out here, but back home my parents have no clue."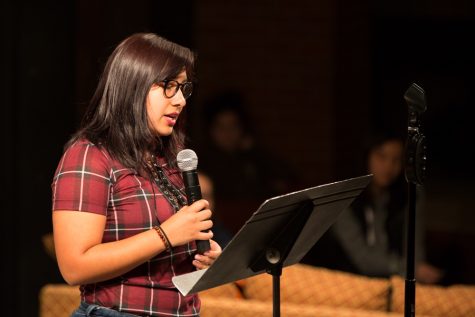 First-year Lucy Rosenberg's coming out situation was different, but she agreed that there are positives and negatives to the coming out experience.
"I come from a family that's very accepting," Rosenberg said. "I want people to know that if you are scared, it never gets easier, but at the same time it's the most liberating thing you can do."
Even staff members shared their stories. Linley HaneyNixon, a Whitman security officer, spoke about her "19-4" year relationship with her partner–nineteen years of being together, and four years of being married since the state of Washington legalized same-sex marriage. She hoped the event would bring people closer together and open dialogue.
"Coming up and saying it is difficult, even though I've been me for a long, long time," HaneyNixon said. "If there's anyone who has a question about something, maybe … [my story] would give them a little more courage to share."
The stories stressed that coming out is also not a one-time event. As people come to terms with their sexuality, they may come out multiple times as multiple identities. Rosenberg spoke about her experience coming out as a lesbian, as bisexual and then as pansexual.
"I thought that my story could really help talk about the fluidity of sexuality," Rosenberg said. "Coming out three different times as three different sexualities is a lot."
As Rosenberg's story demonstrates, the coming out process is also not solely dependent on what others think of you. Coming out often begins with self-acceptance, and this step is not easy.
"We don't all automatically accept ourselves," Anonymous said. "It took me a while to accept myself."
Another speaker, Isiah Cocroft '19, commented on the importance of sharing the humanity of coming out stories.
"'LGBTQ+.' So often, people who aren't involved in the community hear that, and they don't really know what it means," Cocroft said. "They don't know the faces behind it, the emotion behind it."
With this in mind, the "Coming Out Stories" event was a success. Bauer and the others who shared their stories hopefully encourage others to share their own. PRISM meets every Wednesday at the Glover Alston Center to discuss LGBTQIA+ related topics. They encourage anyone interested to learn more to come and perhaps share their story as well.