KWCW Spotlight: Students Talk Race, Sexuality and More on Air
"We're Black, We're Queer, We're Here" brings the intersectionality of race and sexuality to the forefront with much energy, passion and, of course, humor and entertainment. The radio show, which airs on KWCW Sundays from 3:00 p.m. to 4:00 p.m., is the creation of Whitman students Georgette Lugalia and Isiah Cocroft. On air, they discuss a wide variety of topics ranging from dating to friendships to insecurities. They also incorporate music into the show.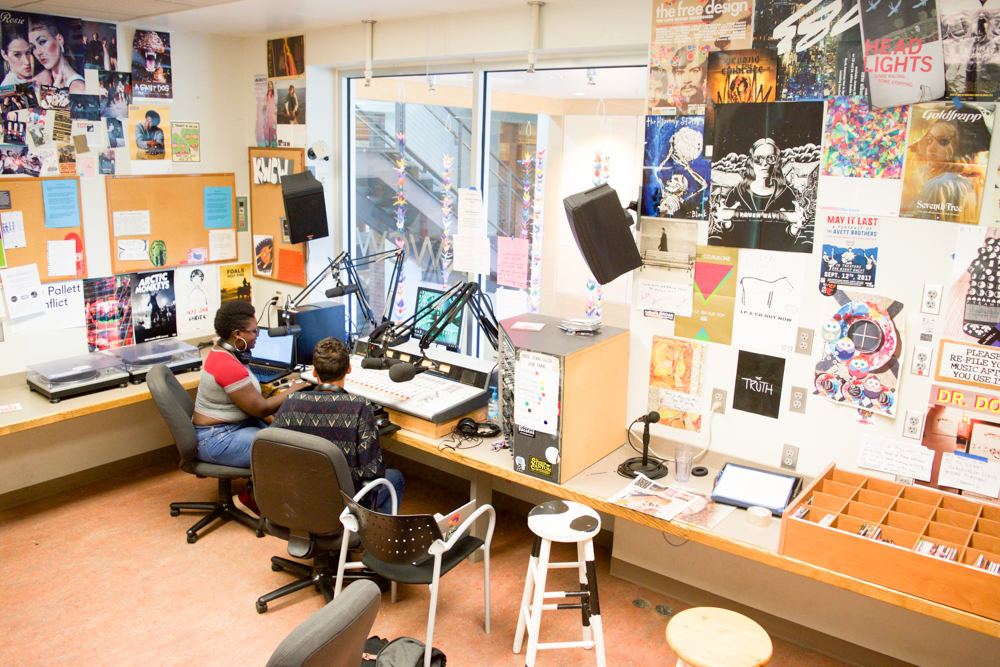 "We're kind of bringing intersectionality to the Whitman campus and I guess broadly Walla Walla as well," Cocroft said. "[The show is] about race and queer identity, and of course we talk about other things like religion, being an undocumented citizen or immigration, things like microaggressions, things we experience on Whitman campus, and we talk about things like sex, or sex tips, or dating—you know, all those kinds of things, so it's not always about serious stuff."
The idea for the show came when Cocroft and Lugalia worked at the same job over the summer and noticed several things: first, according to Cocroft, many people liked to listen in on their conversations (i.e., they are interesting people to listen to!), and second, they experienced microaggressions on a daily basis. Most striking to Lugalia was their shared experience of being black and queer.
"We became really, really close, and we were experiencing the same things almost, and it was so great to be able to talk about it," Lugalia said. "And we were like, 'Hey, maybe other people are experiencing it too–let's see what we can do about that.'"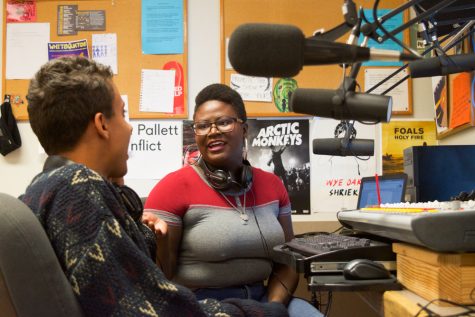 From there, they decided to start a show that listeners could hopefully relate to as well. It may speak most directly to people of color and queer people, but anyone can find enjoyment and insight in listening.
"I try to make it so everyone can listen to it and relate to it on some level," Cocroft said. "People who maybe aren't black but have different identities, or people who struggle with being a different form of sexuality, of course things like dating and sex, things that apply to a lot of people, not all people, and we of course just talk about what it's like to be at Whitman's campus, I know we talk about … being called the happiest school in Washington and what does that mean, what does that mean for people's mental health, so there are some elements that are geared towards people of color and queer people, but there are some broad topics as well."
Aside from the show being a mode of expression and a way to share experiences, it also speaks to often-discussed topics at Whitman, such as microaggressions and issues of diversity. Cocroft noted the frequency of discussing these topics, and also the fact that these problems still exist. Lugalia agreed and added her personal take on it.
"I think the biggest thing about Whitman is that they're P.C. to a fault sometimes," Lugalia said. "They think they're being helpful, but we can speak for ourselves and this platform is here to be like, hey, we don't need allies—we need people to just give us the space to talk about our experiences. Allies are not helping us; they're actually deterring us from being able to put our voices into action because they almost make it seem like we don't have our own voices so we need someone else to speak for us, but that's not what we are. Our voices are loud, we can speak, just give us the space to do it. That's why I feel like the radio show is such a great opportunity, and we have a really good time too."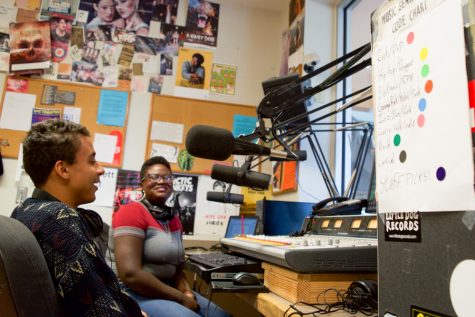 It's not all serious discussion, as Cocroft noted—the two love to have fun with the show. Their last episode, "Tinder, Grindr and other things that make me lose faith in the human race" consisted of them reading out failed tinder messages.
"We … talked about hookup culture along with that and microagressions we face through hookup culture, and just how that's something we have to deal with on a day-to-day basis, and how that makes us feel and how we interact with other people that are not people of color because of it," Lugalia said.
Neither Lugalia nor Cocroft had any specific messages they want to convey through the show, but they do have hopes for what it might do for the audience.
"[I want them] to be informed, to hear a different perspective that they'd maybe not hear so much," Cocroft said. "Also hopefully that we're funny or engaging enough where it's not just about learning, it's about laughing with us, and crying with us, and listening to some pumping tunes, so we don't really have one singular goal in mind–just kind of offer a little slice of life."
With that in mind, "We're Black, We're Queer, We're Here" is a great, comfortable place to find two people laughing and sharing their experiences.