Mike McGuinn Helps Bring Fun, Cool Musicians to Walla Walla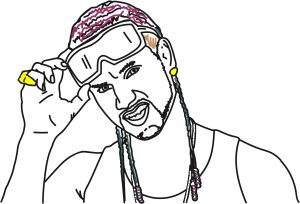 The music scene in Walla Walla is thriving with more diversity thanks to the efforts of, among others, Mike McGuinn. The owner of Urban Grow Systems, a hydroponics shop, McGuinn has worked to bring in a wide range of musicians that locals might not normally get a chance to see. Some of the well-known artists he has brought include Slim Jesus, Trae Tha Truth, Nacho Picasso, and more recently, Riff Raff and Sam Lachow.
These shows have been well-received and are a great opportunity for Whitman students to get out and enjoy music. There are several upcoming shows, including OG Maco on April 4 and Devin the Dude on May 4.
The Wire conducted an interview with McGuinn to get a sense of his contributions.
WW: How did you get into bringing rappers in?
MM: I've been doing shows for twelve years, fifteen years, something like that, but usually I was doing them in garages … And then my business partner here, we did a couple shows together downtown a long time ago, so I've always been into it. But then now with this [shop] we have, I guess, the money and the time to bring in bigger shows, so it just kind of snowballed from there. It's not always rap … we try to bring in a little bit of everything—everything we like, I'd say.
WW: Why did you decide to start doing these shows?
MM: A big part was that Walla Walla doesn't have any shows that people can go to that are fun or cool. Maybe once a year there'd be something that was kind of okay—and that's more of a diss on my own taste than it is on Walla Walla's stuff, because Walla Walla brings a lot of cool things—but as for me it was like I'd see, hey, my favorite hardcore band is playing in Spokane but they're not playing here … So it was kind of out of selfishness that we decided like, "Hey, we can [bring artists in] …" We had some connections, and we just kind of reached out to people we liked.
WW: What's the process of bringing these artists in like?
MM: It's surprisingly easy. Basically, you reach out, you give them an offer … Usually it's pretty cut and dry, and I'm not very professional about things and I'd be able to make it work. It wasn't until maybe two years ago that I signed my first contract … Another thing, too, is most of the artists give you a rider (a list of what they need), and we always try to give them everything on there, maybe some extra stuff … That's another reason I think some artist like us in the end, because we actually try to accommodate them.
WW: You mentioned there are different crowds that come out to each show. Is there a noticeable difference?
MM: Yeah. We tried to mix that up, like how in the Ras Kass and Planet Asia show we had a power violence band play in the audience during the middle, in between two of the rappers, which at first people were weird about, but then in the end it was like there's dudes with leather coats and piercings hugging gangster dudes and everyone was having a great time. We try to do that pretty often and have mixed genre shows … Different crowds have to interact—I mean they don't have to—but everyone's into music, so just seeing those crowds of people be buddies was cool … What we try to get away from is that macho rap or hardcore crowd … but more often than not we don't have that. We usually have everyone hanging out and being friends regardless of how different everybody is.
WW: Have you noticed a change in Walla Walla culture in regards to bringing in this new music?
MM: There's definitely been some changes over the years, and the last few years I've noticed more culture coming here, but Walla Walla's always been kind of culture-ish for being a small farming community. Walla Walla's always had cool bands, cool things coming through.
WW: What do you hope is the result of bringing in all these groups? Why is it important to have them here?
MM: Partially it's selfishness, where it's like, "Hey I want some cool bands and cool rappers to play here." But also I want younger people who don't have a chance to go see cool shit to hopefully go see somebody that they like and have fun. It's half selfishness, with wanting to see something I like here, and it's half wanting to help people out also, or the community too … It's cool to bring something weird and make Walla Walla unique and cool.