"Righteous Dopefiend" is a haunting portrait of homelessness
A catalyzing and engaging experience, the Maxey Museum's newly installed "Righteous Dopefiend" exhibition exposes visitors to a specific community of homeless heroin addicts that serve as a representation of much larger and very relevant issues. The harrowing visuals and emotional text breaks down social walls, allowing visitors to push aside personal ethics and better understand individuals who live on the fringes of society.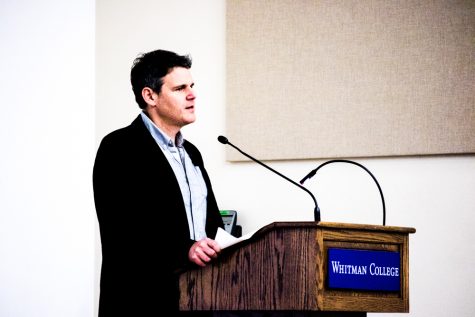 Addressing the issues of homelessness, addiction and poverty in urban America, "Righteous Dopefiend" displays the ethnographic work of anthropologists Philippe Bourgois and Jeffrey Schonberg, juxtaposing explicit visuals and impactful text excerpts from their book of the same name. The opening reception, which took place on Feb. 14, was followed by a talk from the anthropologists themselves, documenting the social problems that exist within a community of heroin addicts in a homeless encampment in San Francisco.
Anthropology professor Suzanne Morrissey, who attended the reception, is familiar with Bourgois' work. She described the enormous impact the exhibition will have on the Whitman community and Walla Walla, and its ability to transform the ways that the issues on display are viewed.
"The exhibit and the overall work that [Bourgois and Schonberg] are doing forces students, and potentially people in the community, to realize that something can be done and should be done," Morrissey said. "You don't have to be paralyzed in your own world; you actually can act."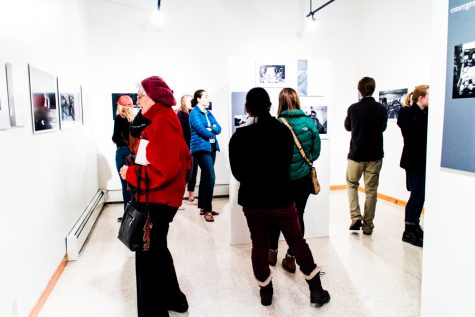 Seeing the exhibit as an advantageous learning experience, anthropology professor Jason Pribilsky worked to bring the exhibition to Whitman's campus. His medical anthropology class will expand upon the exhibit by planning events within the community that revolve around the theoretical ideas regarding homelessness, public healthcare and harm reduction.
"The privilege is also the timing in a sense," Pribilsky said. "We are in the midst of a new injection drug use epidemic. Homelessness has never been as much of a problem in this city than now."
The exhibit aims to redirect the public's view regarding people who are homeless or suffering from addiction, as Pribilsky described.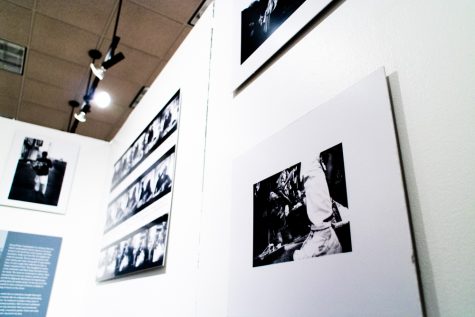 "So the exhibit is this very stark look at what is it like to be a heroin addict," Pribilsky said. "[To] be homeless, to be without adequate health services and such; to basically have every hour of your day be spent strategizing how you're going to get high."
Laura LaGesse, a senior anthropology major, is tackling the issue of homelessness as part of a group in Pribilsky's medical anthropology class. Inspired by the exhibition, she left with a better understanding of the how anthropology can represent marginalized people.
"Policies should not criminalize homelessness but instead put money and effort towards offering services that might actually help these people," LaGesse said. "[This exhibit] allows people and Walla Walla specifically to start thinking about engaging with ideas."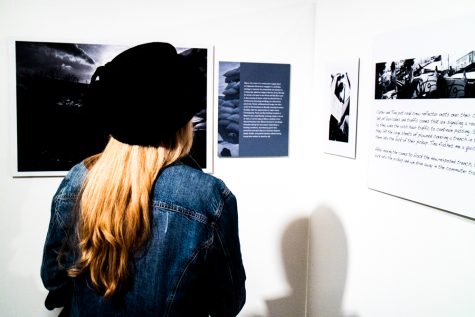 Senior anthropology major, Haley Case, has had first hand experience with the issues "Righteous Dopefiend" wrestles with during her recent research under Morrissey in Seattle. She described the importance the photographs in documenting these issues.
"It would be impossible to really understand, as readers who have minimal experience with these issues, understand the lifestyle, understand the day to day happenings without the photos," Case said. "The photos highlight suffering and connect it to structural forces…it is an exciting way to understand these issues."
"Righteous Dopefiend: A Multimedia Exhibition" is open through April 28, 2017. It is free and open to the public, located in Maxey Museum at Whitman College.