Walla Walla embraces "The Producers"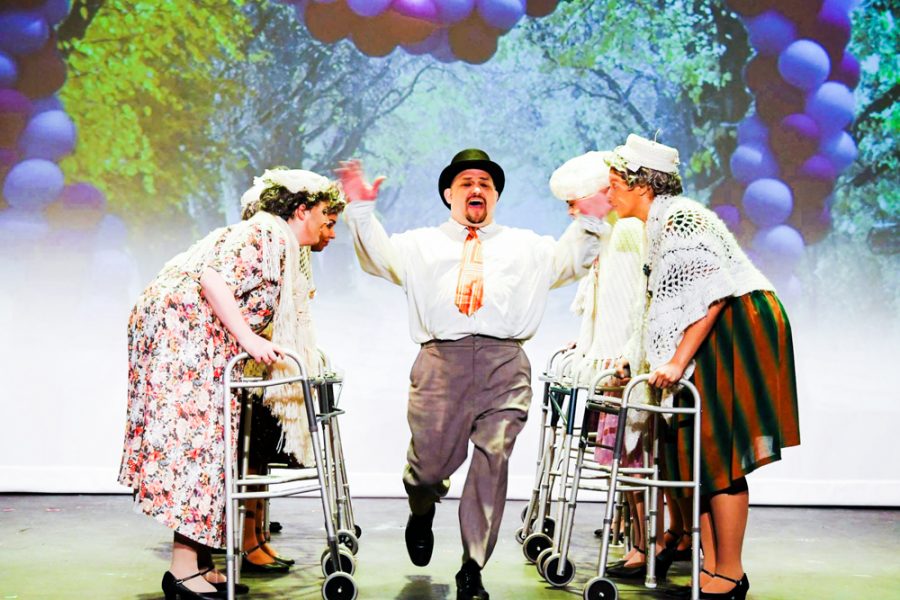 Eric Anderson, A&E Editor
January 26, 2017
It may be a musical about the worst musical ever produced, but the cast and crew of "The Producers" were all too excited to join the Little Theatre's production of the famous Broadway show. The local rendition began on Jan. 20 and will continue through Feb. 11.
Based on the Oscar-winning 1968 film of the same name, "The Producers," adapted for the stage by the film's writer/director Mel Brooks, originally opened on Broadway in 2001 and won 12 Tony Awards, a record it still holds. The play details the misadventures of Leo Bloom, a sheepish accountant and Max Bialystock, a struggling Broadway producer, who devise a scheme to make money off a flop production by producing the worst play in history for a sum they can't hope to make back. The result is "Springtime for Hitler," a poor-taste celebration of Nazis. Trouble arises, however, when the play becomes a hit, the audience having mistaken it for a satire.
The musical was later adapted into a 2005 film, which starred the Broadway show's two leads, Nathan Lane and Matthew Broderick.
The irreverence and outrageous humor of the play was a major attraction for the Little Theatre production's director, Brian Hatley.
"It's one of my favorite musicals, I love Mel Brooks [and] I'm not sure if there's anything better than a Mel Brooks musical," Hatley said. "I've just been delighted, it's just a dream come true to be able to do this particular musical."
However, "The Producers" is not an easy play to transfer from Broadway to community theatre, with many complicated scene transitions and set changes as the story progresses from Leo's office, to a rooftop, to a stage-within-a-stage. Hatley explained some of the solutions to the play's complicated nature.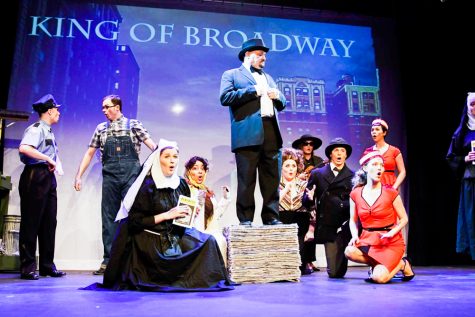 "I believe in cinematic theatre," Hatley said. "Everything comes off the stage, everything goes on the stage, all of the major setpieces except for furniture are on wheels and rotate and roll in, roll out. Probably about half our scenes are with projection, so we move from one space to the other as smoothly and as quickly as possible."
The play was also an interesting experience for its cast and crew, many of whom took on roles different from what they were accustomed to. Robert Randall, who portrays Max Bialystock, moved into the spotlight once again after having directed a number of recent productions, including November's "Noises Off."
"I would say this one was more stressful [than 'Noises Off'] for me," Randall said. "The character [Bialystock] itself has an immense amount of lines, and a tremendous amount of music … the challenge is definitely just the content, and the amount of it."
That said, Randall, who also works at the Whitman College bookstore, was eager to portray the role, being a fan of the 2005 film and a singer since childhood.
"Musical theatre's always my favorite," Randall said.
"The interaction of the crowd is just more powerful because you get that response back … you just kind of get that constant energy throughout the show, which I think makes it a little more gratifying [than non-musicals]."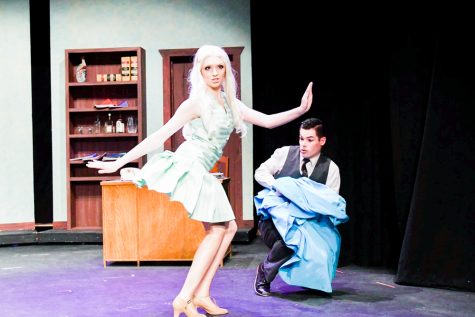 Whitman junior Lud de Brito, who has worked with Harper Joy Theatre on many previous occasions as an actress and assistant stage manager, worked with the Little Theatre for the first time for "The Producers," working on graphics for the play's projection system. She found the experience very valuable.
"It's really nice to be able to see a theatre outside of Harper Joy because it's all the experience with, like, theatre I have," Brito said. "Just getting to know the people, getting to see how much work is being put under the construction of this production … that's really beautiful to see."
Brito, Randall and Hatley all expressed their admiration for the team of volunteers that helped make the production a reality.
"At Harper Joy, we're having plays that are done by students that … don't have families to take care of, they don't have [full-time] jobs to maintain," Brito said.
"There was just so much, y'know, drive every day, after a whole day of work. I really admire people who take the time, the energy, for the sake of creating theatre."
"The Producers" will continue to run at the Little Theatre through February, with showtimes at 7:30 p.m. on Jan. 27-28, Feb. 3-4 and Feb. 10-11, and at 2:00 p.m. on Jan. 29 and Feb. 5.