"I Too Am Whitman" gives voice to marginalized students, identities
Portraits in Reid's Stevens Gallery continue "I Too Am Harvard" movement
Stepping into the Stevens Gallery in Reid, one is faced with an interesting set of images and writings. To the left, pieces of poster paper are taped to the wall, each one with a short statement. To the right, portraits of Whitman students, each one holding their respective piece of paper, allow viewers to connect the quote to individual students. Amidst these, three empty frames hang, while opposite them, a mirror hangs. Together, they ask the viewer to consider, "Who are you? Where is your place at Whitman?"
"I Too Am Whitman" stems from a similar campaign that started at Harvard University in 2014. The original campaign consisted of a blog on Tumblr, containing portraits of individual colored students from Harvard. Each individual faced the camera, holding up a whiteboard sharing a part of their experiences as a student of color. The Whitman gallery in Reid follows in this theme, but opens up the project to the whole student body, including people of all ethnicities, religions, sexualities, genders and more. A short film, also titled "I Too Am Whitman," supplements the still photos in the gallery. The film uses interviews with students to learn more about their individual experiences at Whitman and the role their identity has had in shaping that experience. It will premiere on Monday, Nov. 7. 
Maggi Banderas and Adam Kirtley of the Intercultural Center were two figures that supported this project, but maintained the project was truly a project by and for the students.
"It's been important to us through the process to have this really be a student led and focused initiative," Kirtley said.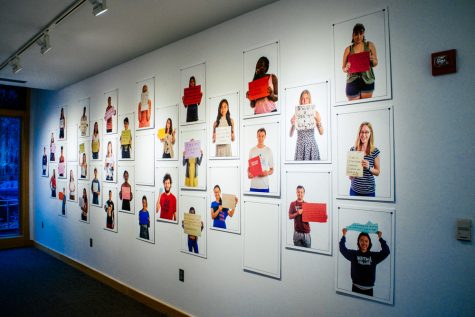 Because of this, their individual roles have been fairly hands off, focusing primarily on providing support and infrastructure to students working on the project. Kirtley and Banderas emphasized the role this project has in raising awareness of different marginalized voices on campus.
"Especially at predominantly white institutions, a lot of those voices, marginalized students…are not presented as part of the same experience and that's where a lot of those microaggressions happen," Banderas said.
The two acknowledged that this project, even with the gallery and film, would not lead to any final answers. But for them, that's not the point. The goal is to bring an awareness to the campus about these issues and start a conversation.
As Banderas said, "We're not wanting to say, okay we've talked about it, it's done. It's rather an ongoing process and awareness that we're hoping comes from this."
Laurinda Nyarko, a sophomore, was one student that took part in the project. Nyarko, who is Ghanian, used the platform to make a statement about students of color that speak English. This came from her experience being told her English was remarkably good, despite have spoken the language her whole life.
Although Nyarko hadn't previously known about the "I Too Am Harvard" movement, she was drawn to the unique way it allowed students to express themselves.
"It's a different way for your voice to be heard or for you to address certain issues or certain stereotypes that people have placed on certain people," Nyarko said.
Nyarko also noted the value in the project's ability to make others aware of the privileges they experience in their own lives, specifically commenting on the experiences of international students and how appreciative they were to be at Whitman.
Like Banderas and Kirtley, Nyarko focused on the positive long-term effects of this project at Whitman.
"It will raise awareness for certain issues and further certain discussions on campus," Nyarko said.
The portraits will stay up in Stevens Gallery until Nov. 5, and the accompanying film will premiere at 7:00 p.m. on Nov. 7, in Kimball Auditorium. While the gallery may only be at Whitman for a short while, its continuation of the "I Too Am" movement is an important contribution that prolongs an important conversation about race and inclusion across the country.