Community College "Poetry and Dance Project" translates art to new forms
Poetry, dance, music and theatre were intertwined in a moving performance at Walla Walla Community College. "A Poetry and Dance Project" was held at 7 p.m. on Oct. 8, and was centered around the poems of Raymond Carver and Tess Gallagher, paired with other art forms including music and dance.
The show was choreographed by WWCC choreographer and dance instructor Vicki Lloid. The performers included Lloid, head of the WWCC Theatre Arts Department Kevin Loomer, cellist and Whitman professor emeritus Edward Dixon and local yoga instructors Allison Michelle Keppel and Matti Eisenberg.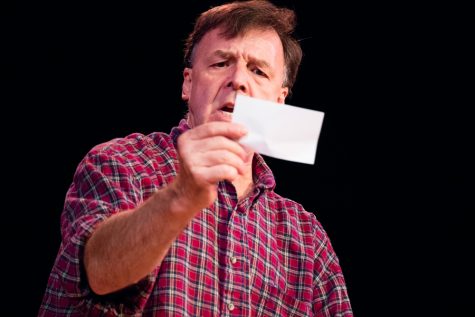 During the event, Gallagher read her poem "A Little Inside Out Dream," which was performed in dance by Lloid and Eisenberg. Carver's poem "His Bathrobe Pockets Stuffed With Notes," was performed by Loomer, who acted out the poem, walking around the stage picking up notes with bits of the poem on them. The last performance, Carver's poem "Lemonade," featured a mixture of heartfelt dancing by Keppel and Loomer's recitation of the poem set to a haunting cello piece played by Dixon.
The program for "Lemonade" had been previously performed in Port Angeles, Washington, where Tess Gallagher resides. It had been exceptionally successful, and Dean of Arts and Sciences at WWCC Richard Middleton Kaplan suggested doing it again in Walla Walla. Lloid had agreed and expanded the program further to include aforementioned pieces, resulting in "A Poetry and Dance Project."
Carver's poems in this program are from his last book, "A New Path to the Waterfall," which he finished while battling lung cancer.
Gallagher described Carver's poems as inspirational. "Even though the material that he'd actually been dealing with are some life tragedies, there's a kind of valiant spirit inside his approach to those, so you don't feel brought down by it."
The event not only honored the poems of Raymond Carver and Tess Gallagher, but also brought together two art forms that are similar in often unacknowledged ways.
"[Poetry and dance] both deal with metaphor and brevity," Lloid said. "A poem packs just a tremendous amount of imagery and information in really a small little package. I think that dance does that too. Also, poetry is more of a sensed knowing of what's being communicated by the poet, and I think the very same thing is true of dance."
Loomer also noted similarities between the two arts.
"These come out of the same creative spirit that's inside of someone that says, we have emotions that sit outside the logical realm that we have to express in some way in order to bring this stuff forth," Loomer said. "So it's all from that same creative spirit, just different expressions of it."
Gallagher emphasized the emotional component of poetry and dance, speaking of how dance and poetry join through emotions.
"I think when you get poetry together with dance, the audience gets something they wouldn't get from just reading the poem. If you're just reading the poem flat on the page, you're just alone in your solitude. To see the poem danced, you have more clues; you are accompanied, you are both spectator and companion…The audience can be both inside and outside the moving form of the poem," Gallagher said.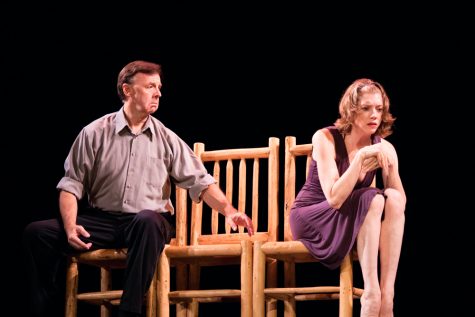 The performances were decidedly emotionally-charged. "A Little Inside Out Dream" depicted a daughter struggling with the loss of her mother, while "His Bathrobe Pockets Stuffed With Notes" dealt with Carver's lung cancer diagnosis. "Lemonade" brought out emotions circling around guilt and loss.
"The dancers really inhabit the arena of these poems emotionally, and that's what poetry is," Gallagher said. "Poetry is sleeping words brought alive by emotions in the voice of the poet. And the dancers have to find that emotion and to add their own to it."
Both Gallagher and Loomer praised Lloid, who was the driving force behind "A Poetry and Dance Project," highly for her work and creativity.
"She's a blessing to this community," Loomer said.
Gallagher, who has been friends with Lloid for quite a while now, spoke of the way Lloid's choreography fits so well with her and Carver's poems.
"It's interpretive," Gallagher said. "What Vicki has done is, in her choreography, she has interpreted these poems by adding by restoring and inventing really imaginatively emotions to go with the words. Actually, they go kind of beyond the words. I feel like my poem is sort of rewritten in motion my poem is enacted."
When asked what she hoped the audience would get out of the performance, Lloid answered, "I hope they'll be moved. I hope they will feel something."
Similarly, Loomer said, "I want them to be touched by it. That's why I do theater. It's always a gift…We do it to tell stories, in order to transform the world."
"I hope that their hearts will open because there are a lot of things that are closing us right now and I think we look to art to keep our empathetic souls alive," Gallagher said.
The powerful, heart-opening performance was received with a standing ovation by the audience.