KWCW gears up for a new year of content and outreach
With a new set of DJs and new talent behind the station, KWCW gears up for a new year of programming.
Looking up at the KWCW banner on the mezzanine floor of Reid Campus Center, one might wonder how the DJs even reach this seemingly inaccessible station. In reality, it's quite easy to reach the KWCW offices; one just has to enter the elevator and press "M." A big emphasis for KWCW this year is an attempt to become more than just physically accessible
"[Students and community members] don't always realize how much we want to be a tool for anyone, an educational resource" General Manager Alicia Burr said, who found the idea of occupying a teaching role encouraging. Both Deshler and Burr expressed their excitement about the number of new talk shows that address issues of race, sexuality and gender.
Though improving accessibility to radio is one big goal of the station, so is encouraging higher quality output from DJs, and this year the station aims to up the basic level of techniques. Not only should the station be open to those trying radio for the first time but it should also be "good to listen to, fun to listen to," Burr added. As programming director, this question of quality is part of Deshler's job. She will be working to ensure that DJs sound professional as opposed to casual.
On top of navigating this balance between the professional and the fun, KWCW DJs must also keep in mind the station's status as both a community and campus mainstay. As Burr said, the signal "extends as far as Milton-Freewater" and with a large radius comes large responsibilities. There are plans to engage more with the community outside of Whitman through on-air phone calls and in-studio performances from local and touring artists. Deshler added that there are 15 community DJs this year and that they tend to have their finger on the pulse of the local music scene even more than the Whitman DJs do. One of Digital Director Sabina Rogers' goals for the year addresses this.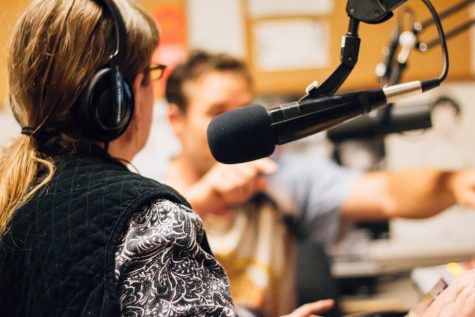 "I would like to see KWCW continue to foster a space that nourishes artistic license and gives people the accessibility to interact with local radio," Rogers said. "I would also love to have more shows that incorporate the Spanish-speaking community in Walla Walla." These emphases are especially important considering the primary listenership include people from all around the Walla Walla community.
While students from the Seattle, Portland and Bay Area might be disappointed in the dearth of live music at Whitman and in Walla Walla, Burr and Deshler are confident in KWCW's ability to change that. The station is committed to putting on more live events throughout the coming year.
Plus, as Rogers said,  "KWCW allows for the student body to get a feel for who they are sharing a campus [and] community with."
This future is not the only aspect of the station; it also has a past. An extensive musical archive inside the KWCW offices offers access to all genres and time periods, providing a resource to students and opening worlds of music complete with reviews scrawled on the covers from former Whitties.
If the archive is the station's past, the requirements that DJs play new music is its future. Deshler and Burr agreed that their favorite part of their own shows is having to try out new music. Rogers is excited about exposing people to The Zomba Prison Project and Alex G. That's just what KWCW offers the rest of the community: the possibility of turning the dial to a new musical world.
With these big goals in mind, KWCW has begun its fall programming. To catch Deshler's show, "Anthems and Airwaves," tune in from 5-7 p.m. on Thursdays.