Student bands energize live music scene
Walking into a party on a Friday night, something is different. Instead of hearing the bee-bops of Dj-ed dance music, the familiar voices and instruments of fellow students set a different vibe at the party.
Whitman's students bands bring a musical dimension to campus life.
Each of the student bands adds an element of fun at house parties, diversifying the party experience from that of the "typical party."
Having live bands at parties gave Senior Cam Hancock a new, different experience.
"When I was a [first year], some of the best parties I would go to had live music and it's always so fun to have a band there. People engage in the party in a very different way. It's nice to have something that's showcased."
Hancock is a member of the student band The Stay at Home Dads. The Stay at Home Dads is a three person group. Senior Cam Hancock plays the drums, Senior Noah Oltman plays the bass, and Senior Liam Tevlin plays the guitar. They perform covers as well as original songs influenced by some of their favorite artists like Jimi Hendrix and Led Zeppelin.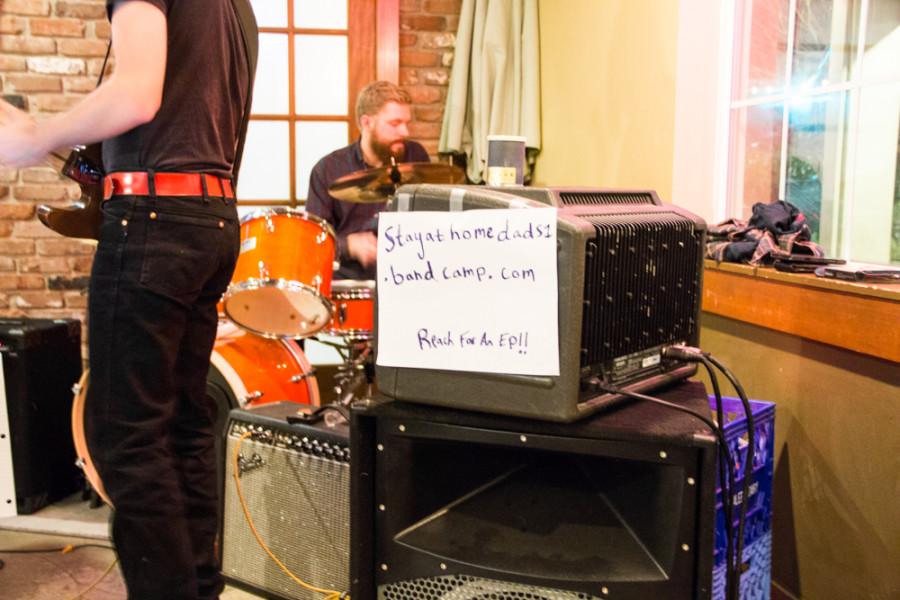 "It's hard to know, to track down our specific influences for this band because we all just listen to tons of different music. But you can kind of see parts of maybe a Jimi Hendrix song creep in, or like parts of a Zeppelin tune creep in here and there. But it's definitely got its own flavor to it. What I like about it is that it is a very new sound. I would say it's very new inflected with the old," Hancock said.
The bands older sound also reflects the origins of the band name.
"To be honest, Liam and I took a trip to Idaho, and it was right around when we were forming as a band, and we were staying at this place there and we were just brainstorming ideas. We just noticed as we were moving about the place, and doing things in the morning, we were very dad-like. We had these dad tendencies. We both have been called the 'dads' of our group, just kind of the care-takers," said Hancock.
Once called the TKE Band, Crossing Isaacs has developed into a funk band not affiliated with a Greek group.
The band consists of senior Brenna Feeney as a female vocalist, senior Nate Fleming as a male vocalist, sophomore Jake Barokas as a guitarist, junior Isaac Berez as a bassist, sophomore Steven Aslin as a drummer, sophomore Jeffrey Gustaveson as a trumpeter, junior Peter Ramaley as a tenor saxophonist, sophomore Hunter Dunn on the keys, and junior Milo Cantor on the keys.
Barokas spoke about the band's goal to keep the music scene on campus alive and strong.
"One of the band's goals is to re-establish live music as a central part of social life around campus. To do this, we have worked hard to make the current group sound as tight as possible so as to bring high quality music to the stage. We also want to make sure that quality live music remains part of the Whitman social scene so we have been talking to other musicians around campus and will hold 'unpretentious auditions' near the end of spring semester to fill open spots," he said.
Though Crossing Isaacs has developed beyond the original TKE band, they still keep the same funk origins.
"It's funk with a twist," said Feeney.
Though bands like the Stay at Home Dads and Crossing Isaacs are veteran bands, new bands also spring up on campus.
Additionally, this year a new student band has emerged. The band, which is composed of first-years, is named "Where the Fuck is Graham."
The band has Simon McMurchie as a vocalist and guitarist, Bassel Jamali as a bassist (self-proclaimed band leader), Alec Anderson as a guitarist, Graham Dean as a drummer and Sam Tabbutt as a guitarist.
Jamali explained the backstory of the peculiar name.
"I'd be sitting around, waiting for Graham to get back so that we can all go over to Simon's house, and Graham wouldn't be there cause he'd be somewhere, and then his phone would be dead. So we'd just sit and think to ourselves, 'Where the fuck is Graham?' and that's the name."
McMurchie commented on the overall vibe of the newly-emerged band.
"It's a very casual, fun thing. But it's also good. It's very good. We take it seriously and not seriously."