Visiting Writers, Lasting Lessons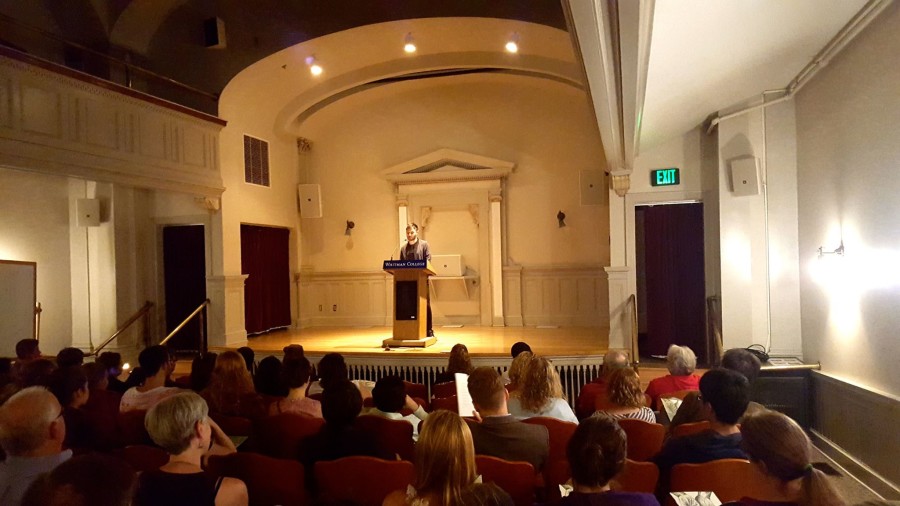 When Katrina Roberts arrived at Whitman College 15 years ago, there was no such thing as the Visiting Writers Reading Series. Writers arrived on campus often inconsistently, without a cohesive narrative. Now a decade and a half later the VWRS is a well established program introducing students and non-students alike to the shared experience of reading.
Roberts is the Mina Schwabacher Professor of English and Creative Writing and a highly regarded author in her own right. She has published multiple collections of poetry and has a forthcoming anthology of anecdotes, experiences and insights derived from conversations with the Whitman visiting writers, entitled "Because You Asked: A Book of Answers on the Art and Craft of the Writing Life," due out Oct. 11.
The VWRS has drawn authors from great variety of genres and backgrounds. Sherman Alexie, Junot Diaz, Nick Flynn and Kim Barnes are just a few of the authors who have graced the stage in the past. Roberts reveals that, "It seemed to me crucial, when I arrived at Whitman over a decade and a half ago, to establish a consistent Visiting Writers Reading Series dedicated to bringing active writers in all genres–and emerging, as well as extremely established–to campus for readings and discussions." Considering the lineup VWRS has this year, Roberts seems to be fulfilling her goal.
The program for the 2015-16 brings authors Alex Dimitrov, Alison Bechdel, Benjamin Percy, Rick Barot, Elena Passarello and Diane Cook to campus. Dimitrov, the founder of queer poetry salon Wilde Boys, and author of poetry collections "American Boys" and "Begging for It" kicked off this year's esteemed and diverse gathering of writers on Sept. 27.
The next visiting writers event will bring cartoonist and 2014 Macarthur Genius Award recipient Alison Bechdel to campus on Oct. 23. The event is a collaboration between VWRS and the Sheehan Gallery "Seeing Stories" Exhibition, as Bechdel is best known for  both her autobiographical graphic novels "Fun Home" and "Are You My Mother?", and her long running comic strip "Dykes to Watch Out For." Others may know her as the creator of the "Bechdel Test," a widely used method of examining gender representation in the media.
Like most, this VWRS event will span many different disciplines. "This sort of collaborative work is so valuable," says Roberts, "and I'm grateful to the Sheehan Gallery this year, for asking the VWRS to be part of the Alison Bechdel event; there's so much wonderful discipline-rich work happening in the literary and visual arts these days–graphic and visual texts across genre." The Bechdel reading event, as well as all the events in the series, will be free and open to the public.
The VWRS, despite being under the umbrella of the English department, often embraces many different majors and disciplines. The Bechdel reading is a direct collaboration with the Art Department, but other events connect in subtle, varied ways.
Roberts remarks that "I try to bring writers whose work is relevant and challenging in a cross-disciplinary way, as well–a notion central to the liberal arts; we've had writers come whose work, though sometimes highly literary, appeals to those interested in environmental issues, in politics, in science, in history, in art, in gender issues, etcetera." The idea that all students can benefit from literature is integral to the program.
Since this program was designed to bring authors who would benefit both the academic and social environment on campus, Roberts' job is often highly collaborative. Visiting writers' pieces are found in the syllabi of English classes as well as other disciplines. "Interactions with visiting writers deepen the experience of exploring published works in classes," Roberts said.
The link between this program and the rest of academia remains quite deep, and provides a unique learning experience for those listening. "When the texts come alive off the page, as voiced by the writers themselves, they expand for those of us in the audience," Roberts said.