Elena Aragon

November 8, 2012
The Whitman swim teams opened the 2012-13 Northwest Conference season at the Louise and Paul Harvey Pool with dominant victories in dual meets over Linfield College and Willamette University. Both the men's and women's teams defeated Linfield in the Friday meet, with a men's score of 140-62 and...
Tags: Barton, Chang, chapman, Collins, Dyer, Graham, Greff, Hlebasko, Issue 10, Linfield College, Mering, Pilarowski, Roehrig, Skach, Sollom-Brotherton, SPORTS, Starr, Swimming, Tinseth, varsity, Wechter, Whitman College Varsity Athletics, Whitman Men's Swimming, Whitman Swimming, Whitman Women's Swimming, Wilamette University, Win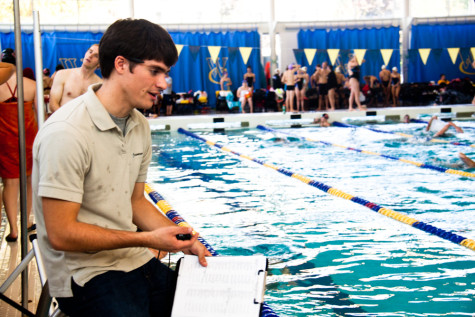 Pamela London

December 1, 2011
Profile: Kevin Howard University of Rochester, Class of 2011 Current Position: Assistant Swimming Coach How did you get involved with coaching swimming at Whitman? I was looking for a job in coaching during the summer and used the NCAA coaching site to find the position. I was working as an engineer for a biomedical company, and I wasn't really happy with it. I'd rather do somethi...
Loading ...
Trinity University (Texas)

5

Feb 16 /