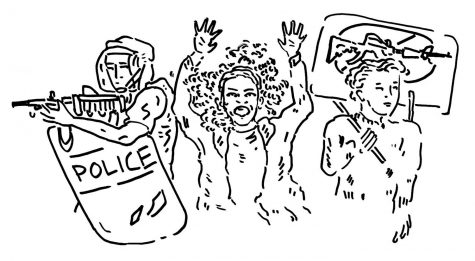 Rina Cakrani, Columnist

April 5, 2018
The March for our Lives was hypocritical, despite the good intentions and message behind it. The conditions from which it emerged and the positive media coverage that it received due to the demographics that were involved make it hypocritical and oblivious to the radical problems that should have bee...
Alya Bohr, Columnist

November 12, 2016
Some things cannot be made sense of. Or, if there is any sense to be made, it is fractured, messy and incomplete. That's how this post-election period feels. Yes, perhaps it's true that the results shouldn't have been shocking, that we should have known this deep pain and unrest existed in our...
Loading ...
SPORTS SCORES
Wednesday, September 25

Whitman College 3 - Whitworth 2

Wednesday, September 25

Whitman College 0 - Whitworth 3

Sunday, September 22

Whitman College 5 - Linfield 0

Saturday, February 16

Whitman College 96 - PLU 78

Saturday, February 16

Whitman College 73 - PLU 62

Saturday, February 16

Whitman College 4 - Trinity University (Texas) 5

Saturday, February 16

Whitman College 1 - Boise State University 6

Saturday, October 6

Whitman College 1 - Linfield 3

Saturday, October 6

Whitman College 2 - 1

Sunday, April 16

Whitman College 8 - Pacific University 1

Saturday, April 15

Whitman College 1 - Linfield 4

Saturday, April 15

Whitman College 15 - Linfield 5