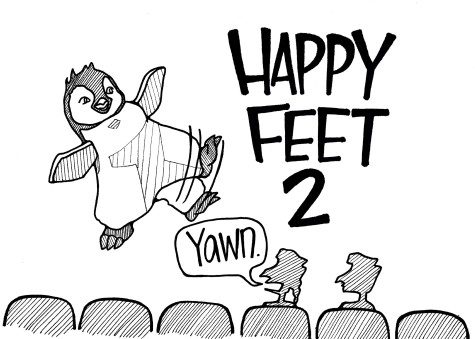 Nathan Fisher

December 1, 2011
Little baby penguins singing and dancing are only cute for so long. "Happy Feet Two" tries to rekindle the love of the first dancing and singing penguins movie but falls flat like a penguin trying to fly. The main plot of the film follows Mumble (Elijah Wood), now a grown-up, and his son Erik, who, unlike his dad, cannot sing...
Tags: bad, Brad Pitt, Dance, elijah wood, Fisher, global warming, hank azaria, happy feet 2, issue 12, krill, Matt Damon, movie, mumble, Music, penguins, reviews, robin williams, sequel, Sing
Pamela London

November 17, 2011
Men's soccer First Team Leland Matthaeus '13, Forward Redmond, Wash. 4 goals (1 GW), 3 assists (11 points) 3rd in NWC in total shots (41), 5th in NWC in shots on goal (19) 16-13 Honorable Mention in 2010 Second Team Cooper Schumacher '14, Defense Seattle, Wash. 5 goals (3 ...
Tags: Aschenbrenner, Brewer, Davis, Flannery, Freedman, Hasson, Hughes, Issue 11, Matthaeus, Men's Soccer, Mirman, nielson, NWC All-Conference teams, NWC Student-Athlete of the Week, Percival, Perkins, Rudd, Schumacher, Shober, Sing, SPORTS, Swan, Tsuji, Whitman College Varsity Athletics, Whitman College varsity soccer, Whitman College varsity volleyball, Women's Soccer, women's volleyball
Loading ...
SPORTS SCORES
Wednesday, September 25

Whitman College 3 - Whitworth 2

Wednesday, September 25

Whitman College 0 - Whitworth 3

Sunday, September 22

Whitman College 5 - Linfield 0

Saturday, February 16

Whitman College 96 - PLU 78

Saturday, February 16

Whitman College 73 - PLU 62

Saturday, February 16

Whitman College 4 - Trinity University (Texas) 5

Saturday, February 16

Whitman College 1 - Boise State University 6

Saturday, October 6

Whitman College 1 - Linfield 3

Saturday, October 6

Whitman College 2 - 1

Sunday, April 16

Whitman College 8 - Pacific University 1

Saturday, April 15

Whitman College 1 - Linfield 4

Saturday, April 15

Whitman College 15 - Linfield 5