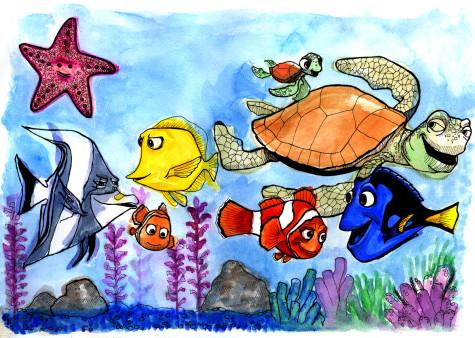 Nathan Fisher

September 20, 2012
I'm baring my soul here: the sappy characters in "The Muppets" and "Finding Nemo" are my all-time favorites. Really, over the past couple of weeks, I've been as excited as the 10-year-old kid I was in 2003 when "Finding Nemo" was first released, waiting for the rerelease of "Finding Nemo" in 3-D. Sure, the 3-D was pro...
Tags: 3d, albert brooks, alexander gould, allison janey, andrew stanton, barracuda, barry humpheris, bloat, bob peterson, brad garret, bruce, critic, dory, ellen degeneres, family, Film, finding, fish, fish are friends not food, Fisher, gil, halarious, Issue 3, just keep swimming, kids, magical, marlin, mine, movie, Muppets, Murder, Nathan, nemo, neurotic, nicholas bird, peach, pixar, puffer fish, Review, shark, sharks, starfishh, whale, william defoe
caitlinhardee

February 23, 2012
It's a scenario right out of one of the worst nightmares of humanity. Recent blockbuster "The Grey" depicts an oil drilling team and a depressive wolf hunter (Liam Neeson), stranded in Alaska after a plane crash, who are stalked by a malicious pack of wolves. The pack intends to kill and eat every last...
Loading ...
SPORTS SCORES
Wednesday, September 25

Whitman College 3 - Whitworth 2

Wednesday, September 25

Whitman College 0 - Whitworth 3

Sunday, September 22

Whitman College 5 - Linfield 0

Saturday, February 16

Whitman College 96 - PLU 78

Saturday, February 16

Whitman College 73 - PLU 62

Saturday, February 16

Whitman College 4 - Trinity University (Texas) 5

Saturday, February 16

Whitman College 1 - Boise State University 6

Saturday, October 6

Whitman College 1 - Linfield 3

Saturday, October 6

Whitman College 2 - 1

Sunday, April 16

Whitman College 8 - Pacific University 1

Saturday, April 15

Whitman College 1 - Linfield 4

Saturday, April 15

Whitman College 15 - Linfield 5