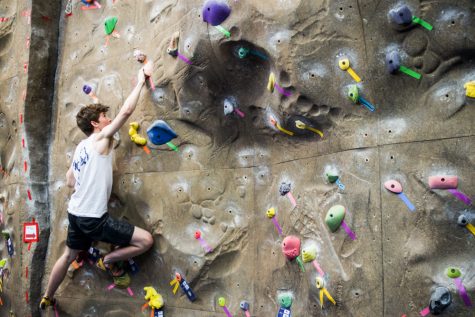 Conor Scanlon, Staff Reporter

April 27, 2017
In its twenty fifth year, last weekend's annual Sweet Onion Crank bouldering competition brought nearly 200 students from schools across the Northwest to campus for a day chock-full of laughs and challenging climbs. On a weekend with the Renaissance Festival, Admitted Students Day and the 24-hour Varsit...
Mary Kampa and Julio Escarce

September 23, 2015
In this episode of the Pio Hour new hosts Mary Kampa and Julio Escarce interview residence hall directors regarding the Inclusive Language Campaign. They also learn about the roasting processes used by the Walla Walla Roastery and learn about new changes at the Academic Resource Center at Whitman College. Turn...
Loading ...
SPORTS SCORES
Wednesday, September 25

Whitman College 3 - Whitworth 2

Wednesday, September 25

Whitman College 0 - Whitworth 3

Sunday, September 22

Whitman College 5 - Linfield 0

Saturday, February 16

Whitman College 96 - PLU 78

Saturday, February 16

Whitman College 73 - PLU 62

Saturday, February 16

Whitman College 4 - Trinity University (Texas) 5

Saturday, February 16

Whitman College 1 - Boise State University 6

Saturday, October 6

Whitman College 1 - Linfield 3

Saturday, October 6

Whitman College 2 - 1

Sunday, April 16

Whitman College 8 - Pacific University 1

Saturday, April 15

Whitman College 1 - Linfield 4

Saturday, April 15

Whitman College 15 - Linfield 5