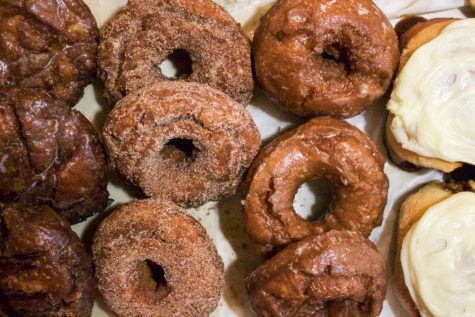 Alissa Antilla, Olivia Gilbert, and Katharine Gillen

September 15, 2016
Nestled in a quiet nook of the Walla Walla airport, Hidden Valley Bakery provides a peaceful respite from the hustle and bustle of the airport. The Paige family, who have owned the bakery for 16 years, aims to provide a home-away-from-home for their customers. In order to cater to people with different...
Tags: Alissa Antilla, bakery, Bon Appetite, Fine-ly Made, GF, Gilda Paige, gluten-free, Hidden Valley Bakery, Jane Kern, Katharine Dolan, Katharine Gillen, Maple Counter Cafe, Maria King, Mill Creek Brew Pub, Olivia Gilbert, Walla Walla, Walla Walla Airport, Walla Walla businesses, Whitman College, Wingman Birdz and Brewz
Alyssa Fairbanks

March 13, 2012
Walking through the massive front doors of Maple Counter Café, one is enveloped by an atmosphere of warm, farmhouse style comfort. This welcoming atmosphere is created by the hard work of Kory and Rachel Nagler, the proprietors. "My family is a restaurant family. I was literally raised in a restaurant...
Loading ...
Trinity University (Texas)

5

Feb 16 /