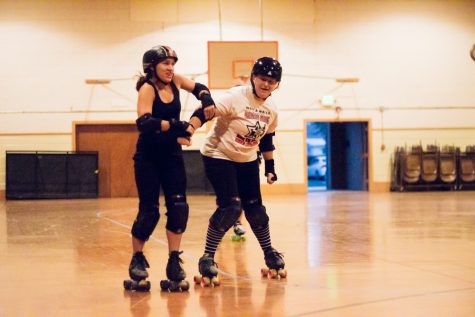 Alissa Antilla
September 29, 2016
Filed under FEATURE, Front Page Slideshow, VIDEOS
While many people express affection through hugs, the Walla Walla Sweets Rollergirls show affinity for one another by smashing into each other. Members of this all-women roller derby team, gain sisters alongside bruises and form an unconventional family that they are sometimes even closer with than t...
Tags: Alexandra Melling, Alexandra "Allie Oops" Melling, Alissa Antilla, Brenda Wheeler, Brenda "Shakedown" Wheeler, College Place, Jessica Hand, Kimi Schroeder, Kimi "Purl Slam" Schroeder, Roller Derby, roller girls, skater, skaters, Vicki Hillhouse, Vicki "Lois Slay'n" Hillhouse, Village Church Youth Center, Walla Walla, Walla Walla Sweets Rollergirls, Women's Flat Track Derby Association, "Theory of Hellativity"
POLLS
Loading ...
SPORTS SCORES
Sunday, April 16

Men's tennis

Whitman College 8 - Pacific University 1

Saturday, April 15

Baseball

Whitman College 2 - Linfield 7

Saturday, April 15

Baseball

Whitman College 1 - Linfield 4

Saturday, April 15

Women's lacrosse

Whitman College 15 - Linfield 5

Saturday, April 15

Men's tennis

Whitman College 9 - George Fox University 0

Friday, April 14

Baseball

Whitman College 3 - Linfield 12

Friday, April 14

Women's lacrosse

Whitman College 16 - University of Puget Sound 5

Sunday, April 9

Women's tennis

Whitman College 8 - Pacific Lutheran University 1

Saturday, April 8

Women's tennis

Whitman College 9 - University of Puget Sound 0

Monday, March 27

Baseball

Whitman College 3 - No. 18 Pacific Lutheran University 10