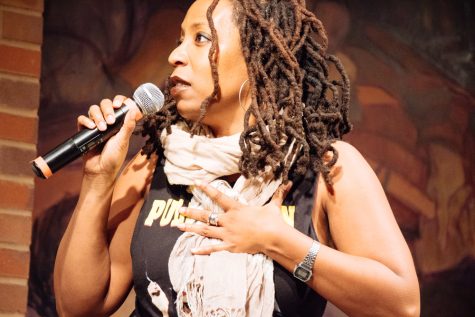 Missy Gerlach, Staff Reporter

November 10, 2016
As part of the ongoing Equality Coffeehouse event, FACE (Feminists Advocating for Change and Empowerment) invited a rather unique performer in comedian Gloria Bigelow, who uniquely addressed intersectional issues across the board. Her exuberance and expressiveness brought her comedy to life and kept...
Missy Gerlach, Staff Writer

October 27, 2016
The basement of Reid Campus Center is undoubtedly a change of scene for a comedian that made his career in New York City and currently lives in Los Angeles. Despite the different crowd, visiting comic Andy Hendrickson, who performed at Whitman College on Oct. 20, proved that his dry, witty humor transcend...
Loading ...
SPORTS SCORES
Wednesday, September 25

Women's Soccer

Whitman College 3 - Whitworth 2

Wednesday, September 25

Volleyball

Whitman College 0 - Whitworth 3

Sunday, September 22

Mens Soccer

Whitman College 5 - Linfield 0

Saturday, February 16

Women's Basketball

Whitman College 73 - PLU 62

Saturday, February 16

Women's Tennis

Whitman College 4 - Trinity University (Texas) 5

Saturday, February 16

Men's Tennis

Whitman College 1 - Boise State University 6

Saturday, February 16

Basketball

Whitman College 96 - PLU 78

Saturday, October 6

Volleyball

Whitman College 1 - Linfield 3

Saturday, October 6

Mens Soccer

Whitman College 2 - 1

Sunday, April 16

Men's tennis

Whitman College 8 - Pacific University 1