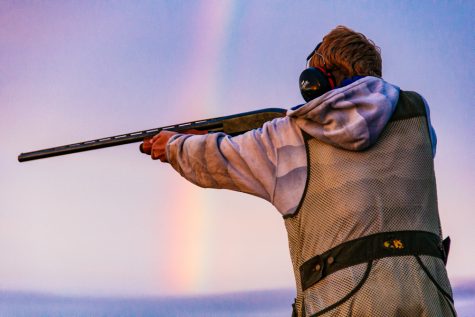 Olivia Gilbert, Feature Editor
November 3, 2016
Filed under FEATURE, Front Page Slideshow
Gun control has been one of the most contentious issues in the 2016 election cycle. Increased awareness of police violence against communities of color, near daily mass shootings, and the alarming figure of 33,000 annual firearm deaths in the U.S. have infused the question of gun policy with renewed urgency and hei...
Evan Taylor
October 18, 2012
Filed under NEWS
"Pull!" yells junior Kemper Brightman. A bright orange, bio-degradable clay pigeon flies out of the trap and––bam! A shot is fired from the shotgun and the clay shatters into countless little pieces over the trap field. Whitman's Trap Shooting Club met for the first time this year Saturday, ...
POLLS
Loading ...
SPORTS SCORES
Sunday, April 16

Men's tennis

Whitman College 8 - Pacific University 1

Saturday, April 15

Baseball

Whitman College 2 - Linfield 7

Saturday, April 15

Baseball

Whitman College 1 - Linfield 4

Saturday, April 15

Women's lacrosse

Whitman College 15 - Linfield 5

Saturday, April 15

Men's tennis

Whitman College 9 - George Fox University 0

Friday, April 14

Baseball

Whitman College 3 - Linfield 12

Friday, April 14

Women's lacrosse

Whitman College 16 - University of Puget Sound 5

Sunday, April 9

Women's tennis

Whitman College 8 - Pacific Lutheran University 1

Saturday, April 8

Women's tennis

Whitman College 9 - University of Puget Sound 0

Monday, March 27

Baseball

Whitman College 3 - No. 18 Pacific Lutheran University 10