Dani Schlenker, Opinion Columnist

September 23, 2018
Have you ever complained or made negative comments about our current governmental administration? If so, are you over 18? Are you registered to vote? Unless you are an international or otherwise undocumented student at Whitman College, there is no reason not to be registered. No matter your views, no matter...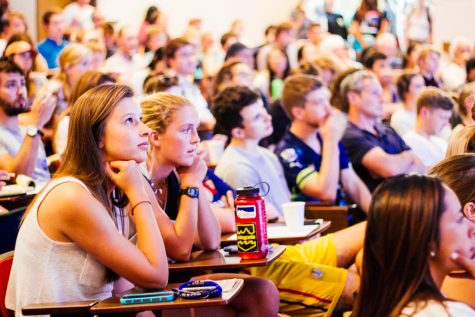 Georgie Lyon, News Editor

October 5, 2016
Live screenings of presidential debates have allowed more opportunities for Whitman students to contemplate how political rhetoric is an important component of American democracy. This year, the Politics and Rhetoric Departments teamed up to provide live screenings of the three presidential debates ...
Loading ...
SPORTS SCORES
Wednesday, September 25

Whitman College 3 - Whitworth 2

Wednesday, September 25

Whitman College 0 - Whitworth 3

Sunday, September 22

Whitman College 5 - Linfield 0

Saturday, February 16

Whitman College 96 - PLU 78

Saturday, February 16

Whitman College 73 - PLU 62

Saturday, February 16

Whitman College 4 - Trinity University (Texas) 5

Saturday, February 16

Whitman College 1 - Boise State University 6

Saturday, October 6

Whitman College 1 - Linfield 3

Saturday, October 6

Whitman College 2 - 1

Sunday, April 16

Whitman College 8 - Pacific University 1

Saturday, April 15

Whitman College 1 - Linfield 4

Saturday, April 15

Whitman College 15 - Linfield 5