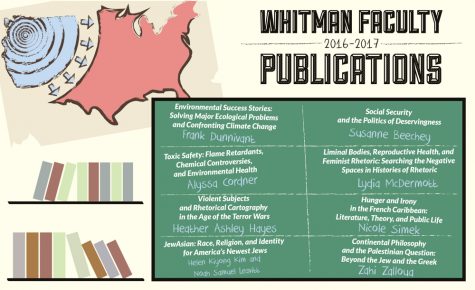 Andrew Schwartz, News Editor
April 6, 2017
Filed under Front Page Slideshow, NEWS
This March, Whitman chemistry professor Frank Dunnivant published a book on success stories in the environmental movement since the 1970s. It is the most recent book published by a Whitman faculty member, and the second in 2017. "Environmental Success Stories: Solving Major Ecological Problems and Confronting C...
POLLS
Loading ...
SPORTS SCORES
Sunday, April 16

Men's tennis

Whitman College 8 - Pacific University 1

Saturday, April 15

Baseball

Whitman College 2 - Linfield 7

Saturday, April 15

Baseball

Whitman College 1 - Linfield 4

Saturday, April 15

Women's lacrosse

Whitman College 15 - Linfield 5

Saturday, April 15

Men's tennis

Whitman College 9 - George Fox University 0

Friday, April 14

Baseball

Whitman College 3 - Linfield 12

Friday, April 14

Women's lacrosse

Whitman College 16 - University of Puget Sound 5

Sunday, April 9

Women's tennis

Whitman College 8 - Pacific Lutheran University 1

Saturday, April 8

Women's tennis

Whitman College 9 - University of Puget Sound 0

Monday, March 27

Baseball

Whitman College 3 - No. 18 Pacific Lutheran University 10