Season closes for some sports after semester of wins and losses
Over the past few weeks, Whitman's swimming, basketball, volleyball and soccer teams have wrapped up their competitive seasons. But before these athletes begin to move into the next phases of their training, some are taking time to reflect on the unique challenges they faced and the strides they made during the season.
In a typical year, free from difficulties of contending with a global pandemic, Whitman's swimming teams would compete consistently over the course of a five month season. This year, however, their season was shortened to just two months. Annika Hobson, a junior on the women's swim team, feels that despite the condensed season, both teams accomplished a variety of goals and made the most of the opportunity.
"Since I'm a junior, I feel like it was a nice building block into next year. For first years, it was a way to get to know each other and bond; and then for seniors, at least they got to be in the pool and have Senior Day," Hobson said. "While it's not the typical season, I think we're all just appreciative that we got some form of a season."
Dani Espinoza, a senior on the women's soccer team, expected that there would be no season at all after the Northwest Conference cancelled all fall sports seasons.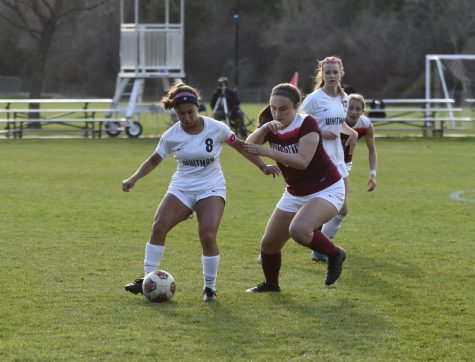 "In the summer, I had really convinced myself that I was done playing the sport," Espinoza said. "I grieved because I thought I was never going to play again. So to have this small season in the spring, it just felt like everything was an added bonus."
Espinoza was glad to get out on the pitch again, but she was also grateful for the opportunity to play a role in developing a young team of college athletes and fostering a healthy team culture that she believes will serve them well going forward.
"I expected it to very much be a rebuilding year, and that it was with a new coach. More than half the team [were] first years and so they had to step up in huge ways. I don't know if that was expected of them, but they did it and I'm proud of them," Espinoza said. "I think this short season will serve them tremendously going forward."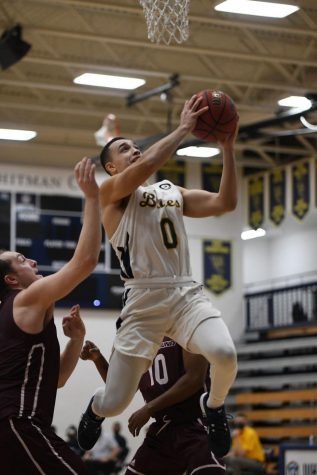 Carlos Angel Jr., a senior on the men's basketball team, expressed similar sentiments regarding uncertainty, noting how their season was brought to a sudden close when their final game against Whitworth was cancelled due to COVID-19 protocol.
"It was devastating — there was all this anticipation leading up to what we believed was going to be our last time on the court together. Even now, it still hasn't fully hit me," Angel said. "The season overall was just so different this year, to where I feel like I am still taking it all in."
Reflecting back, Hobson, Espinoza and Angel all expressed a similar sentiment — they are proud of their teammates and excited for what the future holds.