Varsity Athletes Make The Best Of Season Limbo
On July 22, Whitman College made the decision to postpone all sports competitions in the fall. The Northwest Conference followed suit less than a month later by suspending all competitions and championships until Jan. 1, 2021. With no certainty regarding the future of competitions and the absence of structured, in-person practices, Whitman varsity athletes have been left in a state of limbo.
Although these developments were not a shock to most athletes, many were saddened by this outcome. Adam Reid, a junior soccer player, was disappointed when the school made the decision. However, he has continued to train and stay motivated. He keeps himself to a regimented weekly exercise schedule and is confident in the results.
"I'm probably in the best shape I've ever been in right now and the motivation for that is twofold. One is staying ready for the sport whenever I get to play again, but also I need to get some energy out in order to focus for classes, "Reid said. "I need to do some sort of exercise in order to sit in front of a computer and do what is asked from us in the online school world."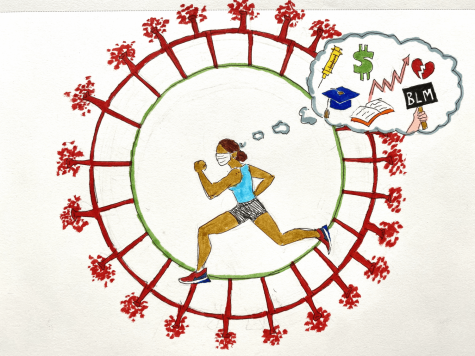 Chloe Young, a junior soccer player, expressed similar sentiments. She noted that although she's had to adapt her training in order to properly social distance, she uses exercise as a way to structure her day.
"I don't really touch a ball as often, but I still do strength and conditioning, sprints and body weight workouts, really for the mental health aspect. It helps me clear my head, get outside, stay healthy and have some sense of normalcy during this crazy time," Young said. "Instead of going to practice at 4 p.m., maybe I go for a run, maybe sit outside and listen to a podcast or read."
Although spring sports have not yet been cancelled or postponed like their fall counterparts, a general sense of uncertainty with regards to COVID-19 remains.
Michael Chang, a junior swimmer, is trying to stay realistic. He hopes the season happens, but isn't prepared to fully commit himself to the prospect. This is in part due to uncertainty about what the NCAA guidelines will be for a team of 30 swimmers. Instead he is focused on training in a sustainable way, so that he can stay ready for competitions should they resume and avoid burnout in the long run.
"As of now my plan is to slowly get back into it and see what happens," Chang said. "I'm excited to do these things every time I do them. Hopefully I can keep up that excitement and not get too burnt out from it."
Despite the uncertainty, varsity athletes continue to train with both the present and future in mind.