In It for the Long Run: Cross Country Builds toward Conference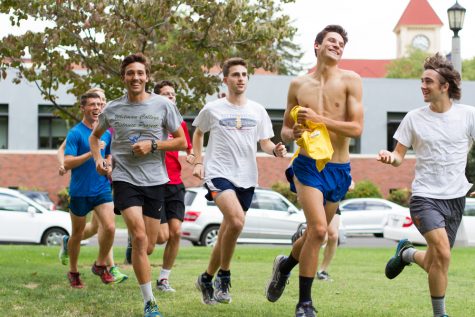 Any sports team has its ups and downs over the course of the season, and Whitman's cross country program is no exception. After a productive and optimistic preseason, it's been a bumpy road lately for both the men's and women's teams. Multiple runners have faced injuries that have limited or prohibited their participation in training, with some afflictions possibly being season-ending. The season also has not been "sick" in the way the team had hoped: illness has torn through the team, forcing head coach Scott Shields to cancel the group's October Break trip to Whitman's Johnston Wilderness Campus.
Despite these ailments, however, optimism remains high for both groups. Northwest Conference (NWC) winners are decided at the Conference Championship Meet on Oct. 29, with another two weeks after that to prepare for NCAA Regionals. Team and individual awards are up for grabs at both. While they may be setbacks, early injuries and illnesses do not fully debilitate the teams' conference hopes.
"All that matters is what our team can do at the conference meet," senior captain Alex Waheed said. NWC Preseason Polls placed high expectations on the Whitman cohort, with the men predicted to finish second in conference and the women in third.
The University of Washington's Sundodger Invitational demonstrated the potential of Whitman's teams early. The men finished first of all eight NWC teams present and the women offered a strong showing as well. First year Whitney Rich, who has been quick to prove herself as a top runner on the women's team, was thrilled with the experience.
"Many of us got huge personal records which made for an exciting preview to the conference," Rich said. "It was our first overnight travel for a race and, being a first year, everything was very new and exciting." The more recent Bowles Invite in Salem, Oregon saw less success. Perhaps owing to the aforementioned injury and illness woes, both teams returned to Whitman wanting more.
"Bowles didn't go as we'd hoped but now, going into our meet this weekend, we are motivated to have a better race as a team," said sophomore Lucy O'Sullivan.
The cross country season can be tough: daily training means up to 60 miles per week, workouts consume hours each day and the first competition that counts is a full ten weeks into the season. The team relies heavily on a unique team culture to keep morale high. "Cross country is a very mental sport so we cope with the mental stress of racing with lots of joking around, post-race dance parties on the bus, and more," explained Rich. "Our team atmosphere is focused without being stressful."
Echoing these statements, Waheed added, "We are able to maintain a strong training regimen and competition mentality while still joking around plenty and taking the pressure off of school work." This last weekend featured the group's annual Taq Formal, for which members of the men's team creatively ask members of the women's team to a formal dinner at Taqueria Mi Pueblito, a favorite of many Whitman students.
Fun team-bonding events like this, as well as the strong internal drive of each individual athlete, propel Whitman's cross country teams through the season. With high hopes for conference, districts and nationals, the group continues to train and prepare with intensity for upcoming competitions. "We're a silly group," said Rich, "but when it comes to racing we've got our 'races faces' on and we are ready to compete and give it our all."
Cross country travels to Salem this weekend for the Conference Preview meet in final preparation for the NWC Conference Championship on Oct. 29.