Athlete Spotlight: Shae Kanakaole Named NWC Student-Athlete of the Week
Whitman senior and volleyball player Shae Kanakaole was named the Northwest Conference scholar-athlete of the week. Kanakaole had an impressive week on the hardwood, and was subsequently recognized for her offensive prowess.
In her fourth and final year playing volleyball for Whitman, she has been an important player on and off the field. This weekend Kanakaole led her team to their fourth straight win over the Willamette Bearcats and finished with top numbers in kills and digs with 13 and 23 respectively. Saturday's game did not go so well, as the Linfield Wildcats ended Whitman's three game win streak. Despite the loss, Kanakaole helped keep the team afloat with a total of 12 kills and 3 blocks.
The Northwest Conference is not the only one noticing Kanakaole's important contributions.
"She continues to just put the ball away," teammate Miranda Taylor said after a Sept. 23 win against Willamette.
On and off the field, the Whitman volleyball team is a force to be reckoned with. After entering the season expected to finish eighth in the NW Conference, the team has split its first 12 games and features a shiny 3-1 conference record.
"We're a really close knit group who hang out all the time," Kanakaole said. "[This is] easily one of the closest teams I've been on since being at Whitman."
The rest of the season will be important to the relatively young team. Only three of the 14 players are seniors. Kanakaole is a captain, so part of her role on the team is to help the team continually improve.
"We have a lot of potential, so it's all about bringing that potential out into games," she said. Kanakaole's younger teammates also noticed the success that the team has had behind its experienced leaders.
"This is a very competitive program. We all compete, in a healthy way," sophomore Katie Sisson said. This competitive attitude is most likely a key role in the team's success this year so far.
When Kanakaole initially embarked on her college search, Division III schools were an afterthought. These schools, however, quickly ascended onto her radar and she knew they would be the right fit due to the "equal academic and athletic involvement" that is required.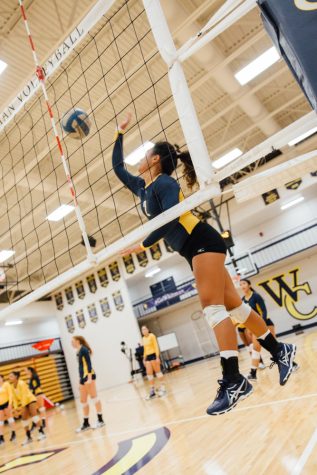 Since attending Whitman, Kanakaole has faced challenges associated with being a student-athlete, but as with most challenges, they have provided her with experiences and skills that she would not otherwise have acquired.
Like any student athlete, Kanakaole must find time for her wide array of responsibilities.
"When I'm at volleyball, it's volleyball time," Kanakaole said. "When I'm in school, it's school time."
This season has already been a great success for Whitman volleyball and a vast improvement from last year. After dropping three of four games in a beginning of the year tournament in Colorado, they won four games in a row and have already matched their win-total from last season. Kanakaole has been an integral part of the team's early success. This team is one to watch for the rest of the fall 2016 season.