Food for Thought
When I arrived on campus, I was so excited to eat at Cleveland Commons, the new dining center. To me it seemed perfect: ample seating, food priced a-la-carte and more options than Whitman has ever had before (I was particularly excited about the sushi bar). To my dismay, Cleveland Commons hasn't  opened yet, nor will it be open until the end of October. Instead of the grand new dining hall we were promised, Whitman students were met with even less dining choices than we had before. Now, after living and eating at Whitman for almost a month, the opening of Cleveland Commons can't come soon enough.
Until the new dining center does open, we're all stuck eating at Prentiss. Of course, there are other places to eat on campus, like the Jewett tent, Café 66, or the occasional food truck, but none offer a wide enough range of selections for the bulk of Whitman students. As the central location for dining on campus, Prentiss is almost always open and almost always busy. Prentiss is the default, but it's certainly not designed to be the only full service cafeteria at Whitman.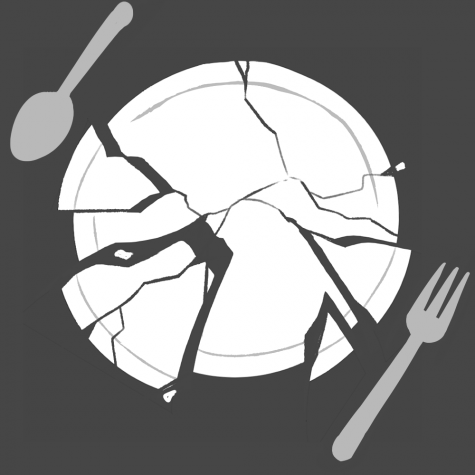 Eating at Prentiss is a challenge. At lunch, the line to get into the cafeteria extends far past the entrance. The lines inside are just as long, adding confusion to a space that is already crowded, loud and overwhelming. This makes sense, considering the lunch rush of years past had been spread out among two full service cafeterias and a cafe. The service, while fast, doesn't make up for the time lost waiting for the food, and doesn't always justify the $7-10 we pay for our meals. The lack of food options makes healthy eating a struggle and makes it harder for those of us with severe food allergies to find food we can safely eat.
Prentiss is small, too. Like, really small. According to Roger Edens, the Bon Appetit General Manager, Prentiss seats about 200 people, which is less than half the seating of Cleveland Commons. Even though it's serving more students, Prentiss has the same kitchen space it has always had, and the infrastructure in place is antiquated and hard to use.
Despite all the logistical problems I have eating at Prentiss, I actually don't mind the food. More than anything, I hear complaints about what they are serving at Prentiss, rather than how they are serving it. Some say there's not enough variety, others say there's too much. Yet with such limited kitchen space, there's just no way to please everyone.
Over the past few weeks, I have developed relationships with much of the kitchen staff, and it's clear to me that they're working as hard as they can. Our kitchen staff makes everything from scratch, something that can't be said at most colleges. According to Edens, bakers "come in at one o'clock in the morning now." Bon Appetit employees work around the clock to feed us hungry college students. They serve us each day with smiles on their faces, something I doubt I could do. They're even more affected by this change than we are, and they deserve our appreciation and our thanks.
I know I'm not the only one frustrated by the current dining hall situation, and the opening of Cleveland Commons may seem far off, but we have to wait it out. We owe it to ourselves, our friends and our community to remain patient and remember that our tolerance will be worth it.