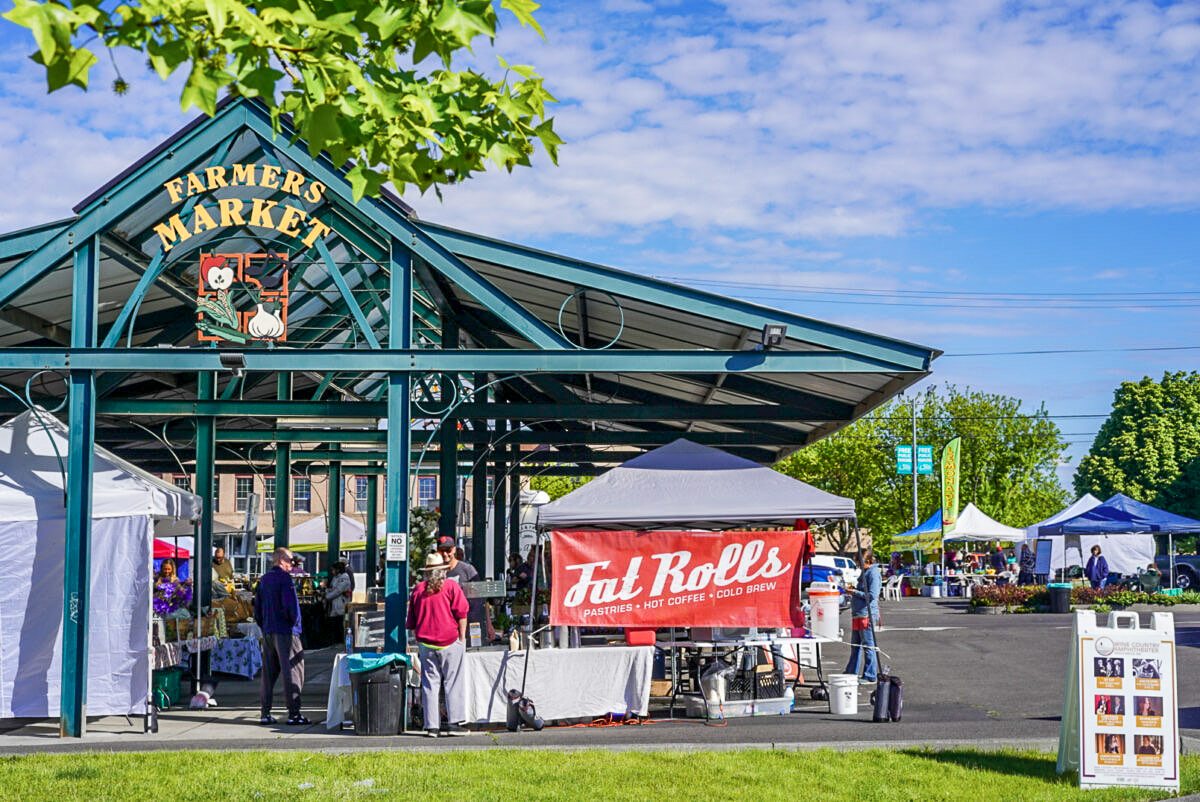 On Nov. 4 2023,  the Downtown Walla Walla Farmers Market welcomed community members and tourists alike to the first indoor market of the season. Annually on the first Saturday of November, the farmers market moves from its outdoor venue on Main Street between Third and Fourth Streets to the Showroom on Colville, where it will remain through the last weekend in April. 
The Downtown Walla Walla Farmers Market has attracted shoppers to downtown Walla Walla since 1997. Originally subsidized by the city and private donors, the market has been 100% self-sustaining since 2017.
Alex Heiser, manager of Membership Services and the Downtown Walla Walla Farmers Market at the Downtown Walla Walla Foundation, loves his job and particularly savors the relationships he gets to build with vendors and customers. 
"Most of the vendors down there now, they're like, 'We know where you are at all times because we know your laugh, and you're smiling and laughing as you're walking through the market,"' said Heiser. 
Every Saturday, Heiser's morning begins at 4:30, when he arrives at the market space to set out signs that will direct the flow of traffic as a flood of vendors arrive to set up their booths. 
"There's little things that pop up every now and again," Heiser said. "But I can honestly say 99.9% of the vendors down there are some of the nicest people you will ever meet."
According to Heiser, the outdoor farmers market features a maximum of 68 vendors and typically sees around 3,000 to 3,500 shoppers pass through each weekend. Once the more inclement weather hits the region beginning in November, the indoor market is able to host a maximum of 18 vendors for the average of 500 shoppers that attend the market each Saturday.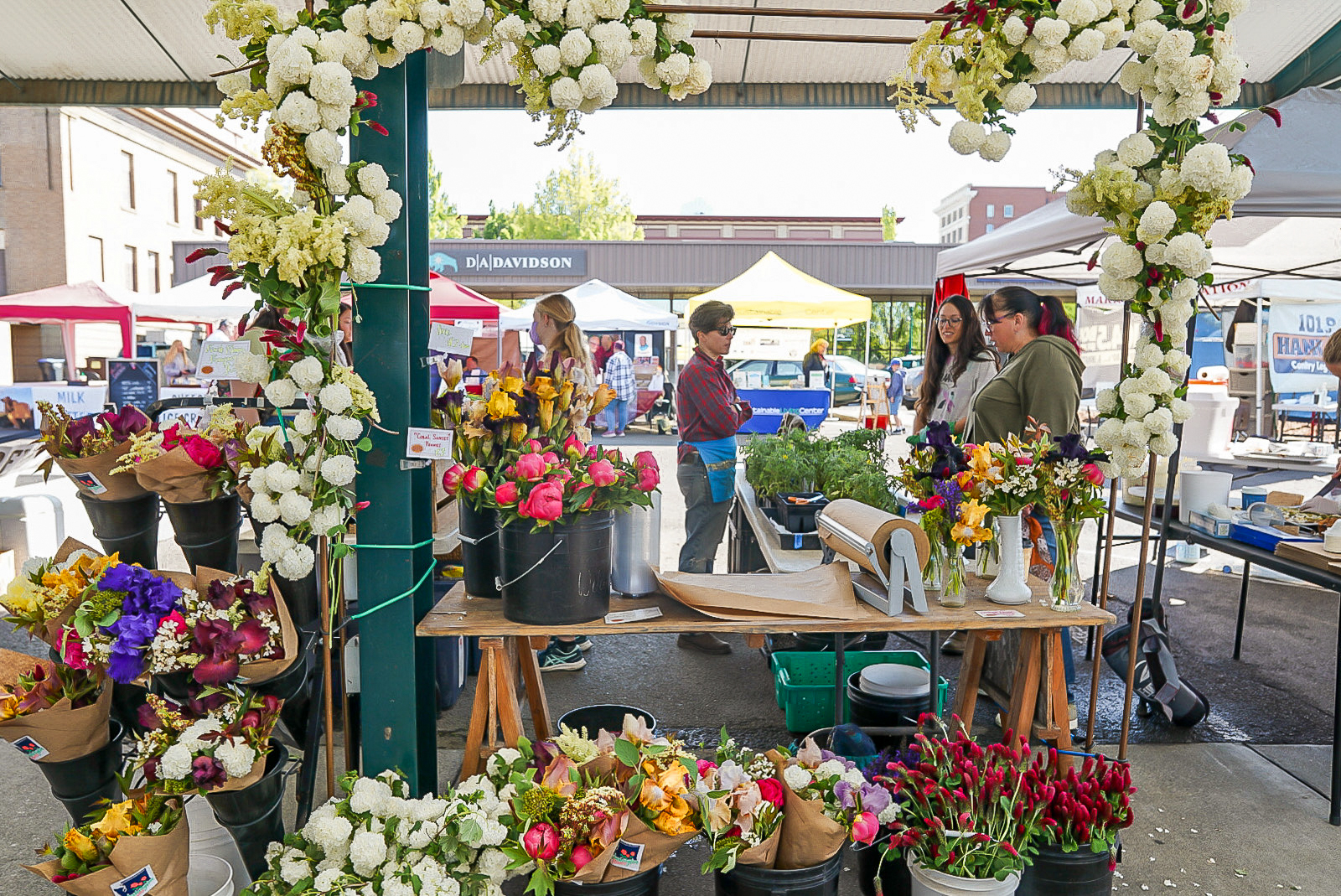 In order for a farmers market to be considered a Washington State farmer's market under the Washington State Farmers Market Association, at least half of its gross annual sales must be made in produce or processed foods such as milks, cheeses, meats, roasted coffee beans, jams, baked goods, prepared foods and honey.
Vendors hail from a variety of backgrounds, bringing with them a diverse selection of cuisines and products for shoppers to choose from, including: Asian, Hispanic, Polynesian and Russian products. Many of the vendors have been selling at the market for over twenty years.
"I love my job … it's not too often you get to be in a position where you are dealing with so many different types of people," Heiser said. "We're fairly diverse for Walla Walla."
Maintaining the prosperity of the market has not always been easy, especially during the global COVID-19 pandemic, when most businesses struggled to stay open. 
The Downtown Walla Walla Farmers Market did not immediately open in the spring of 2020, according to Heiser, when the CDC lifted enough COVID-19 restrictions on businesses to sufficiently operate the market again, only 20 vendors were featured. 
Specific COVID-19 regulations had to be observed at farmers markets. For instance, the entirety of the physical market space had to be enclosed within a fence, vendors had to be positioned at least six feet apart from each other, the market had to provide hand sanitizers and hand washing stations, mask mandates were in place and only a certain number of shoppers were allowed in the market at one time.
According to Heiser, before widespread quarantine restrictions were enforced, the market produced a gross total amount in sales of $620,366 in 2019. In 2020, during the height of pandemic related restrictions, the market produced just barely over $200,000 of total gross sales. Now that the market has been able to operate at full swing for over a year, 2022 sales records indicate that the market made $741,000 in total gross sales.
In an email to The Wire, President & CEO of Walla Walla Valley Chamber of Commerce Arlene Alen described the opportunity that the farmers market brings to local farmers, artisans, customers and tourists alike.
"Our Farmers Market, strategically located with easy access, is a beacon of local culture and prosperity, offering an array of benefits to both residents and tourists alike. This bustling market not only showcases the region's agricultural and viticultural prowess but also enhances the overall experience of this tourist-centric landscape," Alen said.
Heiser agrees that the farmers market directly benefits local farmers and artisans and says that money spent locally tends to stay local.
"You're buying fresh produce from a local farmer. Your money stays in the valley. It's not being spent [at] a Safeway who got their produce this week from Argentina. Your money stays in the valley," Heiser said. "Money that's spent locally normally gets spent five or six times locally. So say you buy something from a farmer, he's gonna spend that money either buying something for his kids or doing something locally."
According to Alen, this economic boost benefits local agriculturalists in addition to fostering sustainability and encouraging the preservation of local culture. 
"Locals and visitors can engage with the farmers, learning about the history of the land, the cultivation techniques, and the significance of each crop. This educational aspect not only enriches the tourist experience but also instills a deeper appreciation for the local culture and its ties to the land," Alen said in an email to The Wire.
The next Downtown Walla Walla Farmers Market day is Saturday, Nov. 11 beginning at 9am and ending at 1pm in the Showroom on Colville.