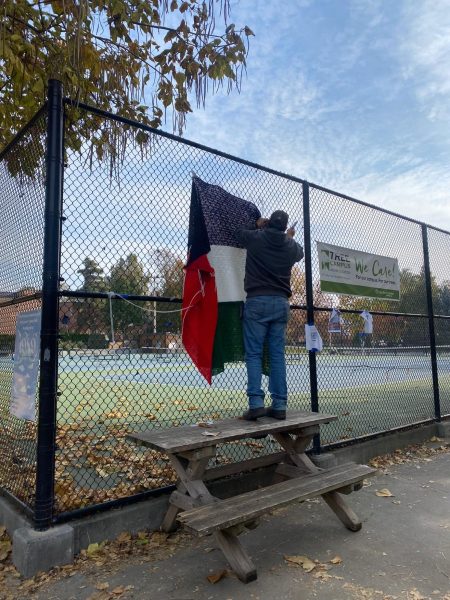 In the afternoon of Oct. 31, Whitman Facilities Staff, some of whom were wearing Whitman Campus Security sweaters, removed a crocheted Palestinian flag hanging from the Whitman Tennis Courts. The flag had been hanging for roughly a week prior to its removal. 
Senior Alissa Berman, head of communications for Whitman Students for Justice in Palestine, was sitting outside of Penrose Library when, she says, she saw two Whitman security guards taking down the crocheted flag that a member of SJP had anchored to the chain link fence surrounding the tennis courts.
Berman says that she and another member of WSJP asked the facilities workers what they were doing. 
According to Berman, the workers claimed "they had direct orders from the 'tippy top of Mem' to take down anything politically affiliated around campus."
Three workers took the flag down despite Berman's objections, though Berman says she was allowed to keep the flag. 
It was not immediately clear who had actually given the order for the flag to be taken down. 
According to Berman, the workers initially referred her to the Director of Facilities Services Tony Ichsan, who – they claimed – told them to take the flag down. 
Ichsan declined to comment, and referred The Wire to Dean of Students Kazi Joshua, whom he says is responsible for the flag being removed. 
In an emailed statement to The Wire, Joshua confirmed that the flag should not have been removed, but denied that there had been orders to remove political posters from campus.
"There is NO directive to remove posters that are political in nature. If posters do not conform to expectations articulated in "Buildings and Grounds" section of the "Student Rights and Responsibilities," they may be removed. That was not the case with the Flag on the tennis courts as I stated in the meeting last night," Joshua said.
The Building and Grounds Usage section of Whitman's Student Handbook states simply that, "Signs may be attached to the tennis court fence." Notably, there is no indication in the handbook that political signs or slogans are prohibited; flags are banned in clearly outlined contexts. 
Alongside other members of WSJP, Berman met with members of the administration, including Joshua, on the evening of Oct. 31st to discuss listserv based censorship WSJP claims they have experienced. 
At this meeting, Berman says Joshua apologized for the removal of the flag. Still, Berman expressed frustration at what she viewed as an ineffectual response by administration. 
"There was no discussion about how free speech needs to be allowed on this campus," Berman said. "It feels ironic to make that apology in a meeting where we're discussing other instances where free speech hasn't been allowed on campus." 
"We do have every right to put up political statements around campus," Berman said.
For now, WSJP plans to put the flag back up.
"The purpose of a school is to be a space for speaking to each other – if the school doesn't let us do that, how are we supposed to be engaging with each other?" Berman said.
Editor's Note: Bex Heimbrock is a member of Whitman Students for Justice in Palestine.