WASA brings a Taste of Africa to Whitman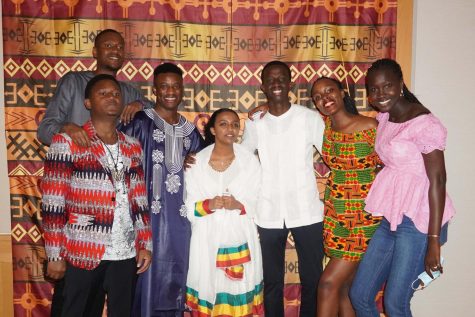 On Saturday, April 16, the Whitman African Student Association (WASA) hosted Taste of Africa, a fun-filled night of music, food and performances. The event featured a poetry reading, music from different African artists, a performance by Associate Director of Student Activities Dorothy Muskasa '19 and a fashion show.
WASA also used Taste of Africa as a platform for the ceremonial passing of the torch, as the former presidents conferred the mantle of leadership to the new WASA leaders. Former presidents Lydia Moriku '24 and Angel Baikakedi '24 have named Silivan Munguarakarama '24 president, Awa Gaye '24 as vice president, Charles Awounor '24 as treasurer, Cedric Nyagatare '24 as secretary, Meron Semere '25 as social media manager and Emmanuel Sakala '25 as events coordinator.
Moriku believes the highlight of the event was the dance. The playlist was open to a group of international students from 25 countries and featured a host of African songs. She stressed that music choice was heavily influenced by personal taste, her own choices mainly originating from Nigeria.
Baikakedi sees Taste of Africa as a way to bring African culture to Whitman and emphasized the importance of creating and sharing community for international students at Whitman, especially at a Western institution.
"It is very significant to WASA and their community, especially being far from home you don't get to experience events like these very often," Baikakedi said. "It's a great bridge between ourselves but also the greater Whitman community who don't really know what we are all about."
This year, WASA invited several African students from Walla Walla Community College and Walla Walla University to share in the celebration. They hope that in future years, there will be more collaboration between Whitman and the other colleges.
WASA experienced a brief moment of panic when, the night before Taste of Africa was going to take place, Whitman reinstated masking on campus with the new surge of COVID-19 cases. Somewhat demoralized about the changes they had to make to the program, WASA made the cuts but hopes that in future events, the intricate nuances of African performance can be expressed. 
Moriku recounted one of the thoughts she used to motivate herself when things were going wrong.
"Africans have always been survivors, so why can't we survive this?" Moriku said. "With the weather and masking it was difficult to think, 'we will survive this,' but we did."
Moriku shared some plans for expansion in upcoming years, hoping that Taste of Africa will be able to move to a larger venue and take place for a longer period of time. 
"We are also thinking of [Taste of Africa] not being just an evening, but maybe a week. There could be a night for poetry, another night for dance, so we can showcase different aspects of Africa," Moriku said.
Stressing that events like these cannot happen without the support and funding from organizations on campus, WASA appreciates the Whitman Events Boards, Associated Students of Whitman College, the Intercultural Center and the Office of Diversity and Inclusion for their help with Taste of Africa.
Moriku also wants future Taste of Africa events to contain more education and cultural elements from the continent. 
"We want to make it something more informative, in a way that really tells the story of Africa," Moriku said. "Especially in the United States, I hear things about Africa but a lot of them are not the truth about Africa."
Recognizing the difficulty in coming to a country and group of people vastly different from what you know, Baikakedi argued events like Taste of Africa can help lessen the divide between international students and the rest of Whitman.
"It is difficult to ignore the culture shock," Baikakedi said. "We all came from different places and we come from different backgrounds so trying to integrate that with the members of the Whitman community who maybe don't have similar experiences as you can be pretty challenging, but I think for the greater part, we make it work."