Andrae's Kitchen finds new life as "AK's Mercado" on Main Street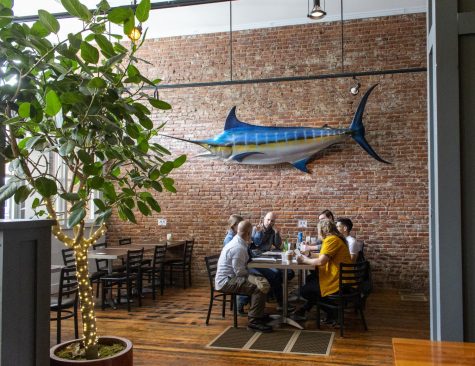 Andrae's Kitchen, the brainchild of chef and owner Andrae Bopp, lived in CENEX fuel plaza at Rose and 9th Street for the past ten years. On March 15, Andrae's Kitchen debuted on Main Street as Mercado. 
"It was time — we'd outgrown the gas station probably three years ago. I've been looking for quite a while and this space became available," Bopp said. "[The gas station is] going to live on in spirit in here … I brought my whole crew with me here; they still have all the gas station in them." 
Senior Edwin Retana has been going to Andrae's Kitchen since his first year at Whitman. 
"It's more of the definitive experience of Andrae's Kitchen even though it's not the original location," Retana said. "It was interesting that a restaurant that many students and people that I know in the community thought of as their favorite restaurant in town was in a gas station and was pretty far from Main."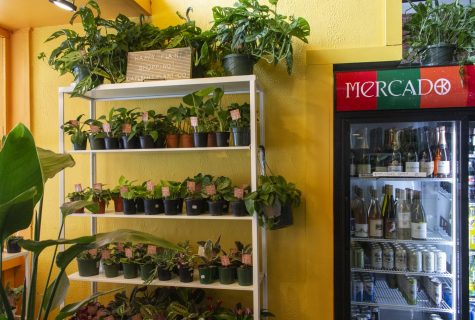 The aesthetic detail of the new space is visually engaging. Large, south-facing windows illuminate the exposed brick with natural light. As you make your way in, you're welcomed by chalkboard menus and an enticing pastry case. A lush corner boasts the Daylight Plant Co. shop, which has a variety of houseplants for sale. A massive swordfish piece livens up the main dining space. This can all be taken in from an upstairs loft seating area with leather couches and flat-screen TVs. Mercado also has an extended dog-friendly patio and serves house-made dog biscuits to account for their four-legged patrons.
"There's no way if you're here in the evening that you're going to think you're in Walla Walla," Bopp said. "It has a lot of influence from Mexico from all my travels down there and the grungy feel of New Orleans."
Retana thought Olive Marketplace & Cafe, Mercado's predecessor, was similar to many of the other wineries and restaurants on Main Street, so he was curious about how they were going to adapt the space. 
"Walking in there and feeling the ambiance, it felt like more of a higher-end place, [which] was more in line with how it tasted," Retana said. "Everything tasted like it was homemade and quality food — exactly as it was at the Andrae's Kitchen that was on Rose."
Bopp discussed the collaborative effort of Mercado's vision-build process.
"I wanted it to be something that was completely different than what … used to be in this space … and from anything else in town," Bopp said. "We wanted to be completely different in vibe, in service, in style, in aesthetics, in look, in feel, in music … and I think we achieved that."
In its first few weeks, Mercado was working from a limited menu, but Andrae's Kitchen's famous tacos have finally made their entrance. In addition to the popularity of their tacos (3 for $10), gyros ($11), brisket ($13) and other smoked meats, Mercado also serves house-made pastries and coffee. 
Director of the Downtown Walla Walla Foundation Kathryn Witherington shared her enthusiasm for making Mercado, as well as all of downtown, a place for the Whitman community. 
"When I first talked to Andrae about this, one of the things that we discussed was wanting [it] to be a space for Whitman students. His philosophy and what I feel when I walk in here is: 'If you want to come in and buy a cup of coffee and sit for three hours doing homework, cool.' He wants it to be that space," Witherington said.
Retana echoed this hope that Mercado becomes a go-to spot for Whitman students.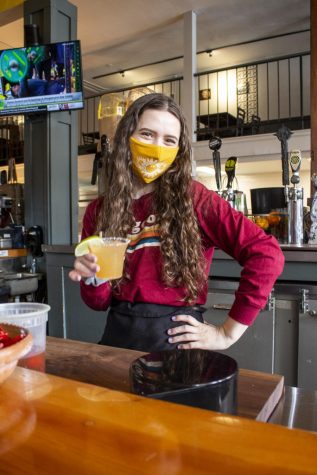 "It's really not that far from the original location, but I think that having it on Main will open it up to more Whitman students going there, especially first years," Retana said. "Your first year is when you learn what spots to go to and it will hopefully open up [for] that new generation."
Mercado demonstrates its versatility in opening itself up as a late-night hangout spot with specialty cocktail and beer menus as well. 
"The hours of it are incredible. Being open from 7 a.m. to 10 p.m. just captures different audiences," Witherington said. "One of the main complaints we hear about downtown both from locals and tourists: there's nothing to do here after about 6 p.m. … Once dinner's over, there's nowhere to go. The fact that there will now be a location where people can hang out is really important to me."
Witherington expressed her excitement for Mercado's entrance to Main Street after a hard year for all of the downtown businesses.
"I was incredibly excited when I heard Andrae was coming downtown," Witherington said. "It brought life back to this space."
Mercado is open daily, from 7 a.m. to 10 p.m., at 21 E Main Street.