"A well-oiled machine": Walla Walla ramps up mass vaccinations, outpacing state
With nearly one-fifth of the population fully or partially vaccinated, Walla Walla County is outpacing the rest of the state. And through age eligibility, employment and volunteering, Whitman faculty and students have begun to receive COVID-19 vaccines.
The County's mass vaccination site is in the Walla Walla County Fairgrounds and is able to administer over 1,700 Pfizer-BioNTech inoculations in a day.
The Walla Walla County Department of Community Health (DCH) has led this effort alongside local healthcare partners since the end of January, with plans to keep the Fairgrounds as the exclusive mass vaccination site in the area. The county administers approximately 3,000 doses interspersed over a few days per week, depending on state and federal allotment.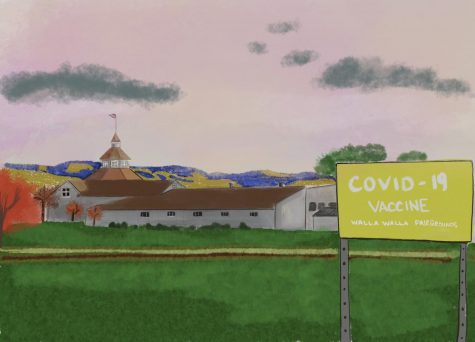 "As of now, DCH is only planning on using the Fairgrounds as a mass vaccination site," a DCH spokesperson said in an email to The Wire. "The plan is to keep it running until every resident who wants a vaccine, gets one. We expect this to take several months."
So far, 11,905 people in Walla Walla County have received their first dose (19 percent of the population) and 6,627 of those 11,905 people are considered fully vaccinated (11 percent of the population), according to the Washington State Department of Health (DOH) estimates. Walla Walla is faring better than the state overall, which has a first-dose rate of 14 percent and a fully vaccinated rate of 8 percent. 
Washington is currently in Phase 1B tier 1 of its vaccine distribution plan, allowing people 65 years old and up to get vaccinated, as well as people 50 years or older living in multigenerational households. "High-risk" healthcare workers and first responders are still eligible as part of the previous stage, Phase 1A.
K-12 teachers and licensed child care workers can now receive the vaccine as well, Gov. Jay Inslee announced Tuesday afternoon.  Young adults — such as Whitman students — without pre-existing conditions or job eligibility will likely need to wait until the end of spring or beginning of summer. The country should have enough vaccines available for all adults by the end of May, President Biden announced on Tuesday, but it will take longer to inoculate everyone.
Professor of Environmental Humanities Don Snow says he jumped at the chance to sign up for a vaccine slot at the Fairgrounds once he became eligible by age.
"They had this marvelous organization over there, it's just a well-oiled machine. It's run, as far as I can tell, mostly by volunteers," Snow said. "You enter this labyrinth of checking in which is done in a very orderly fashion."
Sophomore Kaitlynne Jensen is one such volunteer, screening guests arriving at the Fairgrounds for COVID-19 symptoms and taking their temperatures. She was able to get a vaccine herself by volunteering on one of the days most clients were receiving their second-dose.
"It's the light at the end of the tunnel and everybody was so excited and you could see it and you could feel it and it was really incredible," Jensen said. 
Besides the Fairgrounds, vaccines are also currently available by appointment at Safeway, Albertsons, Family Medical Center and the Jonathan M. Wainwright Memorial VA Medical Center. 
Providence St. Mary Medical Center — a healthcare partner of the Fairgrounds operation — is currently borrowing one of Whitman's ultra-low temperature freezers to store Pfizer-BioNTech vaccines, according to Whitman biology professor Jim Russo. The freezer may not be needed for much longer, he says, as the U.S. Food and Drug Administration just approved new requirements allowing for storage in a conventional freezer. 
As a result of vaccine distribution equity and access concerns, the Walla Walla DCH established an equity task force at the beginning of February, working with community organizations to "serve low-income and hard to reach populations." 
Although not yet available at the county level, statewide vaccination data by race and ethnicity shows that non-Hispanic White people are getting vaccinated at a higher rate than people of color: approximately 69 percent of fully vaccinated people identify as non-Hispanic White (out of 68 percent of the population) whereas 5 percent of fully vaccinated people identify as Hispanic (out of 13 percent of the population), 8 percent identify as non-Hispanic Asian (out of 9 percent of the population) and 2 percent identify as non-Hispanic Black (out of 4 percent of the population).
"DOH is only publishing statewide data at this time to meet our small numbers standards, which protect privacy," DOH spokesperson Kristen Maki said. "Once we have enough vaccination data to ensure we are meeting these, we will begin publishing the data by region, and possibly by county." 
Junior Rebecca Johnston was able to get vaccinated early on in December through her job registering patients at Providence St. Mary's coronavirus testing clinic. She heard about the mass vaccinations happening at the Fairgrounds through a community volunteer email listserv.
"When they start to vaccinate people in the general public, or even just more essential workers, I hope that they do a more proactive job of advertising, announcing dates, locations — ways to sign up and stuff," Johnston said. 
For Snow, who has received many standard vaccinations in the past, the testing atmosphere at the Fairgrounds felt different than anything he had experienced before.   
"Because of the pandemic, because of the anticipation, I think we've all been waiting months and months for better news, good news, hopefully eventually great news — you do feel like there's something really special about this," Snow said. "I thought of that the first time I went out there, that I'm actually participating in a historical event."
There are two upcoming vaccination days at the Fairgrounds: Thursday, March 4 for second doses and Saturday, March 6 for first doses. More information on how to register can be found at covidwwc.com.