Police Officer Nat Small's tattoo continues to stir controversy
In early June, a photo of an arm tattoo stirred one of Walla Walla's biggest controversies of the year. The tattoo, belonging to Walla Walla Police Officer Nat Small, depicted a brass knuckle with the name of a fallen soldier and a "SS" lightning bolt. The "SS" Schutzstaffel has a history of Nazi anti-Semitism and white supremacy. Officer Small, a Marine Corps veteran, said the "SS" stands for "Scout Sniper," and the tattoo is a tribute to his fallen comrade and friend in the unit. 
In an article published by The Guardian in 2012, Lieutenant Colonel Stewart Upton said "Use of the SS symbol is not acceptable."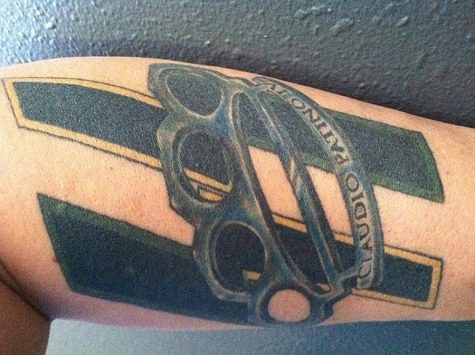 President of Whitman College Kathy Murray responded to the controversy with a schoolwide email on June 28. She emphasized her concerns with Officer Small bearing this tattoo openly in public and the lack of response from the Walla Walla Police Department (WWPD). Murray announced that Whitman would no longer hire off-duty Walla Walla Police for events and will no longer grant them access to Whitman training facilities. 
"The remedy here is unambiguous. Officer Small must be compelled to change or remove his tattoo," Murray wrote.
President Murray's response did not satisfy all members of the Whitman community. Phyllis Pawa, a senior religious studies major and co-president of Kehillat-Shalom, took issue with the direction of Murray's response. 
"I knew that there was going to be a lot of backlash from Walla Walla for writing an email basically shaming the town when she hasn't called out her own community," Pawa said. "I think it's good to disaffiliate from the police; I don't think it's the solution." 
Pawa addressed these concerns in a personal email response to President Murray. She introduced herself as an active student and community member and expressed that the Whitman community and Walla Walla should be seen as one and the same.
"I am grateful as a student for your actions to disaffiliate from the police," Pawa wrote. "I feel safer on our campus, but I don't feel safe in Walla Walla and these communities cannot and should not be made to seem separate."
On July 8, the Walla Walla Union-Bulletin released a statement from Officer Small on the tattoo controversy. Small described the personal significance behind the tattoo he got in 2010 but announced he would modify it to remove the "SS" portion. 
"My personal intent was nothing more than to honor my fallen teammate, with what was a common symbol within the Scout Sniper community at the time," Small said.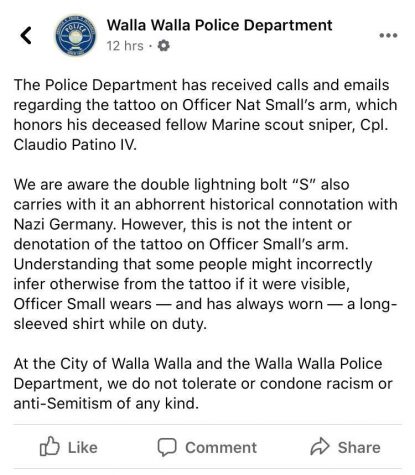 Small said he made this decision on his own without influence from the WWPD or the City of Walla Walla. In August, Walla Walla Police Chief Scott Bieber said the "SS" had been removed. No images were made public. 
Pawa said she felt Officer Small's public action was motivated by a lack of accountability rather than evolution on the issue.
"When Nat Small agreed to have his tattoo removed, the way I read his public letter was that he wasn't getting it removed because it was problematic," Pawa said, "but he was getting it removed because he didn't like that he was upsetting and tearing apart the community."
Cormac Li, an undeclared sophomore and co-president of Kehillat Shalom, shared his disappointment with the progression of the scandal.
"This shows us the very little knowledge of the community, including the Officer and a lot of people, of what anti-Semitism means," Li said. "Why do these symbols hurt people?" 
During a town hall in mid-August, Chief Bieber lauded Small's announcement as a demonstration of his good character. The same town hall addressed tattoo policies in the WWPD. No new regulations were put in place and City Attorney Tim Donaldson said that such regulations would conflict with the right to free speech.
When asked if Small's decision to remove the tattoo changed the College's relationship with the Police Department going forward, President Murray said she is waiting to decide.
"I was pleased to learn that Officer Small acknowledged the damage caused to our community by his tattoo and decided to have it altered," Murray wrote in an email to The Wire. "I am waiting for the City Council to complete its recommendations related to the WWPD before considering any changes to what I said in my earlier memo to the campus community."
Li shared his feelings about Murray's response and called for an increase in education on Judaism and civil rights.
"I have never expected this could be solved in a short era of time, either this individual incident or the entire atmosphere in this country over these sorts of situations because it requires education," Li said. "It is going to be a long process."