Bake Sale Raises Funds for Indigenous Organization
Members of Borders as Method (BAM), Indigenous Peoples Education and Culture Club (IPECC), Divest Whitman and other students held a bake sale in support of the Unist'ot'en camp on Jan. 26. A week later, students gathered next to Treaty Rock by the amphitheater, in solidarity with the Wet'suwet'en people.
The Wet'suwet'en people are currently fighting to preserve their land from the 670 kilometer Coastal GasLink pipeline proposed by TransCanada. In accordance with the 1997 Delgamuukw Supreme Court case in Canada, this land was never ceded and so belongs to the Unist'ot'en, one of five Wet'suwet'en clans. Companies wishing to develop this land legally must have consent of the Wet'suwet'en.
Professor Stan Thayne visited the Unist'ot'en camp — constructed as a resistance camp in the pathway of the pipeline — two summers ago while conducting research for a class on the politics of salmon. He has followed the camp ever since, and when the Royal Canadian Mounted Police (RCMP) forcibly entered a peaceful checkpoint on Wet'suwet'en land on Jan. 7, Thayne wanted to do something.
"I was really excited and encouraged when I saw that Anna Silberman, and Amanda Champion, and Genean Wrisley, and Julia Gratton and others, [were] proactively wanting to do something as well," Professor Thayne said.
Senior Alya Bohr learned about the Unist'ot'en camp when Silberman reached out to various clubs to try and collaboratively support the Unist'ot'en.
"It's really similar to the [events] that were happening at Standing Rock, but it feels like there's a lot less publicity around it and I don't know if that's just that these things are getting normalized and so we're desensitized to stuff like this or that it's in Canada," Bohr said.
The Unist'ot'en camp is located north of Vancouver, BC near the mouth of Gosnell creek, a tributary in the Skeena river watershed.
"Americans are just really unaware, in general, of what's going on in Canada," Thayne said. "But these political borders are somewhat arbitrary, and it's just North America. We're probably just as close to the Unist'ot'en camp as we are to North Dakota, to Standing Rock."
The Skeena river watershed is threatened by the pipeline, both in the risk of a leak and through the disruption and degradation to riparian habitat caused by installing a pipeline crossing.
"And to me these are all linked. The salmon, the Wet'suwet'en peoples, the water," Thayne said. "These aren't really separate issues."
Students met to discuss what forms supporting the Unist'ot'en camp could take — senior Genean Wrisley proposed a bake sale.
"I had recently spoken with a student from the Students of Color Environmental Collective at Berkeley and they told me about the bake sales they had held for Hurricane Harvey and other natural disasters," Wrisley said.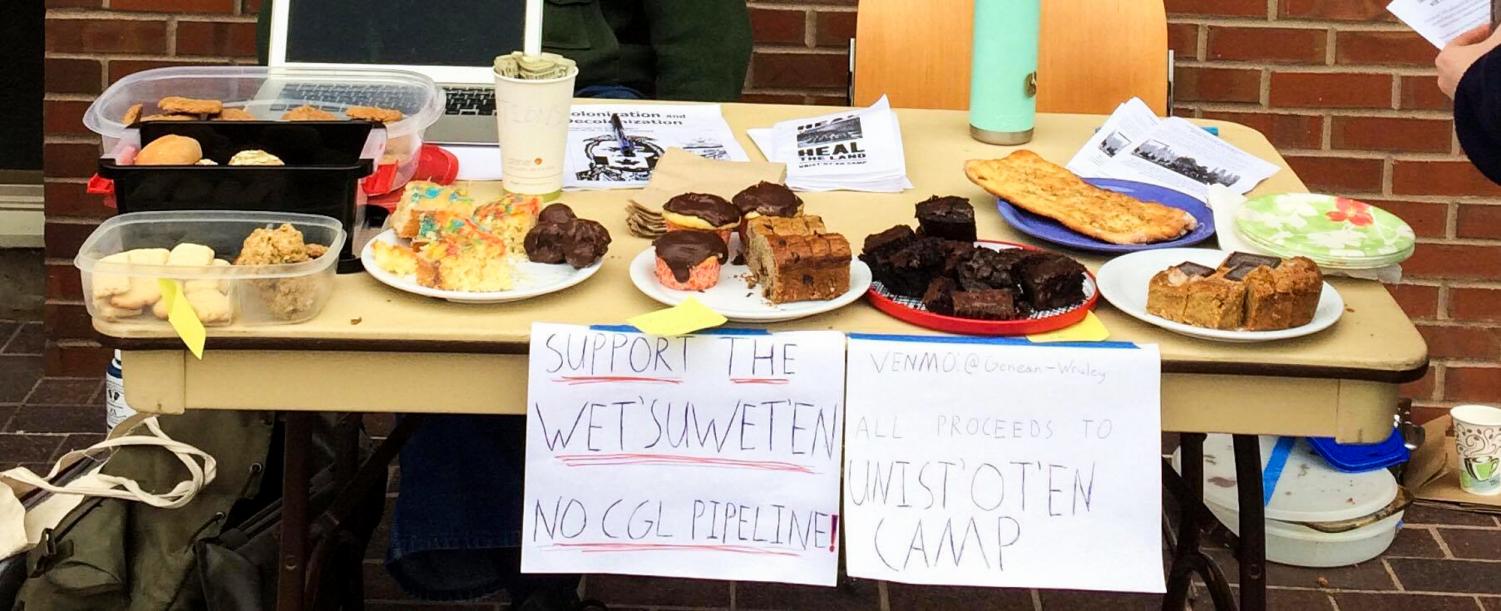 The bake sale, which was held outside Reid and Cleveland, raised $430 for the camp. Money given to the camp is used to pay the legal defense fees and supply the camp with food, tools and other necessities.
"We were offering what we could, which was our time and our labor and just selling some goods and then were able to actually contribute concrete things — money — to the defense fund," Bohr said.
The bake sale raised more money than both Bohr and Wrisley expected.
"I learned that if you're working for a good cause the community will come in and support you, and that meant a lot," Wrisley said.
In response to the Wet'suwet'en's call for prayer and solidarity, Professor Thayne organized a gathering near Treaty Rock on Feb. 3. The gathering was followed by a "teach-in" to put the Unist'ot'en camp in more context. The bake sale and gathering are the beginning of a greater educational campaign around the Unist'ot'en camp and similar issues.

"Because we were intentional about making it a collective project rather than something that was spearheaded by an individual leader… that does make it harder going forward to actually figure out what steps we are taking," Bohr said. "I do know that a lot of the people working on it, or interested, are really invested and care about continuing this."
In the short term, there will be a "Continuing the Conversation" on Feb. 18 about the Wet'suwet'en's resistance to the pipelines. IPECC is also planning a film screening on separate but related issues.
Besides being a center of peaceful resistance to the Coastal GasLink pipeline, the Unist'ot'en camp is home to a Healing Center.  
"My sense is that even if the pipeline goes through, or even if it's stopped permanently, either way, I think they will continue running the Healing Center," Professor Thayne said. "Some scholars and indigenous peoples themselves have made this point that opposition to the pipelines has created a resurgence of indigenous practice. Unist'ot'en has become a place for some Wet'suwet'en people who may feel alienated from their own traditions and culture to go and learn how to trap, learn how to skin an animal, learn how to live off the land to the degree that they can, revitalize language, I think it's revitalized the traditional hereditary chief system."